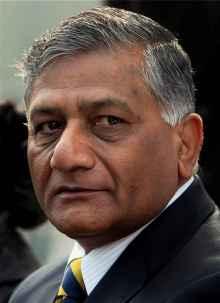 The Opposition on Tuesday slammed Minister of State for External Affairs General (retd) V K Singh for his tweets of 'duty' and 'disgust' after attending the Pakistan Day celebrations in New Delhi.
Congress leader Manish Tewari targeted Singh, asking him to quit instead of expressing his disgust after he represented the government at the reception. Tewari said in the past, ministers had refused to attend events related to the neighbouring nation.

VOTE: Should PM have sent General V K Singh to attend Pakistan Day celebrations?
"If Mr#duty#Disgust is so disgusted with double standards of his govt on Pak he should quit? Other Ministers in past refused to attend PAK EVENTS!" Tewari tweeted.
"When duty becomes a burden, the honourable thing to do is to put in your papers. After all, he was worn a uniform and knows what Pakistan has done over the past two decades: sponsor terrorism. He is under no obligation to perform a duty which disgusts him," the Congress leader told ANI.
Meanwhile, Janata Dal-United leader K C Tyagi pointed out that the common minimum programme of the People's Democratic Party-Bharatiya Janata Party government in Jammu and Kashmir has dialogues with the Hurriyat as one of its points.
"V K Singh is wrong. The Jammu and Kashmir government's common minimum programme includes a provision to hold talks with the Hurriyat, as well as with Pakistan," he said.
After attending the Pakistan National Day reception at the High Commission on Monday, Singh had issued a series of tweets defining "disgust" and "duty", indicating that he may have been unhappy at being deputed to it.
In the first of the five quick tweets, the former army chief had said, "To offend the moral sense, principles, or taste of". This was immediately followed by another which said, "To sicken or fill with loathing".
While the third tweet had said, "A job or service allocated," the fourth one said, "The force that binds one morally or legally to one's obligations".
The last tweet had said, "A task or action that a person is bound to perform for moral or legal reasons".
Singh had told reporters after attending the reception that he was asked by the government to represent it at the function.
Image: Minister of State for External Affairs General (retd) V K Singh