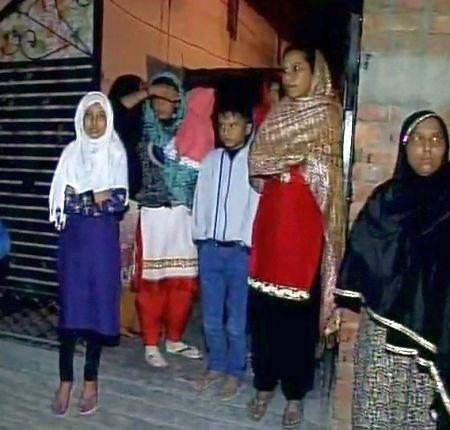 A moderate intensity earthquake measuring 5.8 on Richter Scale on Monday night hit Uttarakhand, tremors of which were felt in Delhi and other parts of northern India.
The epicentre of the quake was Rudraprayag district in Uttarakhand, said J L Gautam, Operations head at the National Seismological Bureau, a unit of ministry of earth sciences.
"The depth of the quake was 33 km and it occurred at 10.33 pm," he said.
Uttarakhand, which falls in the Himalayan belt, is known for high seismic activities.
Tremors were felt across Punjab, Haryana and their common capital Chandigarh also after which many people rushed out of their homes.
There were no immediate reports of any loss of life or damage to property.
Prime Minister Narendra Modi said that he took stock of the situation in the aftermath of the earthquake.
"Spoke to officials & took stock of the situation in the wake of the earthquake felt in various parts of North India," he tweeted.
"PMO is in touch with officials in Uttarakhand, which is the epicentre of the quake. I pray for everyone's safety & wellbeing," he said in a tweet.
Home Minister Rajnath Singh has sought a detailed report on the earthquake.
The National Disaster Response Force has been put on high alert to carry out relief operation and help victim in case the need arises.
The home ministry is closely monitoring the situation in earthquake-hit Uttarakhand and other north Indian states where the tremors have been felt, Singh said in a tweet.
"The NDRF teams have been rushed from Ghaziabad to Uttarakhand to conduct rescue and relief operations, if the situation arises," he said.
The home minister has asked for a detailed report and the NDRF has been put on high alert, a home ministry spokesperson said.
Two NDRF teams, comprising about 90 personnel, have been rushed to Rudraprayag from their base in Ghaziabad, NDRF Director General R K Pachnanda told PTI.
He added that the preliminary reports received from the Uttarakhand government have not indicated any major damage but as a contingency measure, the relief and rescue teams are being mobilised.
He said that one more team has been put on standby and will be dispatched depending on the developing situation.
According to reports, tremors were felt across Haryana and the National Capital Region.
People, especially those living in high-rise apartments and buildings, rushed to the ground floor.
Tremors were felt at various places in Haryana including Gurugram, Faridabad, Rohtak, Ambala, Panchkula, Sonepat, Panipat and Karnal.
In Punjab, tremors were felt at many places including Mohali, Patiala, Ropar, Ludhiana and Jalandhar.
Meanwhile, people felt the tremors also in neighbouring Noida of Uttar Pradesh.
"Bed started shaking and the ceiling fan was swinging a little," Sohil Sharma, a resident of sector 20 in Noida, said.
"I was lying on bed suddenly it started shaking," said Savita Gupta, resident of sector 21.
Image: People come out of their houses in Dehradun after the quake. Photograph: ANI