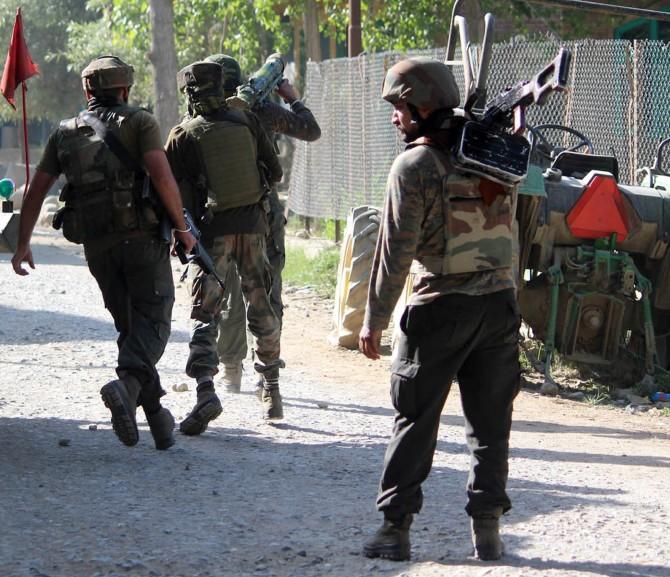 Security forces dealt a severe blow to the terrorist group, Lashker-e-Tayyaba, when they killed three of its members early on Thursday after a six-hour encounter, which triggered protests that led to the death of a civilian the police described as a 'chronic stone-pelter'.
The civilian, Tawseef Hassan Wani, 28, was killed when the forces tried to quell the protests directed against them after the encounter. A police official said he was leading a mob.
"He was a chronic stone pelter and troublemaker with 10 cases registered against him. He had been detained under the Public Safety Act in 2010 and 2016," the official said.
He was known as Chhota Geelani in the area, in a reference to hardline Hurriyat leader S A S Geelani.
The police laid a cordon around a house in Kakapora area on Wednesday evening following intelligence information that three terrorists, including Majid Mir, an 'A++' category terrorist (key commander), were holed up inside.
Mir was allegedly involved in the killing of former sarpanch Fayaz Ahmad of Kakapora in March and the gunning down of district People's Democratic Party president Abdul Gani Dar in April.
Considered close to Abu Dujana, a Pakistani national who commands Lashker operations in the Kashmir Valley, Mir was said to be responsible for motivating the valley's youth into joining militancy.
The other two killed in the encounter, which started from 10 pm and ended at 4 am, were Shahid and Irshad Ahmed. The two had been recruited by Mir in 2016, the official said.
The house, in which they were holed up, caught fire during the gun fight and the three terrorists ran out of the building in a bid to escape the blaze.
The police asked them to surrender, and gunned them down when they didn't, sources said.
The security forces viewed the operation with great satisfaction as a large presence of local terrorists, aided by a strong network of overground workers, had prevented the forces from carrying out such activities in this district for a while.
The operation, the official said, was a 'big blow' to the Lashker terror outfit which lost its self-styled commander Junaid Mattoo and two others in an encounter at Arwin village in the Anantnag district of South Kashmir on June 17.
After the encounter, the police had yet another battle to fight and that was with the protesters who had been throwing stones at them to hamper the operation, the official said.
The police used tear gas and other 'non-lethal' weapons to quell the mob. Wani died of pellet injuries, the sources said.
Nearly 40 people were injured in the clashes that took place after the encounter.
Image for representation only.