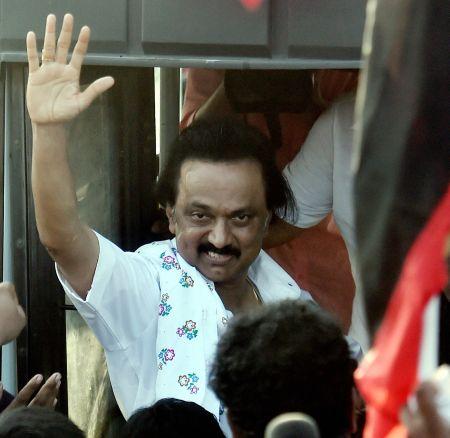 Two days after Chief Minister Edappadi K Palaniswami announced a slew of welfare measures, Dravida Munnetra Kazhagam working president M K Stalin on Wednesday said the state government would not be able to implement them in view of it's mounting debts.
"They (Palaniswami regime) will not be able to involve themselves in efforts to implement the schemes," he said.
He wondered how the government would be able to deliver on such promises 'when Tamil Nadu is reeling under a huge debt of Rs 5 lakh crore'.
The DMK leader said Palaniswami's announcements were like that of his predecessors Panneerselvam and Jayalalithaa.
"Tamil Nadu has Rs five lakh crore debt... now they say that they are going to give scooty (50 per cent subsidy for women to buy scooters) I don't know how they will be able to give," Stalin said.
Referring to closure of 500 Indian Made Foreign Liquor shops in 2016 after Jayalalithaa had assumed office, the DMK leader sought to know if government was ready to release a 'white paper' on the liquor outlets closed by the late chief minister.
He was winding up a day-long hunger strike by the DMK in Chennai as part of state-wide protests over 'murder of democracy' in the assembly on February 18 when Chief Minister Palaniswami won a trust vote after eviction of DMK members.
The Leader of the Opposition said the stir was held with the single objective of ousting the 'proxy regime', in an apparent reference to jailed All India Anna Dravida Munnetra Kazhagam chief V K Sasikala, who had propped up Palaniswami as the CM nominee after her conviction by the Supreme Court in a graft case.
"Get ready to remove the proxy, atrocious regime. Let us prepare ourselves for it," Stalin, who led the DMK protest in Chennai, said.
Indian Union Muslim League leader K M Kader Mohideen was among those who participated in the fast.
Citing suspicions from some quarters over Jayalalithaa's death, Stalin said that the first announcement 'after the DMK comes to power' would be an order for a judicial inquiry into her death.
"No one has locus standi to stop the inquiry," he said.
He pointed out that when Palaniswami took over as the chief minister, his party chief Sasikala was in jail.
"If the state moves on under such circumstances, who will save Tamil Nadu and its people? Will this hunger strike be enough? No," he said.
Stalin said he would head a DMK delegation to Delhi on Thursday to submit a memorandum to President Pranab Mukherjee, seeking a judicial inquiry (into the recent happenings in the assembly).
He said his party had already filed a petition in the Madras high court on the matter.
Attacking the Palaniswami government, Stalin said: "People voted in favour of the AIADMK for Jayalalithaa to become chief minister and not for this regime which is led by proxy and you should understand this."
"We will not accept this regime," he said adding the chief of ruling party was a convict.
Till the 'proxy regime' is ousted, his party has no other priority and 'we have to save Tamil Nadu', he said.
Claiming that the Palaniswami regime would not last long as people were against it, he said, "This is will be overthrown."
However, Stalin said the DMK would not try to make a backdoor entry to rule the state.
On Jayalalithaa's 75-day hospitalisation, he said there was no authentic, periodical official information about her health status from the government.
Stalin alleged that the explanations given by doctors including United Kingdom-based specialist Dr Richard Beale recently on the treatment given to Jayalalithaa were contradictory when viewed alongside the bulletins issued earlier by Apollo Hospitals.
He sought to know why Palaniswami did not order the judicial inquiry proposed by his predecessor Panneerselvam.
Referring to a slew of issues facing Tamil Nadu including recent deaths of farmers due to various reasons, crimes against women and children, he said 'we should prepare to face it ourselves, like DMK's Namakku Name (we for ourselves) initiative'.