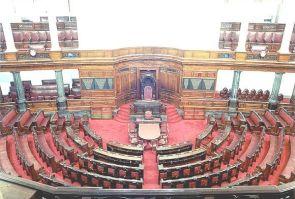 Procedural wrangles over voting for taking up a discussion on the alleged interference of the government in preparing Central Bureau of Investigation report on the coalgate scam led to a brief adjournment in the Rajya Sabha on Monday.
The treasury benches stoutly opposed a move to take up the voting by suspending the Question Hour even as Leader of Opposition Arun Jaitley demanded a suo motu statement from Prime Minister Manmohan Singh and Law Minister Ashwani Kumar on the issue.
Bharatiya Janata Party has been demanding resignation of the law minister over allegations of interference in CBI's probe into coal blocks issue.
When the House met after the first adjournment, Chairman Hamid Ansari asked V Maitreyan (All India Anna Dravida Munnetra Kazhagam) to move his motion for suspending Question Hour to discuss the role of CBI in the alleged coal scam.
As a voice vote on whether to take up the motion failed to clear the air, Opposition demanded division.
Parliamentary Affairs Minister Kamal Nath said the government was not averse to any discussion and the issue could be taken up at later in the day.
However, Opposition members including those from the BJP and Left parties said since Maitreyan has moved the motion, the debate should be taken up right away.
The chairman too suggested that the issue could be discussed after the other scheduled debates. He also said that division could only take place if there is order in the House.
The arguments continued even as Question Hour ended at noon.
Amid din, some members belonging to BJP and AIADMK trooped into the Well.
P J Kurien, who was then in the Chair, adjourned the House for half an hour as opposition members shouted slogans like 'sarkar bhag gayee' (government has run away from discussion).
Ravi Shankar Prasad (Bharatiya Janata Party) utilised the occasion to target the government over "leakage" of the draft report of the JPC on the 2G scam.
To this, Minister of State for Parliamentary Affairs Rajiv Shukla said that not only leakage of JPC report, but reports of PAC and CAG too should be discussed in the House.
Jaitley said if the government wants to bring a motion against the institution of CAG, it should bring one.