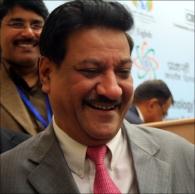 The Maharashtra chief minister's Mr Clean image will help but factionalism within his party will hurt, says Sanjay Jog
Maharashtra Chief Minister Prithviraj Chavan, who has completed three years in office, will have to further gear up to lead the ruling Congress party in the ensuing Lok Sabha and assembly elections slated for 2014.
Chavan, who desires to contest the assembly elections, will have to strive to overcome anti-incumbency and encash on his 'Mr Clean'' image to improve the Congress party's tally in the coming Lok Sabha elections from the 17 seats won in the last elections and ultimately retain power in the subsequent assembly elections.
Although there-is-no-alternative factor is a big plus in favour of him, Chavan will have to make special efforts to bring the various factions within the Congress together to put up a united show and also strategically handle co-partner Nationalist Congress Party to avoid any mischief in the run-up to the elections.
Chavan, who earlier was drubbed as a "night watchman" by the NCP and various aspirants of the chief minister's post within the Congress party, has not only tightened his grip over the party but also on the government. He has snubbed the otherwise aggressive NCP by not succumbing to its pressure tactics and also put it on the defensive.
Several NCP ministers are currently under investigation for the multi-crore irrigation scam and other corruption cases.
Moreover, a lacklustre performance by the opposition parties including the Shiv Sena, the Bharatiya Janata Party and the Maharashtra Navnirman Sena has come in quite handy for Chavan, in particular to take them on strongly in the coming elections.
He has already ruled out any major impact of BJP's prime ministerial candidate Narendra Modi in Maharashtra. Besides, Chavan does not see any possibility of the MNS joining the Sena-BJP to form a grand alliance.
On the other hand, Chavan, who is under attack for policy paralysis in the state from several quarters including Union Agriculture Minister Sharad Pawar, will have to change his image and also that of the Congress-NCP government to retain Maharashtra's position as a favoured investment destination.
Chavan has already clarified that he won't clear files in haste, that too of personal works or those relating to transfers and land allotment, but will continue to take decisions with larger public interest. By sticking to his transparent style of functioning, he will have to lay emphasis on bringing in further procedural simplicity in clearing projects and streamlining the process for its fast implementation.
Investors will have to be convinced to invest in under-developed Vidarbha, Marathwada and north Maharashtra, considering the saturation in the Mumbai, Pune and Nashik corridor. This is necessitated when Maharashtra's pre-eminence has been challenged by several competing states.
The government will have to win over industrialists by quickly addressing the contentious issue of high power tariff as they have already threatened to shift to other states.
Furthermore, Chavan's pet projects including the Navi Mumbai international airport, mono and metro rail, Mumbai make over, and Jaitapur nuclear project to mention a few, continue to run behind schedule. The Chavan-led government will have to expedite their completion or kick-start some of them ahead of the next assembly elections.
Importantly, Chavan will have to focus on giving a much needed push to economic growth in order to compete with other states. Amidst a rising debt burden (which is Rs 2.70 lakh crore) and every danger of a surge in revenue and fiscal deficits, the Chavan-led government will have to make additional efforts to adhere to fiscal prudence. Additionally, the government will have to step up its efforts to increase agriculture growth which is recorded at minus 1.4 per cent in 2012-13, which is quite low compared to Gujarat, Madhya Pradesh and Bihar.
This apart, the government will have to avoid announcing populist programmes ahead of the coming elections to avoid the collapse of the economy.