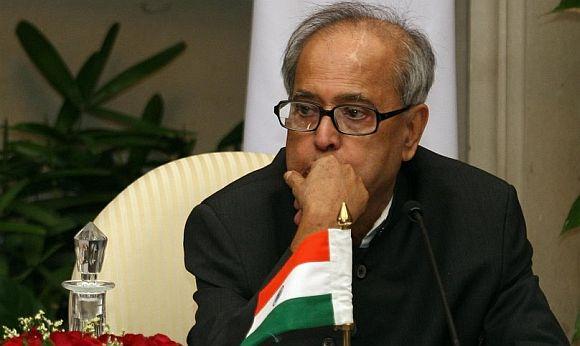 The lingering boundary issue will also feature in his talks with his Chinese counterpart Xi Jinping, Premier Li Keqiang and other leaders, says R Rajagopalan, who will travel to Beijing with the President.
China wants to focus on educational ties with India during President Pranab Mukherjee's four-day visit to the Middle Kingdom.
Keeping that in mind, a key engagement of the President will be a round table of vice-chancellors of Chinese and Indian universities. A number of MoUs will be signed between academic institutions of both nations.
In Beijing, the President will address students at Peking University just as one of his predecessors K R Narayanan had done almost 16 years.
Another predecessor, A P J Abdul Kalam, twice lectured at Peking University, in 2012 and 2014, but after he retired from the Presidency.
This is Mukherjee's first visit to China as President even though he has visited the country a number of times in different ministerial roles.
The President will be accompanied by a delegation of academicians including vice-chancellors of two central universities as well as the directors of IIT-Delhi and Bhubaneshwar, IIM-Ahmedabad and NIT- Nagpur and Agartala.
The President will set off on his visit to China on Tuesday, May 24, with an aim to further broaden ties between the two Asian giants as he deliberates on a range of key issues, including contentious ones with the Chinese leadership.
Mukherjee will raise China blocking India's attempt to get the United Nations to ban Jaish-e-Mohammed terrorist Masood Azhar as well as Beijing's stand that New Delhi must sign the nuclear Non-Proliferation Treaty to secure membership of the Nuclear Suppliers Group.
The President is the first Indian leader to visit Beijing after China opposed India's membership of the NSG.
The lingering boundary issue will also figure in his talks with his Chinese counterpart Xi Jinping, Premier Li Keqiang and other leaders.
Describing Mukherjee as "an elder statesman and an experienced hand in the government who is fully cognisant of the issues of Sino-Indian relations," national security expert Manoj Joshi, who will be part of the President's media delegation, said, "The government is using Mukherjee's visit to convey to Beijing that notwithstanding recent glitches relating to the Uyghur visas, the Masood Azhar controversy and the NSG contretemps, India attaches great importance to its relations with China and seeks a cooperative and mutually beneficial relationship at all times."