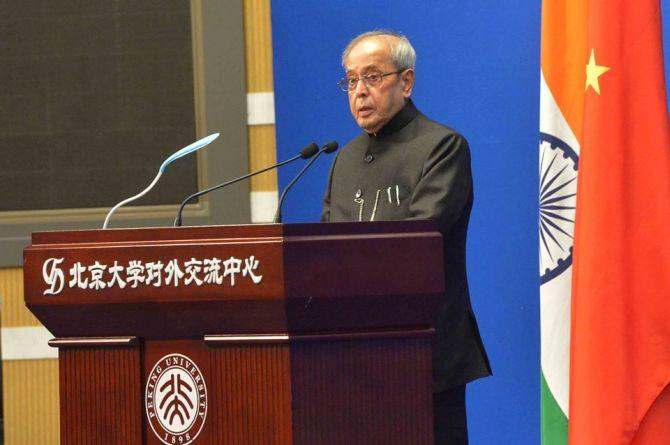 President Pranab Mukherjee on Thursday recalled the Indian support to China's membership of the United Nations in the 60s and 70s and the restitution of its permanent membership of the Security Council, in comments that assume significance after Beijing blocked India's bid in the world body to ban JeM chief Masood Azhar.
In his address at the elite Peking University, he referred to the establishment of the diplomatic relations between India and China in 1950 and the bilateral relations that have been tested by difficulties and challenges in the last seven decades.
The period has demonstrated the determination of the Indian people to safeguard their friendship with the people of China and it has visibly endured, he noted.
"It was demonstrated in India's early recognition of the People's Republic of China in December 1949, the establishment of our diplomatic relations in April, 1950 and India's constant public support through the 60s and 70s for the admission of PRC to the UN and the restitution of its Permanent Membership of the UN Security Council.
"Through this period our relations have witnessed significant expansion and diversification. Our shared civilisational past and our common Asian identity have been at the core of this aspiration," he said.
Mukherjee said that as India and China pursue their respective developmental goals, 'we both seek to live in friendship and realise our common dream of an Asian Century'.
"Both our nations have reaped rich political and economic dividends from this wise and judicious approach," the President said.
His comments assume significance as they come against the backdrop of China recently blocking India's bid to put Azhar on the UN list of proscribed terrorists, a move that has become a major irritant in Sino-India relations.
Image: President Pranab Mukherjee delivers a speech at the Peking University in Beijing. Photograph: President of India/Facebook