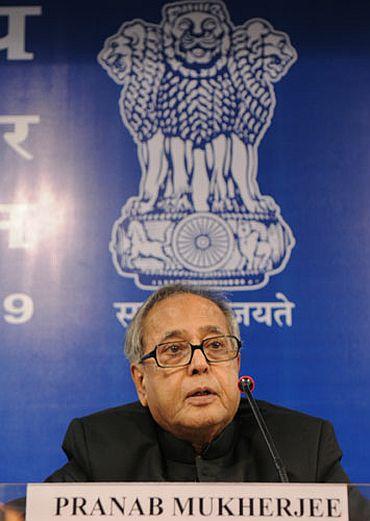 President Pranab Mukherjee will join 52 other heads of state and government at memorial events for former South African president Nelson Mandela this week.
South African Foreign Minister Maite Nkoana-Mashabane told a news conference in Johannesburg on Sunday that there has been unprecedented interest to attend Mandela's funeral week.
The dignitaries who have confirmed attendance at upcoming memorial events include US President Barack Obama, Brazilian leader Dilma Rousseff, French President Francois Hollande and British Prime Minister David Cameron.
President Mukherjee will lead a five-member delegation to the memorial service.
Mandela died on December 5 at the age of 95.
Many leaders will attend a memorial service on Tuesday at the Soccer City stadium, where Mandela made his last major public appearance during the 2010 football World Cup.
Some leaders are expected to travel to the anti-apartheid leader's rural childhood village Qunu for his funeral service and burial on December 15.
A number of dignitaries are also expected to attend memorial service, including U N Secretary General Ban Ki-moon, Kofi Annan, Martti Ahtisaari, Lakhdar Brahimi and Mary Robinson.
Palestinian leader Mahmud Abbas, Sri Lanka's President Mahinda Rajapaksa and Bangladesh's President Abdul Hamid will also attend the event. Britain's Prince Charles will be representing Queen Elizabeth II at the memorial service.