Outlining eight "pillars" for the future of India-China relations, President Pranab Mukherjee on Wednesday underlined the need for comprehensively resolving challenges including the boundary question through "political acumen" and "civilisational wisdom".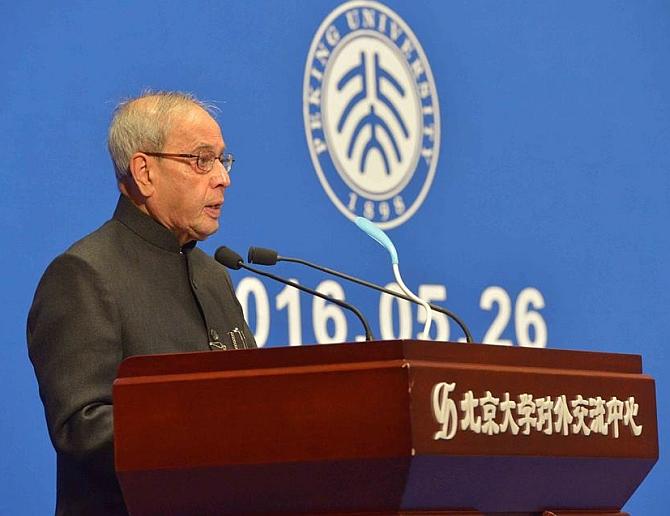 Delivering a lecture at the elite Peking University in Beijing, Mukherjee noted that there is bipartisan commitment to strengthening partnership with China, and said political understanding between the two countries is vital for "closer developmental partnership".
He said he was "confident that by placing these eight pillars at the foundation of a people-centric approach, we can sufficiently enhance and strengthen our cooperation to the mutual benefit of both our peoples".
"One of the ways it could be done is through enhanced political communication. In India, we have a bipartisan commitment to strengthening our partnership with China. The frequent contacts between our respective leaders bear testimony to this.
"We have broadened the 'common ground' and learnt to manage our differences. There are challenges -- including the boundary question -- that still need to be addressed comprehensively," he said while addressing the gathering on the topic "India-China Relations: 8 steps to a people-centric partnership".
India and China have differences over the 3,488 km-long border. While Beijing says that the boundary dispute is confined to 2,000 kms, mainly in Arunachal Pradesh in eastern sector which it claims as part of southern Tibet, India asserts that the dispute covered the whole of the Line of Actual Control including the Aksai Chin occupied by China during the 1962 war.
Making his first state visit to China as head of the state, Mukherjee said while it was natural for neighbours to have differences of views on certain issues from time to time, "I consider it a test of our political acumen when we are called upon to draw upon our civilisational wisdom and resolve these differences to the mutual satisfaction of both sides".
"Both sides should work with the aim of ensuring that we do not burden our coming generations by leaving unresolved problems to them. I am confident that by ensuring that these matters are not aggravated and by remaining sensitive to mutual concerns, we can minimise our differences and maximise our convergences," he said.
As part of his eight principles, he stressed on the need to enhance contacts among the youth of the two countries through festivals and sports contacts, digital technology, intellectual and cultural exchanges and travels, especially the Kailash Mansarovar and Buddhist pilgrimage centres.
Collaboration of civil societies on both sides and a common approach to global and developmental issues that facilitate strong cooperation in multilateral fora including the G20, BRICS, East Asian Summit, Asian Infrastructure and Investment Bank (AIIB) and Shanghai Cooperation Forum (SCO) will enthuse people of the two countries to support and contribute to the achievement of the shared goals, Mukherjee said.
The President said it was incumbent on India and China, as emerging powers, to remain equally focused on nurturing global prosperity.
"We both are at the threshold of an opportunity to join hands and create resurgence, a positive energy, an "Asian Century". This will not be an easy task. We will need to overcome obstacles with resolve and fortitude. We must preserve to realise this dream. We can do this together. We can do it if we join hands in a durable friendship," he said.
During his four-day stay, the President will meet his Chinese counterpart Xi Jinping and other top leaders.
Expressing happiness over the steadily diversifying bilateral relationship in every area of common interest, he said China is India's largest trading partner.
"Our developmental experiences are arguably most relevant for each other. Our respective achievements in infrastructure, mobility, energy, skills development, healthcare, education and urbanisation offer a fertile ground for exchange and cooperation. Our defence and security exchanges now include annual military exercises. There is greater Chinese investment in India and vice versa," he said.
Noting that the government was fully committed to this process and building a durable framework for the ties, Mukherjee said he firmly believed that India and China must enhance their bilateral relationship if both countries were to play a significant and constructive role in the 21st century.
"I am convinced that a qualitative transformation of our ties calls for placing people at its very centre. I, therefore, propose that our two sides should focus fostering a people-centric partnership to create a broad level of contact between our two countries," he said, adding that for building such a partnership, the two countries must have mutual trust predicated on mutual respect and a better appreciation of their respective political and social systems.
"This can be achieved by closer contacts at all levels. As you are aware, India chose to be a secular parliamentary democracy. Our system of participative governance is founded on the principles of tolerance, inclusiveness and consensus.
"Attempts to derail our peace through acts of terrorism have not shaken our faith. Our society is resilient and public interest is protected by a free media, an independent judiciary and a vibrant civil society," he said.
Emphasising on broadbasing contacts, Mukherjee said India is encouraged that province-to-state contacts were now growing and both sides were working to expanding exchanges between local bodies.
"Finally, trade and commerce can be the most powerful agents in reinforcing our complementaries. We are pleased that in the past decade, there has been substantial growth in our bilateral trade and investments but there is a vast untapped potential waiting to be fully realised. We invite Chinese companies to participate in the 'Make in India' initiative and to join us in 'Start Up India'. Let us jointly innovate to create a new model for business," he said.
Mukherjee said that by placing these eight pillars at the foundation of a "people-centric" approach, the two countries can successfully enhance and strengthen bilateral cooperation to the mutual benefit of the people of the two countries.