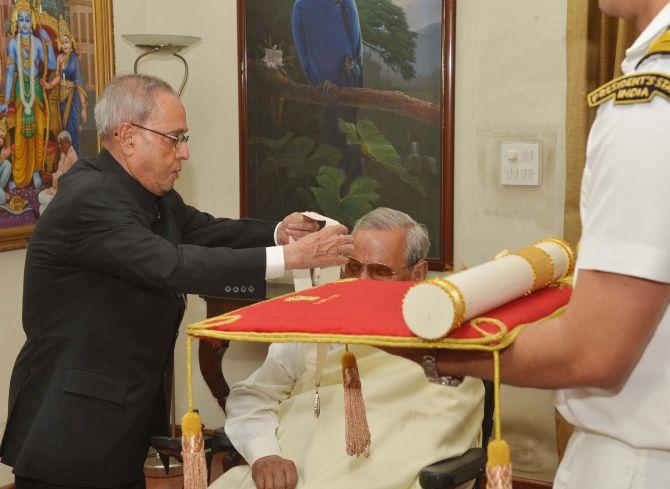 Former Prime Minister Atal Bihari Vajpayee, a statesman who endeared himself to people across the political spectrum, was on Friday conferred with the Bharat Ratna, the country's highest civilian award at a special function at his residence.
In a rare departure from protocol, President Pranab Mukherjee, himself a veteran Parliamentarian, drove to Vajpayee's residence at Krishna Menon Marg in Lutyens' Delhi to confer the honour at a simple ceremony as he is ailing and has been out of public life for about eight years.
The brief event took place in the presence of select dignitaries including Vice President Hamid Ansari, Prime Minister Narendra Modi, Home Minister Rajnath Singh and close family members that included his foster son-in-law Ranjan Bhattacharya and foster daughter Namita.
The citation read out at the occasion described Vajpayee as a statesman known for a subtle sharpness that engages, attracts and brings many together. In his six decade long political career, five of which were in Parliament, Vajpayee was elected to the Lok Sabha 10 times and twice to the Rajya Sabha.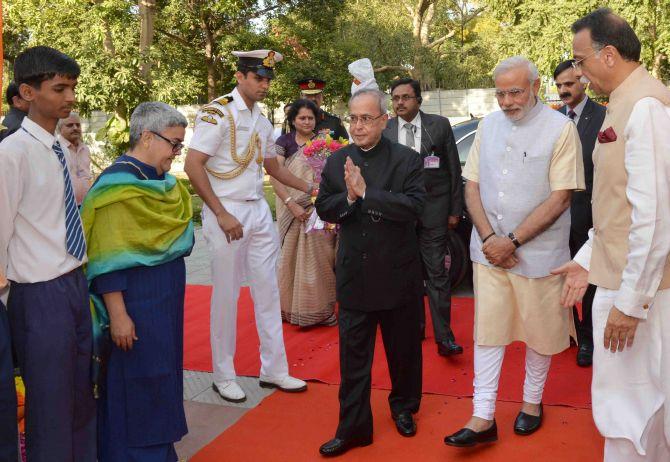 President Pranab Mukherjee and PM Modi at Atal Bihari Vajpayee's residence to confer the Bharat Ratna on him
Prime minister from 1998 to 2004, Vajpayee has faded from public life due to age-related illness. The event was kept out of media glare.
Considered the moderate face of BJP, he has been credited with taking bold initiatives for forging good ties with Pakistan which included a historic bus journey to Lahore in 1999 when he signed the landmark Lahore Declaration with then Prime Minister Nawaz Sharif with both sides pledging to push for peace and security.
After the presentation of award, a tea was hosted for a select group of leaders who were invited for the function that included former President A P J Abdul Kalam, former Prime Minister Manmohan Singh, Bharatiya Janata Party leader L K Advani, Finanace Minister Arun Jaitley, Rashtriya Swayamsevak Sangh chief Mohan Bhagwat, Janata Dal-United leader Sharad Yadav, and Chief Ministers Prakash Singh Badal of Punjab, Mufti Mohammed Sayeed of Jammu and Kashmir, N Chandrababu Naidu of Andhra Pradesh and Vasundhara Raje of Rajasthan.
Modi said, "Atalji's life was dedicated to the nation, he lived and thought for the nation for every second. In India there are crores of workers like me in whose life Vajpayeeji is an inspiration.
"The upcoming generations will continue to be inspired by him. I will pray to God for this only that Bharat Ratna awardee Vajpayeeji's life continues to inspire and guide us forever," he said after the function.
Modi also thanked the President for his gesture to honour Vajpayee at his residence saying, "I express my gratitude to the President who came here and personally bestowed the Bharat Ratna award."
"It is a historic day for crores of Indians today when Atal Bihari Vajpayee is being given Bharat Ratna award," he later tweeted.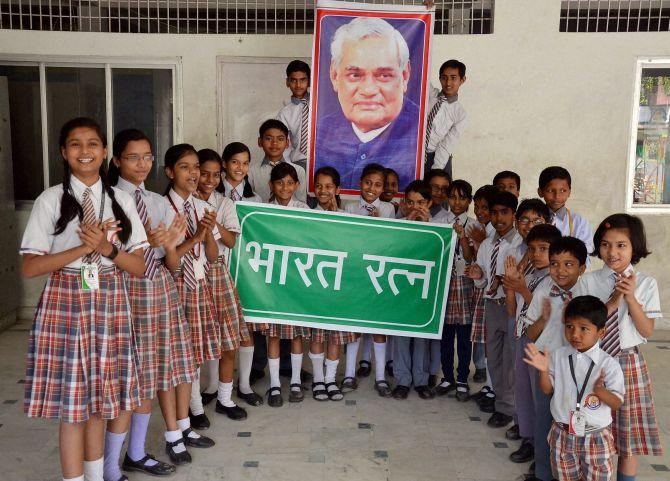 Students celebrate the Bharat Ratna being conferred on Atal Bihari Vajpayee. Photograph: PTI photo
After the ceremony which lasted for about 30 minutes, Jaitley told reporters that Bharat Ratna was conferred at the BJP leader's residence as "Vajpayee ji does not go out on account of his health reasons".
The honour is in recognition of his services to the country as a "powerful nationalist leader, one of the longest serving Parliamentarians, a poet and a thinker who was not only leader of his own party but of the entire country," he said.
A veteran Parliamentarian, he was not only a leader of India but left an indelible imprint on the whole world, Jaitley said, adding, "It is an occasion of joy for each one of us."
He said the function held at Vajpayee's residence was on behalf of Rashtrapati Bhavan.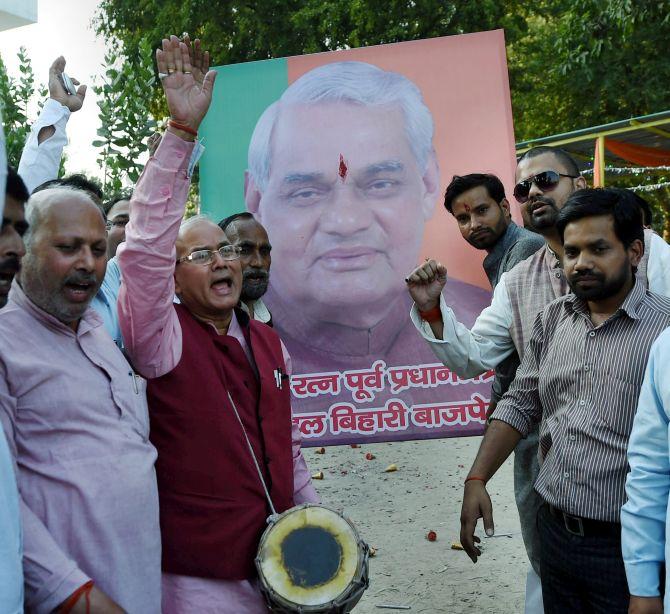 BJP workers celebrate the Bharat Ratna being conferred on Atal Bihari Vajpayee. Photograph: PTI photo
The citation also said that Vajpayee was a true leader, undeterred by colleagues and opposition leaders alike and always followed his instinct and heart in initiating diplomatic dialogues with Pakistan.
"His efforts are deemed as a defining moment in Indo-Pak relations," it said.
"This element of original and individualistic thinking helped in building a vision of India both futuristic, yet stable.
"Shri Vajpayee made this apparent not only with the importance he gave to foreign diplomacy, but in leading India to conduct nuclear tests in Pokhran in May 1998. His example, both in politics and other wise, embodies the need for coexistence coupled with cultivating for the nation a strong sense of self," it said.
The citation read that Vajpayee represents a moderating influence against polemic by encouraging dialogue. "He is quietly a persuasive voice, a quality as much valued in politics and grand negotiations, as in our everyday lives.A great orator and poet-leader, he moves not just his followers, but also an entire nation to walk with him, and work with him," it read.
It said Vajpayee held a broad-based coalition together, setting the norms for an inclusive political landscape to govern India for years to come.