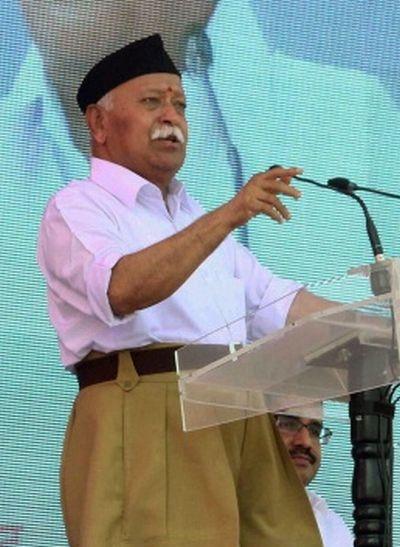 Rashtriya Swayamsevak Sangh chief Mohan Bhagwat on Thursday asked the people to prepare for building a grand Ram temple like the one in Somnath (Gujarat), a call that was disapproved of by Bihar Chief Minister Nitish Kumar who said the Bharatiya Janata Party was keen on keeping the issue 'alive' for political purposes.
A day after Bhagwat spoke in Kolkata on Wednesday expressing the hope that the Ram temple in Ayodhya will be constructed in his lifetime, RSS on Thursday made a series of tweets quoting Bhagwat on the issue.
In one of the tweets, Bhagwat recalled that Somnath temple was rebuilt with the 'efforts' of the then home minister Sardar Patel and the then President had laid the foundation stone.
"India is rich in religion and culture. Ram is our ideal whom some regard as god and some as a great man... Society should rise taking inspiration from Ram and Sharad Kothari and prepare for building a grand Ram temple like Somnath," the RSS chief said.
Ram and Sharad Kothari were among the RSS activists killed in police firing on 'karservaks' in 1990 when they tried to march to the disputed temple site in Ayodhya.
"The grand goal may be realised in our own time. May be we can see it with our own eyes," he had said in Kolkata.
Reacting to Bhagwat's comments, the BJP said that it 'definitely believes Ram temple should be built sometime'.
In Patna, Nitish Kumar attacked the RSS and the BJP over Bhagwat's remarks.
"The BJP merely wishes to keep the Ram temple issue alive. They have no respect for Lord Rama," Kumar told reporters.
"They treat Lord Rama as if he is a member of the BJP," he said.
Of late, Hindutva leaders have been increasingly demanding the construction of the Ram temple, more so after the death of prominent Vishva Hindu Parishad leader Ashok Singhal, a key architect of Ram temple movement.