Is Minister of Women and Child Development Maneka Gandhi opening another minefield with the introduction of mandatory pre-nuptial agreement before marriage or will this proposed legislation help streamline the dissolution process of a marriage, given the spiralling divorce rates in our country?
Rashme Sehgal speaks to lawyers on the issue.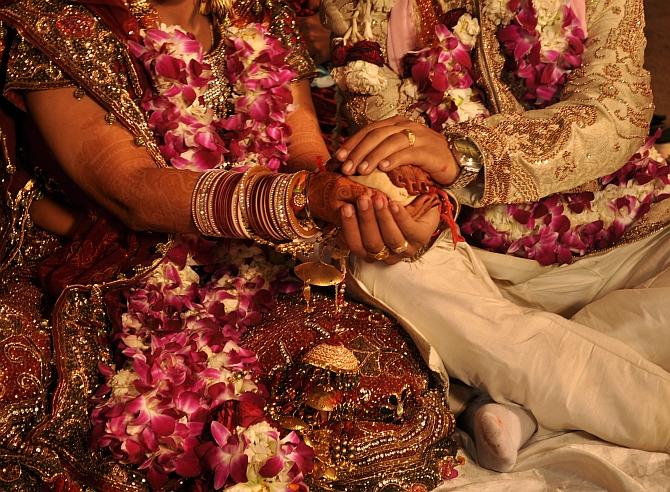 M
inister of Women and Child Development Maneka Gandhi has proposed a draft bill that will make the drawing up of a pre-nuptial agreement mandatory before all marriages.
Several lawyers have hailed it as a positive step forward which will ensure a less acrimonious ending to the present syndrome where both families first spend a huge amount of money at the marriage and then unfortunately, in case of a split, find themselves trapped in a ugly and messy litigation which can go on for years.
Gandhi believes that unlike in the West where prenups are being drawn up primarily by rich celebs to protect their wealth, a prenup in India must be tailor-made to the Indian context to ensure a wife gets proper maintenance in case she is abandoned by her husband.
The ministry's proposal is that both spouses sign a full disclosure pact before their marriage in which they draw up a list of their financial assets and liabilities as also spell out how they will deal with other contentious issues including custody of children.
Gandhi emphasises that the most significant aspect of the prenup in the Indian context is that the wife would be entitled to maintenance which can be worked out in terms of a per cent share of the spouse's earnings over a specific period.
The problem is that this fledgeling draft is being interpreted differently by different people. Senior advocate Rebecca John questions how a prenup can be transported to an Indian milieu.
"There is a major fallacy in the government argument about wanting both husband and wife to list out their financial liabilities because in India there is not practice of making full disclosures over financial assets. Rather, the contrary is the practice and whatever holdings are shown are done so for purposes of tax evasion. Wealth will be disclosed in the father's name, some in the mother's name, some in the brother's name and so on and so forth. With full disclosure not taking place, how are we going to stop the woman from feeling cheated?" John asked.
Supreme Court advocate Kirti Singh, who has been an office-bearer of the All India Democratic Women's Association, goes a step further and believes that before the ministry goes ahead and green signals legislation for prenups, they should have first introduced a law whereby both husband and wife are given the right to inherit equally property acquired post marriage. "All property should be deemed to belong to both parties," pointed out Singh.
A majority of lawyers believe the most recent amendment to the Hindu Succession Law making daughters eligible to inherit ancestral property is not working in practice. John pointed out, "Despite this act it is not working in practice with many women being forced to sign relinquishment deeds to ensure they do not get access to this property."
Advocate Malvika Rajkotia, who deals primarily with divorce cases, also believes access to Hindu Succession Act is largely restricted to the upper middle class women. "Which woman from a rural background has the courage to ask her father to give her a share in the ancestral property? In the same way, prenups comes across as a very elitist concept which can hardly be said to be in tune with Indian social reality."
Rajkotia's other interesting observation is that prenups are already being practised among the Christian community. "The Goa civil law has a provision for prenups and I personally know of a couple of instances where they have been drawn up. The point to be emphasised is that we already have a statute in place. We do not need another piece of paper -- we could do better to provide social empowerment of women," said Rajkotia.
Despite her reservations, Rajkotia refuses to dismiss the present move by the ministry towards having prenups. "The whole objective is to create an equal bargaining power between the two parties. The time spent on negotiating the dowry should be spent instead on negotiating for prenups."
She also cites the example of the United Kingdom where despite prenups being legal, "The courts test the fairness of a prenup. We need to do the same here," said Rajkoita.
Gandhi recently met Law Minister Sadananda Gowda to appraise him of her ministry's move. On November 23, she held a meeting with different stakeholders in order to get their feedback on this move.
Gauri Chowdhury, who heads the NGO Action India and was invited for these consultations, feels she needs much greater clarity on this issue.
"During the meeting, the minister heard other points of view but spoke little. I am confused at to why this is being introduced so suddenly," she said.
While Chowdhury refuses to come out categorically against prenups, she does feel that men will stand to gain from this legislation. "This is what we have seen happen in the United States and in the UK. Men there were often ending up paying a huge amount of alimony. In order to protect themselves, they opted for prenups as a way out," she pointed out.
Chowdhury cites the example of meher (money offered to the bride by the groom's family) which forms an intrinsic part of a Muslim marriage. "Customs are changing and the Muslim men in India are known to warn their brides-to-be and their families that they will agree to get married only if the woman is willing to overlook her meher. And this is on the rise. This is why I believe we need a lot more research on this whole subject of prenups," Chowdhury believes.
Some lawyers have spoken strongly in its favour. Prosenjeet Banerjee, a divorce lawyer, maintains, "Prenups will definitely work though it will have its own challenges. It will be a contract and a step forward because it will ensure marriage takes place between equals. Though, of course, the skill of a lawyer will come in to play at the time of drawing up of the contract."
More important, Banerjee believes prenups will perform a key balancing act in the skewed marital situation that exists today.
"I know many men whose homes have been broken, men who have been shattered by the blatant abuse of the of Section 498A (dowry abuse law). This rampant abuse has found expression in the Supreme Court and some of this abuse is emanating from the upper strata of our society. The positive discrimination advocates want this abuse to remain. Let's face it, a lot of women are more equal than men," said Bannerjee.
"I thinks prenups will go a long way in reviving the institution of marriage. What is most important for me is that the normal laws of contract will not apply for these prenups either," Banerjee added.
The ministry is expected to hold another round of consultations in December. Prenups, ministry officials point out, will also protect the interests of women in live-in relationships because they will be in a position to claim financial support even when they have not tied the knot.
Photograph courtesy: Yogita/Wikimedia Commons