Have any of you guys out there read Alone In The Middle, the autobiography of New Zealand umpire Steve Dunne?
Um -- before I start, I want to say something: This page is actually intended as a place to discuss books, which I love, and not cricket, which I also love. It so happens, though, that at the time of writing this, I was reading a sports book (of which more later) and, coincidentally, found a review of Dunne's book on www.cricket.org
I haven't read it yet -- in fact, while I read every player biography or autobiography I can get my hands on, I am yet to read a book written by an umpire. Which is a curious, and rather unfortunate, omission, now that I come to think of it. After all, who is in a better position to talk of the inner workings of cricket than an umpire?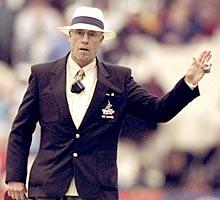 But do umpires talk -- frankly -- of what actually goes on out there in the middle? If they did, imagine what an invaluable resource they would be, for the inside dope on hot button issues of today such as ball-tampering, chucking, sledging, cheating, even match-fixing!
Did you guys come across any interesting info, in any umpire-authored books you may have read? Have you read any such book that you can recommend? Do write in and let me know.
Meanwhile, in New York of all places, I chanced upon a gem while browsing through Strand bookstore: A Century of Great Cricket Quotes, compiled by David Hopps.
You would think a book of quotations is not something you read -- as in opening it to page one and going on to, in this case, page 340, as if it were a mystery novel. Quotations are meant -- or so I thought -- to provide interesting sidebars to newspaper stories or, occasionally, to add spice to a story.
But that was till I chanced on this book. A must-have for a cricket fan, it helps you get into the minds of some of the world's greatest practitioners of the game. It is fascinating, insightful and informative; at times, it is also laugh-out-loud funny.
Perhaps predictably, one of the funniest quotes comes from Jaywant Lele, my personal favourite among the many stand-up comedians Indian cricket is full of. The then joint secretary of the Board of Control for Cricket in India is, here, explaining crowd disturbances during an India vs England one-day international, in Jamshedpur in 1993.
Listen to him explain why the crowd went berserk: 'People object to being beaten by volunteers rather than the police. We have told the volunteers that if they want to beat someone up they should take them outside and do it.'
Or, since sledging is a hot topic just now, check out this sequence:
'Pakistan is the sort of place every man should send his mother-in-law to, for a month, all expenses paid' -- Ian Botham, returning from England's 1984 tour.
'Why don't you send your mother-in-law now? She couldn't do any worse' -- Aamir Sohail, taunting the batsman as Botham walked back after being dismissed for a duck in the 1992 World Cup final in Melbourne.
I'm tempted to continue stringing quotes together here, but in the best interests of those who like books, but don't necessarily like cricket, I'll desist.
But since sports books, purely by chance, became the theme of this post, I'll continue on the theme, and with a question:
What makes a sporting moment truly memorable?
Is it the stunning extension, by an athlete in his prime, of the bounds of the possible -- vide long jumper Bob Beamon, who took that 8.9 metre flight into fame in the 1968 Mexico Games? Or vide diminutive 14-year-old Nadia Comaneci, in Montreal 1976, when she became the first gymnast to score a perfect 10, and followed it up with six more perfect scores in as many days?
(While on that, the scoreboards in those days were not tailored for the perfect score, so when the four-foot-eleven Comaneci performed her incredible parallel bars routine, the scorecard read '1.00', not '10.00'.)
Is it the sight of one man dominating an assembly of his peers -- as swimmer Mark Spitz, who announced himself in the 1968 Mexico Games with four golds, went on to do four years later in Munich, West Germany, when he won seven gold medals in eight days?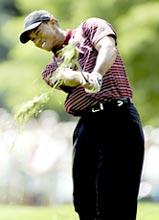 Is it the buzz that surrounds the first sight of a new champion, the electricity generated by the arrival on the scene of a new hero -- as in the 1997 Masters triumph of Eldrick 'Tiger' Woods at Augusta, Georgia?
Is it because the arrogance of a true champion can mesmerize -- as Babe Ruth famously did in the 1932 World Series when, with two strikes against him, the legendary baseball star pointed in the direction he would hit the ball, then proceeded to club a home run in that precise direction to help his team win the pennant?
Or as Muhammad Ali did on October 30, 1974, when in the legendary Rumble in the Jungle in Zaire, he unveiled his rope-a-dope trick, allowed rival George Foreman to swing as he pleased, took all Foreman had to give, and then knocked him out in round eight exactly as he had predicted?
Or is that thrill most manifest when an underdog appears on the scene, takes on the superstar, loses and, in the manner of his losing, imprisons our collective imagination -- as John McEnroe did in the titanic four-hour marathon against four-time Wimbledon winner Bjorn Borg in 1980?
Is it any of these, or all of these?
For a moment, play let's pretend. Imagine these champions -- and dozens of others -- performing their feats in a vacuum. Imagine there were no crowds, no television cameras, no radio announcers, no nothing -- just champions, parading their talents in a vacuum.
Would these feats be as memorable, then? (Come to think of it, the question is very Zen -- like that business of the sound of one hand clapping.)
Does it follow, then, that there are two ingredients to sporting excellence -- the champion, at the peak of his supreme abilities, and the spectators, present in their numbers and anxious to add one more name to their personal pantheon of heroes?
The question raised itself as I flipped through the pages of And The Crowd Goes Wild, a coffee-table tome that chronicles 47 of the greatest sporting moments in history.
I say that with a codicil -- this is an American book; ergo, the chronicle is weighted in favour of American achievements in baseball, basketball, golf and athletics.
Each of the 47 chapters paints, in broad brushstrokes and vivid photographs, the lead-up to the event in question, and narrates the achievement itself.
But what gives the book its gee-whiz edge is the accompaniment -- two audio CDs, in which the narrator (Bob Costas, winner of eight Emmys as outstanding sports broadcaster) talks you through each event. The narrative is interspersed with archival clips of the actual commentary of the time, complete with primeval roars of crowds as they witness what they had previously not dared imagine.
A sporting achievement, you realise, is most meaningful when you can say, 'I was there, I saw it, it happened.'
This book -- and its sequel, And the Fans Roared -- is the next best thing to being there. I found it on the bargain shelves of Barnes & Noble, here in New York, marked down from $49.95 to just $12.98; a search on Amazon will produce copies that are even less expensive.
Meanwhile, a long time ago, I wrote a piece on rediff.com that, inter alia, indicated how important books were, for me (My Father's Son).
I wonder, has that kind of thing happened to you? Have you read any one book that materially altered the sort of person you are, or the way you think, the way you live? If so, which book is that, and why and how did it influence you? I'd love to know. The email is prem@us.rediff.com