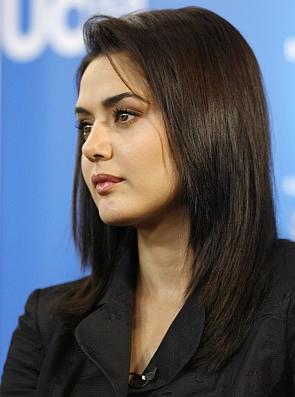 Mumbai police on Saturday launched a probe into alleged molestation of Bollywood actress Preity Zinta by her former boyfriend Ness Wadia and would soon record the statements of IPL CEO and others even as the industrialist rejected the charge as "false and baseless".
Sources at Marine Drive police station said the probe team headed by an Inspector has begun examining the CCTV footage of the incident.
The 39-year-old actress had filed a police complaint on Thursday night alleging that she was molested by Wadia, 44, inside Wankhede stadium on May 30 when an IPL match was played between Kings XI Punjab and Chennai Super Kings.
Zinta and Wadia had broken off their five-year-long relationship a couple of years back but continued to share business interest.
"We are verifying the CCTV footage to identify people present to record their statement," an officer involved in the investigation said.
Several players of IPL team Kings XI Punjab, of which Zinta is a co-owner with Wadia, its support staff, and officials of Wankhede Stadium were reported to have been present when the alleged incident took place.
Zinta, in her complaint, has referred to another unsavoury incident during the IPL team auctions in Bangalore where IPL CEO Sunder Raman was present and had intervened. His statement would be recorded in that context, sources said.
"We will be recording the statement of IPL CEO as Zinta has said that after she refused to sit with Wadia, he had screamed at her and the IPL CEO had intervened," the officer said.
Based on Zinta's written complaint, Marine Drive police have registered an FIR against Wadia under IPC sections 354 (Assault or criminal force to woman with intent to outrage her modesty), 504 (Intentional insult with intent to provoke breach of peace), 506 (criminal intimidation) and 509 (Word, gesture or act intended to insult the modesty of a woman).
Narrating what transpired on May 30, Zinta said Wadia began "shouting and yelling" at team's support staff and, when she tried to calm him down, as her team was playing well, "for no reason he started abusing and screaming at me, grabbed my arm and tried to pull me by hand".
"I am shocked at the complaint and the allegations made against me are totally false and baseless," Wadia said in a statement.
Speaking on condition of anonymity, a source close to Wadia said the industrialist had booked 14 odd seats in Garware Pavilion and got angry when he saw his mother Maureen Wadia standing as all seats had been occupied by Zinta and her guests.
Wadia then got engaged in an argument with the actress over lack of courtesy being shown to his elderly mother "which has now been twisted and turned into a molestation case".
Zinta's complaint, however, has no mention of this.
The actress said Wadia abused her on the ground and said things which were "demeaning for my reputation and character" and, as it happened in front of so many people, "it has really disturbed me and caused immense damage to my reputation and character".
"Mr Ness Wadia's aforesaid behaviour on numerous occasions has embarrassed me and made me feel ashamed, especially in public," she said.
Zinta went on to say, "he has gone to the extent of threatening me with dire consequences and intimidated me by boasting of his political clout and connection.
"During the match on 30th May at Wankhede Stadium, in the evening, Mr Wadia intimidated me by saying that he could make me disappear as I was a nobody and only an actress and he is a powerful person," she said, adding the incident had left her "shattered".
The actress also said she had lodged a verbal complaint with BCCI officials.
In a Facebook post, Zinta said she had to take the "stern step" as the incident took place in front of "way too many people" and hoped the police will do their job "fairly and quickly".
Calling it a "fight for respect at my workplace", the actress said she had truth by her side but was saddened that "no one at work or around ever stood up for me in the past when I was abused and insulted publicly."
"This time I was left with no option but to take this stern step as this incident happened in front of way too many people," she said and requested that it should not be diluted by "every other fabricated story about my character" and made into a TV soap.
Questioning the "delay" in taking action in the case, Maharashtra State Women's Rights Commission gave the city police a 24-hour ultimatum to arrest Wadia.
Chitra Wagh, a member of the state's Women's Rights Commission, who visited Marine Drive police station to inquire about the progress of investigation, said, "We have served a 24-hour ultimatum to Mumbai police to arrest Ness Wadia."
National Commission for Women has decided to take suo motu cognisance of the allegations and will conduct a detailed investigation into the case.
"We will take cognisance of Preity Zinta's case and conduct a detailed investigation into the matter on our own," NCW chairperson Mamta Sharma said.
"I have got to know through media reports that Preity used to live together with Ness Wadia till 2009. But it doesn't matter. If Wadia did something wrong as what Zinta is alleging, then we will proceed as per findings of our investigation," Sharma said.
Expressing her disapproval, senior Congress leader Shobha Ahuja said that it was not important with whom violence is committed, instead it is important who is committing it.
"There is need to change the mindset of men. We have to give rights to women similar to men. If this mindset is not changed, such incidents will happen even to celebrities and other women working in high posts," Shobha said.
Image: Actress Preity Zinta filed a molestation complaint against her former boyfriend Ness Wadia