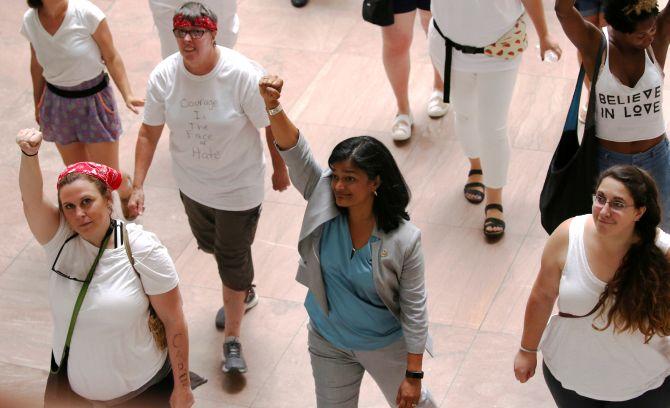 Congresswoman Pramila Jayapal, the first Indian-American woman to be elected to the US House of Representatives, has been arrested in Washington, DC during a protest against the Trump administration's 'inhumane' 'zero-tolerance' border policy.
Jayapal and her groups have planned 'a massive round of protests' across the country on Saturday.
The administration's controversial 'zero tolerance' policy of separating immigrant parents and their children on the US border has resulted in the separation of nearly 2,000 children from their parents and guardians, sparking a public outcry.
Jayapal, 52, was arrested along with over 500 other women at Capitol Hill on Thursday.
"I just got arrested with a group of over 500 women who took over the centre of the Hart Senate Building, protesting the inhumane and cruel zero-tolerance policy of (US President) Donald Trump and this administration, the separation of families, the caging of children, the imprisonment of asylum seekers," Jayapal said.
She was arrested on the floor of the Hart Senate Office Building for a sit-in as part of their civil disobedience action.
"These women understand, they're from all over the country... they understand that this is far beyond politics, this is about right and wrong. We have to step up and put ourselves on the line," said Jayapal who was elected to the House of Representatives from Washington State in 2016.
'Not in our country. Not in our name. June 30 we're putting ourselves in the street again.
'I'm proud to have been arrested with them to put myself in the camp of people who believe that the United States of America is better,' Jayapal said in a video posted on Twitter.
Jayapal, the only Indian-American woman so far elected to the House of Representatives, is seeking a re-election in the mid-term elections later this year.
She was the first member of Congress to visit a federal prison where parents were separated from their children.
During her visit, she had heard horror stories by men and women who came to the border seeking asylum.
According to reports, more than 500 people were arrested by the Capitol Police when they were having their sit-in protest at the Senate Hart Office building. They were charged with unlawful demonstration. The protesters were soon released.
Hundreds of people across the country are scheduled to protest against the Trump administration's 'zero-tolerance' policy in rallies organised by a coalition led by the National Domestic Workers' Alliance on Saturday.
"There are 400,000 people who have signed up, people who are going to be wearing white at rallies across the country. Every single state across the country, I think it's 650 events, including a big one here in DC at Lafayette Square at 11:00 AM, and that's because people believe that this has to be changed," Jayapal told CNN.
Jayapal has described her protest as the civil disobedience, the path of peaceful protest shown by Mahatma Gandhi and Martin Luther King.
Jayapal has emerged as one of the key rallying points for protests against Trump. She is quite often joined by Congressman John Lewis, the legendary civil rights activists.
It was an incredibly inspiring protest, incredibly inspiring civil disobedience, as Representative John Lewis likes to say, it's good trouble, she said.
"And I think that's what people were doing today is drawing attention to the fact that we've got kids in cages on the borders, people in prisons when they're trying to seek asylum.
"It's not right. It's beyond politics. It's about right and wrong, and it was incredible to see all those women out there today -- courageous, strong and fighting for women who are in prison, mothers who are in prison and trying to be reunited with their children," Chennai-born Jayapal said.
She said that the last two weeks have been really consumed by this issue.
"They cannot believe this is happening. And outrage has been real. The idea that this president would pass a zero-tolerance, zero humanity policy and separate children from their parents, put these kids in cages, I think it's got everybody across the country outraged. And so those voices, I think, are being heard. Obviously, the last few days we've had a lot of things going on.
"The president put this policy into place. He can pick up the phone or pick up his phone and tweet at Secretary Nielsen and Jeff Sessions and tell them to reverse this policy. That's all it takes. And then we've got to reunite these kids because right now, Health and Human Services and Department of Homeland Security have no idea which kids belong to which parents," Jayapal added.
The public outcry in the wake of images and stories of the children caught in the middle of Trump's immigration policy has sparked a fierce debate in the US.