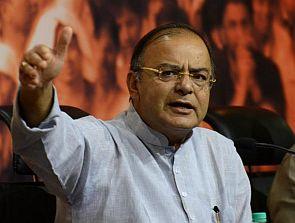 Union Finance Minister Arun Jaitley on Sunday said that demonetisation left Maoists in many parts of India and separatists in Jammu and Kashmir "fund starved".
He said it greatly reduced the number of protesters taking part in stone-pelting in the militancy-hit state.
"Stone pelters used to gather in thousands on the streets of Kashmir before demonetisation was announced, but now not even 25 come together for such agitations," he said.
"After demonetisation, separatists in Jammu and Kashmir and also Maoists in states like Chhattisgarh have become fund starved," the minister said.
Jaitley was speaking at a function organised by Mumbai Bharatiya Janata Party president Ashish Shelar. He spoke on the topic 'New India Pledge'.
Maharashtra Chief Minister Devendra Fadnavis was also present on the occasion.
Elaborating on benefits of the move to scrap high-value notes in November 2016, Jaitley said money which was earlier getting circulated outside the economy had come into the formal banking system.
On the BJP's vision of building a 'New India', he said, "We want to spend funds on defence, rural development and infrastructure."
"We should have world-class public institutions so that shameful incidents such as the Gorakhpur tragedy do not recur,"
The finance minister said the Modi government was not satisfied with a 7-7.5 per cent GDP growth rate.
To accelerate the growth rate, the government would continue to take tough decisions in the interest of the nation as it had done since coming into power in 2014, he said.
Jaitley also said security forces with their resolute action had established dominance over terrorists in Jammu and Kashmir and the Centre was firm that armed militancy must end in the border state.
He said the Kashmir issue had become complicated because of cross-border support to terrorists and also because local groups.
"The Kashmir issue had become complicated because of cross-border support (to terrorism) and (also) our own groups supporting the armed militants.
"Mass civil protests were seen in the form of stone-pelting and sometimes this was used to help terrorists escape," he said.
The defence minister slammed the erstwhile Congress- led UPA government, saying it had no firm policy to solve the decades-old Kashmir issue.
"The earlier government did not solve the Kashmir issue then what right do they have to question us? There was a leadership which was not taking action and only finding excuses to delay taking any decision," he alleged.
However, the Modi government was firm in its conviction that armed militancy in the state bordering Pakistan must end, Jaitley said.
"Today, a time has come where all forces--local police, central forces and the army--are dominating terrorists. There is a clarity in our decision and stand that the armed military has to be ended," he said.
"We must understand that we have a prime minister who faces challenges which no other PM had faced in the past," Jaitley said.