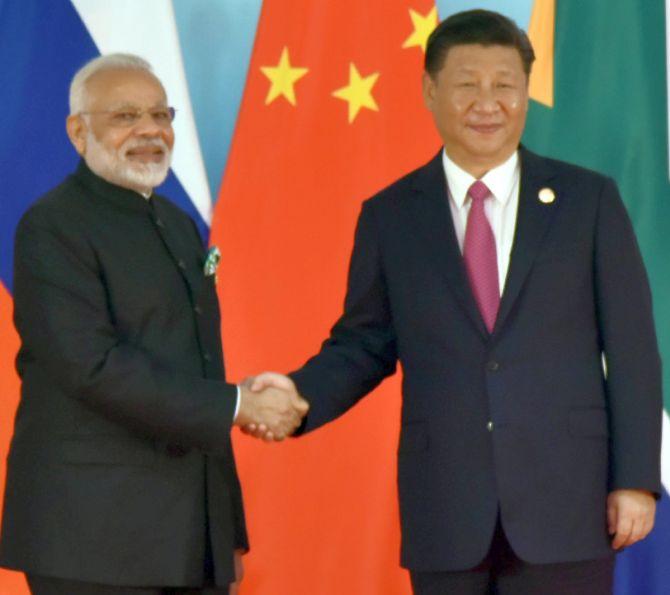 Prime Minister Narendra Modi and Chinese President Xi Jinping will hold their first substantive bilateral meeting on Tuesday after the Doklam standoff, which had put ties between the two countries under strain.
According to external affairs ministry officials, Modi will meet Xi at 12.30 pm (10 am IST), the prime minister's last official engagement before flying off to Myanmar on a bilateral visit.
Modi had arrived in Xiamen on Sunday and attended the BRICS Summit.
During the meeting, which is taking place amids efforts from the two sides to leave the bitterness caused by the 73-day face-off between their troops in Doklam in the Sikkim sector, sources said the two leaders are expected to discuss ways to create confidence building measures.
However, they refused to divulge details about the issues to be discussed.
The sense is that both countries want to "move on" after the standoff.
The Chinese and the Indian troops were engaged in a standoff since June 16 after the Indian side stopped the construction of a road by the Chinese Army.
On August 28, India's external affairs ministry announced that New Delhi and Beijing have decided on "expeditious disengagement" of their border troops in the disputed Doklam area.
Asked if there was any link between the BRICS declaration which for the first time named Pakistan-based terror groups for their violent activities and resolution of the Doklam standoff, Secretary (East) in the MEA Preeti Saran answered in the negative, saying BRICS is a multilateral forum where outcomes are based on consensus.
"It cannot be linked," she added.
Earlier, Chinese Foreign Ministry Spokesperson Geng Shuang told the media in Beijing that "details of the meeting we will release in due course."
Apart from Xi, Modi will also hold a bilateral meeting with the President of Egypt, which is among the five counties -- Mexico, Guinea, Thailand and Tajikistan -- invited by China as part of 'BRICS Plus' outreach exercise.
IMAGE: PM Narendra Modi is received by Chinese President Xi Jinping at the BRICS 2017 welcome ceremony. Photograph: PIN