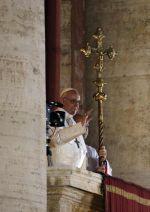 The Catholic Church in India expects more representation in Vatican during Pope Francis' tenure considering the humble background of the first pontiff from Latin America.
The Church is also likely to send an invitation to the new pope, who was elected last week after the resignation of Pope Benedict XVI, to visit India.
"Pope Francis, who comes from a humble background in Buenos Aires, might consider giving more emphasis on selecting Asians, Africans and Latin Americans into the Vatican Curia," Anil Couto, Archbishop of Delhi, told PTI.
Couto, who is set to receive his 'Pallium' or the Papal recognition to new Archbishops from the pope this year, said Catholics in the country hoped that there will be more emphasis on justice and equal distribution of wealth in pope's pronouncements along with legitimate aspirations of the poorer countries in Asia, Latin America and Africa.
"I hope the ideals of austerity the pope follows trickle down to the leaders of the Church all over the world, since the pope himself lives a very austere life and speaks about it on a regular basis. Certainly that will influence," he said.
On inviting the pope to visit India, Couto said, "We will definitely discuss about sending an invitation to the Pope, and certainly after the invitation it is up to him to accept it or not".
When asked about India's role in the papal elections, Couto said this is the first time that there were five cardinals representing the country.
Although it is a secret who they voted for, the very fact that the result came out so soon makes it clear that most of them must have voted for him, he said.