Polling to elect representatives to the 140-member Kerala assembly, 232-member Tamil Nadu assembly and the 30-member Puducherry territorial assembly began at 7 am on Monday.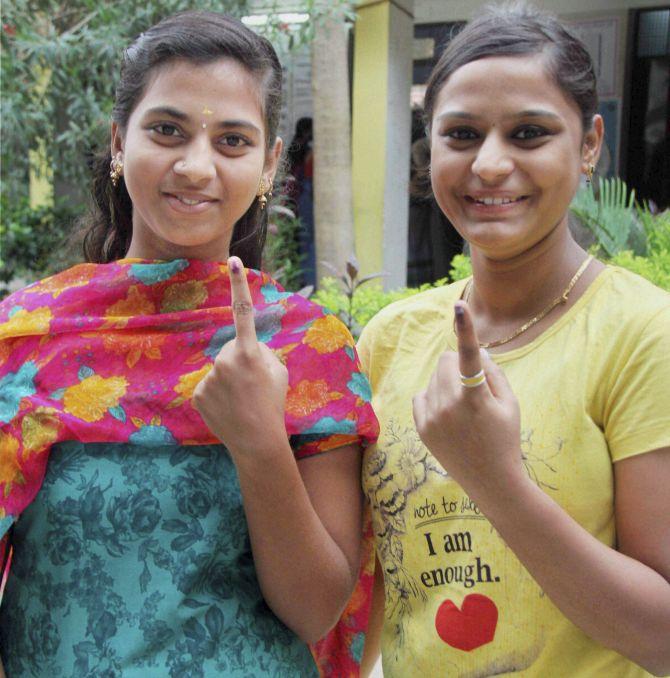 IMAGE: Girls are all smiles after they cast their vote in Coimbatore. Photograph: PTI
Kerala
A voter turnout of 71.7 per cent was recorded on Monday for the Kerala assembly polls that passed off peacefully amid tight security.
Election office sources said 71.7 per cent is the tentative polling percentage and it was likely to go up to 75 per cent after finalisation of voter turnout. Around 2.60 crore people were eligible to vote for the 140-member Assembly.
The Congress-led ruling United Democratic Front and the Communist Party of India-Marxist headed opposition Left Democratic Front are in a neck and neck electoral fight in the state where the BJP is striving hard to make a maiden entry into the assembly.
Chief Minister Oommen Chandy, Opposition leader and 93-year-old Communist Party of India-Marxist veteran V S Achuthanandan, CPI-M politburo member Pinarayi Vijayan, 83-year-old Kerala Congress(M) supremo and former Finance Minister K M Mani were among the 1,203 candidates in the electoral arena.
For Chandy, this was the 11th consecutive straight contest from Puthupally, while for Mani, it was the 13th stint from Pala.
Achuthanandan and Pinarayi Vijayan, said to be LDF'S Chief Ministerial candidates, contested from Malampuzha and Dharmadam respectively.
Kerala has a total electorate of 2,61,06,422, of which female voters number 1,35,08,693 and males 1,25,10, 589.
There are two members of third gender in the electoral rolls.
Except for stray incidents of violence, no major incidents were reported from any part of the state, police said.
Over 52,000 police personnel were stationed across Kerala as part of security.
Special security arrangements including web casting, were made in 3,176 polling stations identified as 'sensitive, critical and vulnerable'.
Due to rains in some parts of Kerala, polling which was slow in the initial hours, picked up in the afternoon touching 71.7 per cent at close.
Total voter turnout in the 2011 state assembly polls was 75.11 per cent.
People were seen queueing up in various booths in the state, much before polling began this morning, especially in some coastal areas.
In a related incident, a 70-year-old voter, who was standing in a booth at Perambra in Kozhikode, collapsed and died before casting his vote.
Nuns and priests, including Cardinal Mar George Alancherry of Syro Malabar church and Latin catholic Major Archbishop Soosai Pakiam were among those who voted.
Some incidents of malfunctioning of voting machines in certain booths were also reported. But they were rectified immediately and polling was not affected.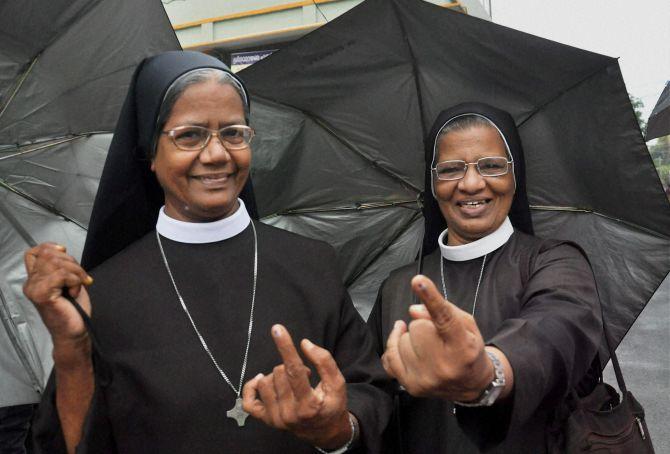 IMAGE: Nuns flash their inked fingers after casting their vote in Kochi. Photograph: PTI
Tamil Nadu
Tamil Nadu recorded a voter turnout of 73.76 per cent in the assembly election with Palacode in Dharmapuri District recording the highest of 88.50 per cent but it was less than the 2011 polls.
Barring a few minor incidents, polling went off peacefully, Chief Electoral Officer Rajesh Lakhoni said, adding one person was arrested for trying to distribute money.
In 2011 assembly polls, the turnout was 78.12 per cent.
Many constituencies recorded over 80 per cent polling which include Kulithalai in Karur district with 87.55 per cent, Pennagaram in Dharmapuri district 87.61 per cent and Edappadi in Salem district 85.7 per cent, Lakhoni said.
According to officials, Jolarpet and Sholinghur (both in Vellore district) polled 80.5 and 81.69 per cent respectively.
Harbour segment here polled the lowest at 55.27 per cent.
Lakhoni, however, indicated that there may be some changes in the final tally on the overall turnout since the final figure is being collated in a few constituencies which include Kolathur and Villivakkam in Chennai.
He said in urban regions like Chennai, the turnout was comparatively lower and hence the overall average was low.
Answering a question, he said whoever had come to the booths before 6 pm were allowed to vote and rains did not necessitate extension of time to vote.
On poll boycott by three villagers in Tuticorin, Tiruvallur and Virudhunagar districts, he said district authorities held talks with them and later they turned out to vote, he said.
To a question on re-polling, he said it would be decided after scrutiny of observers' reports and if necessary.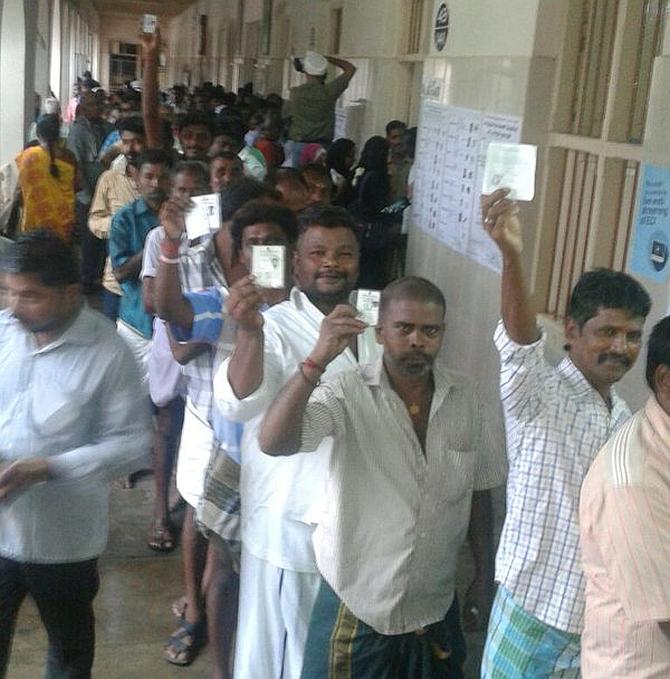 Puducherry
Picking up pace rapidly, the Union Territory of Puducherry recorded 81.94 per cent voting.
At 11.30 am, it had been just 30 per cent, Election Commission officials said.
The UT comprises Puducherry and its enclaves Yanam in Andhra Pradesh and Mahe and Karaikal. There are 9.41 lakh voters of whom 4.94 lakh are women.
The EC officials said Puducherry registered 72.21 per cent polling, Karaikal 65.49 per cent, Mahe 64.83 per cent and Yanam 77.63 per cent.
Rains in Puducherry did not affect polling.
Around 344 contestants, including 96 Independents, are in the fray for election on the 30 assembly seats in the UT.