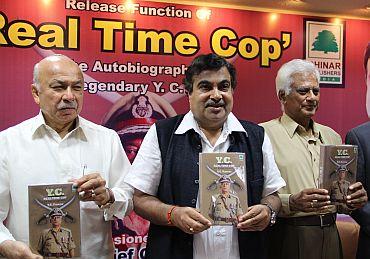 Observing that the opposition of the day needs to go beyond criticism of the government, Bharatiya Janata Party president Nitin Gadkari on Monday lamented the political class has become "narrow minded" and the field of politics was "full of compromises, compulsions and limitations".
"While in opposition, we criticise the government on policy matters but never offer solutions in the interest of the country. We have become narrow minded," he said.
Gadkari was speaking after releasing former senior officer of Mumbai Police Y C Pawar's autobiography `Y C Real Time Cop' in Mumbai. Pawar, a former joint commissioner of police (crime), joined BJP after his retirement.
According to Gadkari, genuine activists generally get a raw deal in politics. "In politics, we always consider elective merit while deciding a candidate and with this comes compromise."
"This deterioration is not just limited to politics, police or administration but has become a universal social problem," he said.
Referring to Pawar, Gadkari said the word "compromise" does not figure in the former officer's dictionary but today's politics was "full of compromises, compulsions and limitations".
He described Pawar as a man of "extreme honesty" and said his life was an inspiration for young police officers.
Union Power Minister Sushilkumar Shinde, who was the chief guest at the function, expressed concern over the falling growth rate. "We were at a growth rate of 9 per cent and where are we now?"
The Congress leader, a former police officer himself, said there would never be law and order related problems if the police force imbibes professionalism.
Image: BJP president Nitin Gadkari and Union minister Sushil Kumar Shinde at the book launch ceremony in Mumbai
Photograph: Sahil Salve