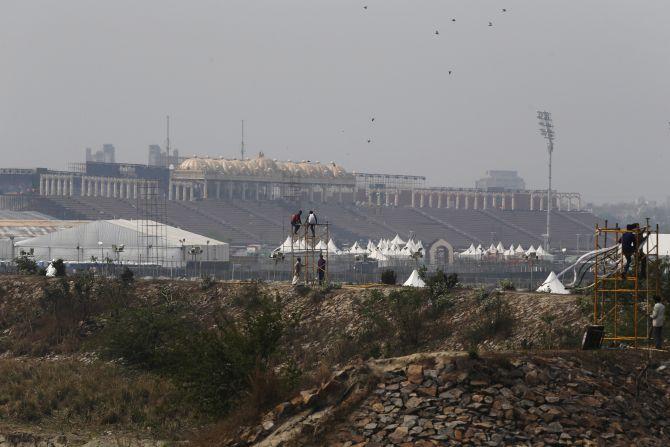 Workers erect a temporary platform to install sound and lights at the venue of World Culture Festival on the banks of the river Yamuna in New Delhi on Wednesday. Photograph: Anindito Mukherjee/Reuters.
Delhi Police has perceived the possibility of a stampede and chaotic situation unless 'shortcomings' at the venue of World Cultural Festival are addressed immediately.
The festival, organised by Sri Sri Ravi Shankar's Art of Living Foundation, is scheduled to be held on the Yamuna floodplains here from March 11-13.
"On March 1, a police team had inspected the venue of the event and found certain shortcomings, especially with regard to the stage where the prime minister and other VVIPs are to be seated," said a police source.
The stage for the VVIPs also did not have the mandatory structural certificate, following which police communicated the matter to the ministry of urban development.
In its letter to the urban development ministry, the Delhi police was mentioned that it perceived a 'pandemonium' which is bound to result in utter chaos leading to total law and order breakdown, the source said.
About the structural certificate, the police wrote in the letter, that all concerned authorities had refused to issue the document, a prerequisite for setting up the centre-stage.
Initially, Delhi police took up the matter with Central Public Works Department which refused to sanction the certificate, following which the Delhi PWD and the Delhi Development Authority were approached and they refused too.
The police said that the organisers were repeatedly asked to approach the concerned agencies themselves so that the police could make security arrangement well in time, the source said.
The police also expressed threat in connection with the pontoon bridges (floating bridges) set up at the venue and the hazards connected therewith, as they were found to be 'unstable'.
The police sought intervention of the Union home ministry and the urban development ministry in facilitating the matter at least with regard to the stage where seating arrangements for the prime minister and other VVIPs have been made, the centre-stage where thousands of artistes from around the world are to perform, the media stand and the pontoon bridges.
The police has also expressed concerns regarding provisions for car parking for the event, especially in view of intelligence input suggesting demanding high vigil in the event which is expected to witness a huge footfall, sources said.
The input also suggested that a stampede or pandemonium can take place in the arena unless all necessary security measures are in place.
Meanwhile, the MHA also wrote a letter to Delhi Police on Tuesday, asking it to take adequate measures to ensure that no untoward situation takes place in the venue of the event, the source added.