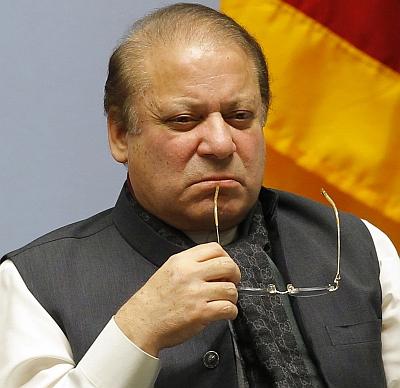 Shaken by the Taliban terror attack in which 148 people, including 132 school children, were killed in Peshawar on Tuesday, Pakistan has pledged to announce a "national plan" to tackle terrorism within a week with Prime Minister Nawaz Sharif saying "this entire region" should be cleaned of terrorism.

Even as a grieving nation began a three-day mourning for the dead in the worst terror attack in its history, Sharif and leaders of all other parties set aside their bitter differences and met in Peshawar to discuss the situation.

Afterwards, Sharif said all political parties have decided to draft a national action plan against terrorists and act upon it immediately.

"We announce that there will be no differentiation between 'good' and 'bad' Taliban and have resolved to continue the war against terrorism till the last terrorist is eliminated," he said, adding "the fight against terrorism is our fight and to counter it, a holistic roadmap is needed".

Earlier, Sharif said not only Pakistan and Afghanistan but "indeed this entire region should be cleaned of terrorism."

His statement came after Prime Minister Narendra Modi's call to Sharif during which he said that India and Pakistan should join hands to comprehensively defeat terrorism.

Meanwhile, Pakistan army chief General Raheel Sharif on Wednesday dashed to Afghanistan to seek extradition of Taliban leader Mullah Fazlluah, whose group claimed responsibility for a deadly attack on an army school in Peshawar.

Sharif, who chaired an All Party Conference in Peshawar in the wake of the massacre at the ArmyPublic School, said, "Today's conference has decided to draft an action against terrorists and act upon it immediately."

Addressing the media, Sharif flanked by Leader of Opposition in the National Assembly Khursheed Shah and Pakistan Tehreek-e-Insaf chairman Imran Khan condemned the attack terming it as worst attack in Pakistan's history.

"This heinous incident is an example of the barbarism whose example cannot be found in the history," he said.

"We have all unanimously decided that a committee comprising of all parliamentary parties under Interior Minister Chaudhry Nisar will prepare a plan of action which will be submitted to national leadership within seven days," the prime minister said.

Member of armed forces, intelligence and political parties will be a part of the committee.

On the ongoing military operation against militants in North Waziristan, Sharif said, "Operation Zarb-e-Azb
is continuing successfully but what we have decided today encompasses how to tackle terrorism from the whole country."
Regarding lifting the ban on death penalty in terror cases, Sharif said, "We have proposed terror cases should be expedited."
"If terrorists are not punished, then who will be punished?" he quipped.
Sharif also said important legal steps will be taken to plug loopholes in the justice system so that militants should not use them to escape punishment.
"To defeat terrorism we must unite... our armed forces have given many sacrifices to defeat terrorism and root out their hideouts," he said.
"I am gratefully to the national leadership for showing unity and confidence in me," he said.
Earlier, addressing the meeting of parliamentary leaders, he stressed that the nation is waging jihad against terrorism and this mission will not be left unaccomplished.
He recalled that the government started dialogue with militants after evolving consensus of all political parties.
But the government was left with no other option but to launch military operation against terrorists due to their intransigence.
Sharif said the recent visit of Afghan President Ashraf Ghani to Pakistan opened a new era of joint efforts to defeat terrorism.
He said the army chief who is now in Kabul along with ISI chief Lieutenant General Rizwan Akhtar will hold talks with his Afghan counterpart, President Ghani and International Security Assistance Force Commander on joint efforts to combat terrorism.
Pakistan Tehreek-i-Insaf chairman Khan proposed constituting a committee of counter-terrorism experts.
"It's a national cause, if terrorism is eliminated the nation will prosper. Our aim coming here is to decide and send out a clear message to everyone. The aim is to present a national plan and what steps do we need to take to take the nation forward and eradicate terrorism effectively," Khan said.
The Tehreek-e-Taliban Pakistan claimed responsibility for the attack, the bloodiest in recent years.
The Taliban spokesman claimed that its 6 suicide bombers attacked the army school, saying it was a revenge for the military's operation against militants in the North Waziristan tribal area close to Peshawar.
"We want them to feel our pain," the spokesman said.