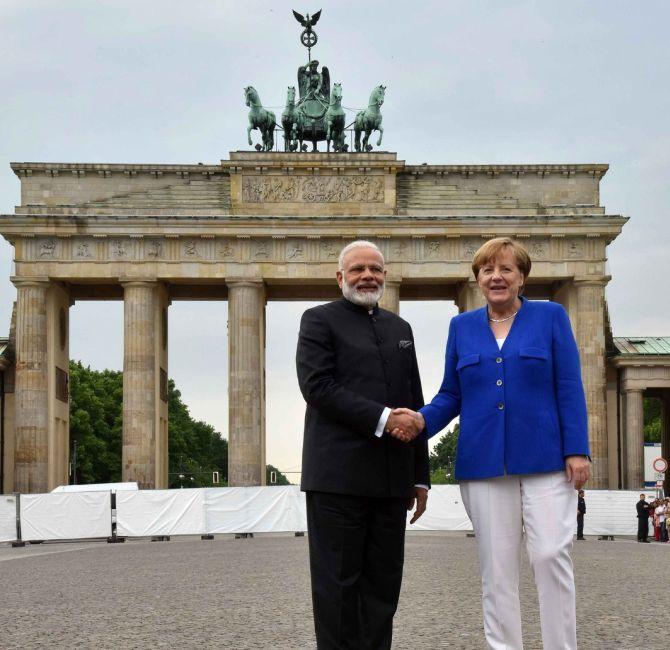 IMAGE:Prime Minister Narendra Modi with German Chancellor Angela Merkel at Brandenburg Gate
in Berlin on Tuesday. All Photographs: @MEAIndia/Twitter
Prime Minister Narendra Modi and German Chancellor Angela Merkel on Tuesday posed for a photo at the Brandenburg Gate, one of Berlin's iconic landmarks linked to the Cold War era.
'A pic for posterity! PM @narendramodi and Chancellor Merkel in front of Brandenburg Gate in Berlin,' External Affairs Ministry spokesperson Gopal Baglay tweeted.
The Brandenburg Gate is one of Berlin's most important monuments – a landmark and symbol all in one with over two hundred years of history.
The Gate has now come to represent German unity and freedom since the end of the Cold War and divided country.
It was here that on June 12, 1987, former United States President Ronald Regan issued a stern command to his Cold War adversary Mikhail Gorbachev, admonishing him with the words: 'Mr Gorbachev, open this gate! Mr Gorbachev, tear down this wall!'.
When Germany was reunified following the fall of the Berlin in November 1989 Brandenburg Gate quickly reinvented itself into the New Berlin's symbol of unity. It was officially opened to the public on December 22, 1989.
Modi also paid a courtesy call to German President Frank-Walter Steinmeier at his official residence in Berlin before leaving for Spain on the second leg of his four-nation trip.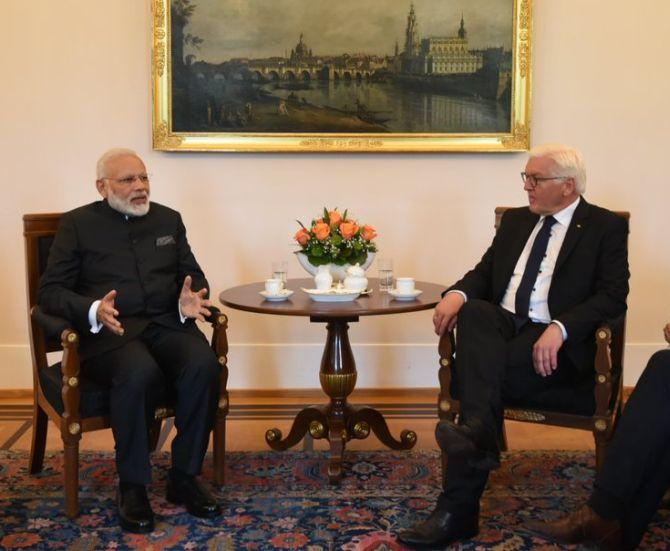 IMAGE: Modi with German President Frank-Walter Steinmeier.

Modi met Steinmeier at Castle Bellevue, the scenic official residence of the German President located in Berlin's Tiergarten district on the banks of the river Spree, and signed the visitor's book before being given a tour of the castle.
'Thank you Germany! My visit has led to very positive outcomes in terms of furthering the close ties India and Germany enjoy,' Modi said in his goodbye message as he left for Spain on the second leg of his four-nation tour which will then cover Russia and end in France.
Earlier, External Affairs Ministry spokesperson Gopal Baglay tweeted some photographs of the meeting.
'Reaffirming resolve for strong and dynamic relationship. PM @narendramodi calls on President Frank-Walter Steinmeier at Castle Bellevue,' Baglay tweeted.
'After fruitful bilateral engagements, PM @narendramodi concludes first leg of his visit, departs from Germany,' he tweeted.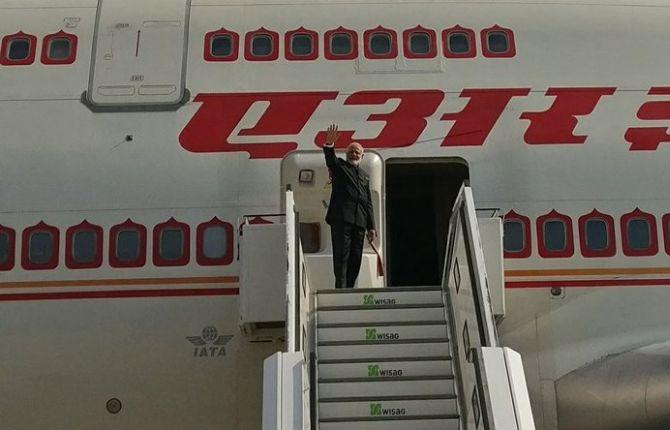 IMAGE: Modi leaves Germany for Spain.

Modi's next stop is Spain where he will discuss with his Spanish counterpart Mariano Rajoy ways to deepen bilateral engagement, including in the high-tech sector. This will be first visit by an Indian prime minister since 1988.
From Spain, he will travel to St Petersburg in Russia on June 1 where he will hold the 18th India-Russia annual Summit with Russian President Vladimir Putin and attend the St Petersburg International Economic Forum the next day.
The prime minister will be in Paris on June 2 and 3 where he will hold official talks with newly elected French President Emmanuel Macron with a view to further strengthening India-France strategic ties.