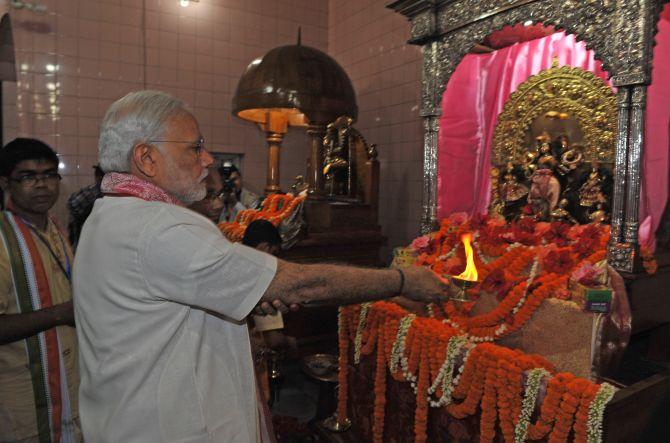 Prime Minister Narendra Modi on Sunday visited the Ramakrishna Mission, a branch of the Kolkata-based Belur Math, at the heart of the Bangladeshi capital on the second day of his two-day visit.
Modi, who has long association with Ramakrishna Mission, participated in prayers at the Math along with monks who accorded a warm welcome to the Prime Minister.
Mission Headquarters (Kolkata) chief Swami Suhitananda and Dhaka Mission Principal Swami Dhruveshananda welcomed Modi at the mission.
"Paying my respects to Ramakrishna Paramhansa at Dhaka's Ramakrishna Mission," Modi tweeted.
The mission presented him two commemoratives and a biography of Swami Vivekananda.
Later Modi visited the new Chancery complex of the Indian High Commission in Baridhara locality of Dhaka where he unveilled a number of grant-in-aid projects for Bangladesh.
The projects inaugurated by Modi included India-Bangladesh Maitri Girls Hostel at Victoria College and construction of 3rd floor of Blind Education & Rehabilitation Development Organisation at Mirpur in the capital.
Sewerage system, sewage treatment plant and waste water treatment plant at KumudiniHospital, establishment of Hindi department and a recording studio at University of Dhaka besides assistance to its dance department were among other projects.
Earlier on Sunday morning, Modi offered prayers at the famous 12th century Dhakeshwari national temple, the most revered place for Hindu community in the country.
The Prime Minister spent around 15 minutes at the temple, which is considered an essential part of Dhaka's cultural heritage and one of the major 'Shaktipeeths' of the region.
Liberation War Sector Commander Maj Gen (retd) CR Dutta adorned him with a white and red sash.
The Puja committee gave him a crest.
Modi also visited the adjacent temple of Shiva and offered prayers.
Image: Prime Minister Narendra Modi offering prayer in Sree Sree Dhakeshwari Temple, Old Dhaka. Photograph: MEA/ Flickr