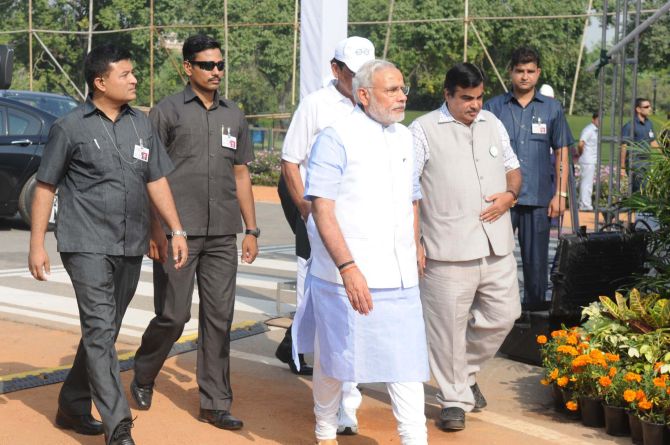 Image: Prime Minister Narendra Modi arrives at India Gate for launching the Swacch Bharat Mission. Photographs: PIB photos
In his bid to make 'Swachh Bharat' a people's movement, Prime Minister Narendra Modi on Thursday initiated a chain by inviting nine eminent personalities including cricket icon Sachin Tendulkar, Congress leader Shashi Tharoor, industrialist Anil Ambani along with several actors to spread awareness on cleanliness.
The Internet-savvy prime minister appeared inspired by the ALS Ice Bucket Challenge, which had gone viral in recent months, as he asked the celebrities to nominate nine more people to join the campaign and hoped that the chain would continue.
Among those nominated by the PM are film actors Salman Khan, Priyanka Chopra and Kamal Hassan, industrialist Anil Ambani, Goa Governor Mridula Sinha and Congress leader Shashi Tharoor, yoga guru Ramdev and the team of TV serial "Tarak Mehta Ka Ulta Chashma".
Modi also administered a pleadge to thousands of people, including schools children and government employees at Rajpath for remaining committed to cleanliness to make the country clean.
"I will remain committed towards cleanliness and devote time for this...I will neither litter nor let others litter," pledged all those present at a function to mark the launch of "Swachh Bharat" (Clean India) mission at India Gate by the prime minister.
Actor Aamir Khan also joined the PM in taking the pledge along with Union Ministers Nitin Gadkari and Venkaiah Naidu.
"I have invited nine people and asked them to come to public places and work towards a Clean India. I ask them to invite nine more people too...I am sure these nine people will do the work and each will invite nine more people to form a chain and clean the country," Modi said.
The original ice bucket challenge where such a chain was created online was designed to raise funds for amyotrophic lateral sclerosis -- also known as Lou Gehrig's Disease and motor neurone disease, which is a global viral phenomenon
Modi also announced starting a campaign on cleanliness through social media using his website MyGov.in and other such websites, including a new website dedicated to the clean India campaign.
The PM later joined the children in the Walkathon after flagging it off at Rajpath. The Walkathon is part of steps for creating awareness on cleanliness.
Administering the pledge to countrymen on the birth anniversary of Mahatma Gandhi today, Modi highlighted the Father of the Nation's thrust on cleanliness and said the country must realise his unfulfilled dream of a clean India on his 150th birth anniversary in 2019.
"Mahatma Gandhi dreamt of an India which was not only free but also clean and developed. Mahatma Gandhi secured freedom for Mother India. Now it is our duty to serve Mother India by keeping the country neat and clean," said the first lines of the pledge.
The pledge further takes the promise from every individual to remain committed to cleanliness and devote time for this.
"I will devote 100 hours per year -- that is two hours per week -- to voluntary work for cleanliness. I will neither litter nor let others litter.
"I will initiate the quest for cleanliness with myself, my family, my locality, my village and my work place. I believe that the countries of the world that appear clean are so because their citizens don't indulge in littering nor do they allow it to happen. With this firm belief, I will propagate the message of Swachh Bharat Mission in villages and towns," reads the pledge.
It also exhorts all to encourage 100 other persons to take this pledge and endeavour to make them devote their 100 hours for cleanliness.
Earlier, the prime minister wielded the broom himself by sweeping clean a pavement in Valmiki Basti, a colony of sanitation workers here. Seeing dirt at the Mandir Marg police station on his way to the "Swachh Bharat" mission launch at India Gate, he stopped and cleaned it himself and directed the cops present there to complete the task.
Union Drinking and Sanitation Minister Nitin Gadkari said the gram panchayats are also participating in the campaign and said all were extending their support to the mission. "I assure the prime minister that we will accomplish the task of cleaning India by 2019," he said.
Union Urban Development Minister Venkaiah Naidu termed the day as historic and said the mission will be turned into a people's movement. "I am confident that this campaign will sustain," he said and exhorted the corporate sector to take up the mission as part of their corporate social responsibility.
The prime minister also honoured Anant Khasbardar of Kolhapur in Maharashtra for winning the logo design contest of the "Swachh Bharat Mission" and Bhagyasri Sheth of Rajkot in Gujarat for giving the mission the tagline of "Ek Kadam Swachhta ki ore". Khasbardar was awarded a cash prize of Rs 50,000 while Bhagyasri got Rs 25,000, along with a commendation certificate each.