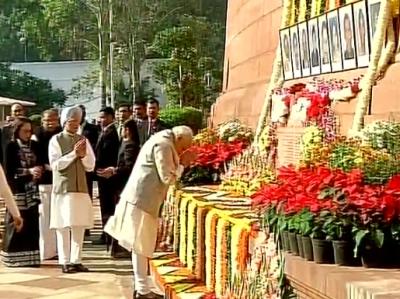 As the nation marks the 14th anniversary of the 2001 Indian Parliament attack, Prime Minister Narendra Modi and other prominent leaders paid their tribute to the martyrs.
Former Prime Minister Dr Manmohan Singh, Congress president Sonia Gandhi, Lok Sabha speaker Sumitra Mahajan, Bharatiya Janata Party leader LK Advani were also present in the ceremony held in the Parliament premises.
On 13 December 2001, five terrorists infiltrated the Parliament House in a car with fake Home Ministry and Parliament labels. While both the Rajya Sabha and Lok Sabha had been adjourned 40 minutes prior to the incident, many members of Parliament and government officials such as the then home minister LK Advani and Minister of State for Defence Harin Pathak were believed to have still been in the building at the time of the attack.
Constable Kamlesh Kumari Yadav was the first to spot the terrorists and was shot by them as she raised the alarm. Five policemen, a Parliament security guard, and a gardener were killed and 18 others were injured.
The ministers and MPs escaped unhurt. The total number of deaths was 14 and at least 22 people were injured in the attack.
The government had initially accused Lashkar-e-Tayiba and Jaish-e-Mohammed of involvement in the attack.
However, the LeT denied any involvement in the incident. In November 2002, four JeM members were arrested by Indian authorities and put on trial.
All four were found guilty of playing various roles in the incident. One of the accused, Afzal Guru, was sentenced to the death penalty for the incident.