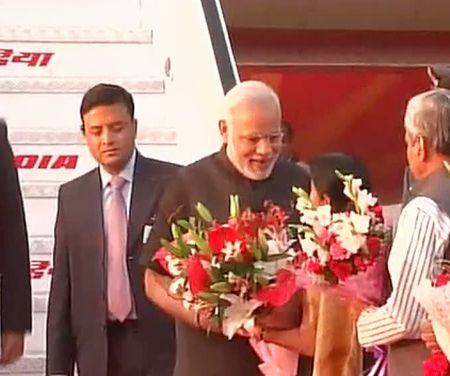 Prime Minister Narendra Modi returned home on Thursday after a nine-day-three-nation tour of Myanmar, Australia and Fiji during which he had a range of international engagements.
The special Air India plane carrying the PM and his delegation landed at the airport in Delhi at 7:15 am after a 14-hour flight from Fiji capital Suva with a two-hour refuelling halt at Yangon in Myanmar.
External Affairs Minister Sushma Swaraj was among others at the airport to receive Prime Minister Modi.
During his three-nation tour, Modi attended the East Asia and ASEAN-India Summits in Myanmar, the G-20 Summit in Australia and held bilaterals with his Australian and Fijian counterparts.
Modi, the first Indian premier to visit the Pacific country after Indira Gandhi who had come here in 1981, held talks with his Fijian counterpart Frank Bainimarama and also announced a slew of Lines of Credit and development aid totalling $80 million for the country.
He also addressed Fijian parliament, the first by a foreign leader, after parliamentary elections, during which he said that India was prepared to build a 'Digital Fiji'.
Modi announced visa on arrival facility for all the 14 PacificIsland countries and hoped it will promote better understanding between the peoples.
During his four-city tour in Australia, Modi and his counterpart Tony Abbott agreed on a landmark framework for security cooperation across the spectrum in defence, cyber and maritime security and combating terrorism, including the threats posed by foreign fighters joining extremists groups.
Prior to arriving in Australia, Modi attended the ASEAN-India summit and the East Asia Summit in Myanmar.
Image: External Affairs Minister Sushma Swaraj welcomes Prime Minister Narendra Modi at New Delhi airport. Photograph: ANI/Twitter