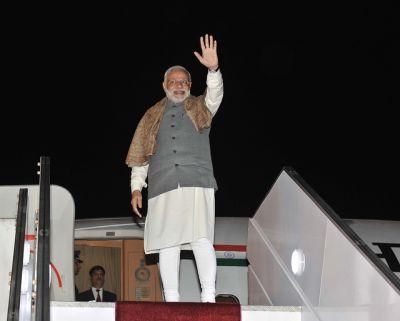 Prime Minister Narendra Modi returned to the national capital on Thursday after a successful three-day visit to Nepal capital Kathmandu, where he attended the 18th South Asian Association for Regional Cooperation (SAARC) Summit.
During his visit to Kathmandu, Prime Minister Modi also had bilateral interactions with leaders of six SAARC member nations, as part of his agenda to develop closer neighbourly ties on a priority basis. As expected he did not meet with Pakistan Prime Minister Nawaz Sharif on the sidelines of the summit.
Upon his arrival in the Nepal capital, the Prime Minister took to Twitter to express his feelings about being in Nepal for the second time in three months since assuming office.
"Wonderful to be in Nepal again! I can never forget the warmth with which I have been welcomed here," he wrote.
During meetings with his Nepali counterpart Sushil Koirala, Prime Minister Modi witnessed the signing of many memorandums of understanding and agreements between the two nations, including ones on tourism and youth exchange, and a motor vehicle agreement.
During the meeting between the two leaders, three twin-cities agreements were also signed -between Ayodhya and Janakpur; between Kathmandu and Varanasi; and between Lumbini and Bodh Gaya.
Prime Minister Modi also handed over the Dhruv Advanced Light Helicopter Mark III to the Nepalese Army.
Prime Minister Modi also inaugurated a Rs.150 crore trauma centre in Nepal and launched the Kathmandu to New Delhi bus service.
In the SAARC Summit, the leaders of the SAARC nations reaffirmed that they were determined to deepen regional integration for peace and prosperity by promoting mutual trust, amity, understanding, cooperation and partnership amongst each other.
Prime Minister Modi also urged the SAARC nations to fulfil the pledge taken by them to combat terror and trans-national crimes.
"As we remember the horror of the terror attack in Mumbai in 2008, we feel the endless pain of lost lives. Let us work together to fulfil the pledge we have taken to combat terrorism and trans-national crimes," he said in his speech at the SAARC Summit.
On the sidelines of SAARC, Prime Minister Modi also held bilateral talks with the leaders of five other member nations.
"The prime minister had bilateral engagements with the leaders of five other nations -the Bhutan Prime Minister, the Bangladesh Prime Minister, the Afghanistan President, the Maldives President and the Sri Lankan President. Prime Minister Modi has invited Bhutan Prime Minister Tshering Tobgay to visit India, in January in view of 'Vibrant Gujarat' event, to which the latter was very keen," Ministry of External Affairs official spokesperson Syed Akbaruddin told the media.
"This was the first meeting between Prime Minister Modi and Afghanistan President Ashraf Ghani, and the Prime Minister extended him an invitation to visit India at an early date. Prime Minister Modi and Bangladesh Prime Minister Sheikh Hasina had an extensive discussion on issue of security and terrorism," he added.
This was Prime Minister Modi's second visit to Nepal in 4 months.