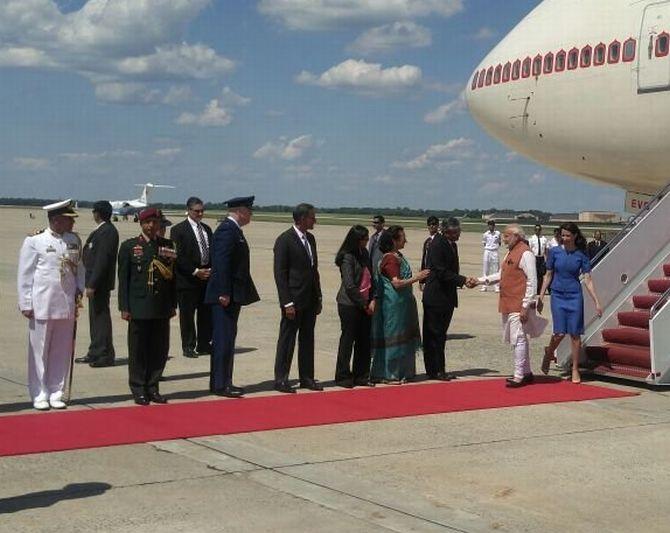 IMAGE: Prime Minister Narendra Modi arrives at Joint Base Andrews in Washington, DC on Monday. Photograph: @MEAIndia/Twitter
Prime Minister Narendra Modi arrived in Washington, DC on Monday on a three-day visit during which he will hold talks with President Barack Obama to review bilateral ties and address a joint session of the United States Congress.
Modi arrived at the Joint Base Andrews from Switzerland where he secured the European nation's support for India's Nuclear Suppliers' Group membership ahead of a key meeting of the 48-nation bloc.
'Penultimate leg of PM Narendra Modi's journey begins as he arrives in WashingtonDC on a sunny summer afternoon,' External Affairs Ministry spokesperson Vikas Swarup tweeted.
US Ambassador to India Richard Verma and Assistant Secretary of State for South and Central Asia Nisha Biswal were among the top officials present at the base to receive Modi.
Modi has a packed schedule here, including the address to a joint session of the US Congress. He will be the sixth Indian prime minister to do so. Modi is visiting the US at the invitation of President Obama.
Since 2014, there have been six meetings and countless phone calls between Obama and Modi, and this visit 'reflects the significance that the two leaders place on the natural alliance between the two largest democratic countries of the world', a senior US official had said ahead of the meeting.
This is Modi's fourth visit to the US.
"In my meeting with the President on June 7, we will seek to build upon the progress achieved in providing new vigour and momentum to our strategic partnership in diverse areas," Modi had said before departing for his five-nation tour to Afghanistan, Qatar, Switzerland, the US and Mexico.
Modi will begin his US visit by paying tributes at the ArlingtonNationalCemetery. He will then meet heads of a number of American think tanks and will attend an event to repatriate Indian antiquity by the US.
Modi will also address the 40th AGM of the US India Business Council and meet US business leaders.
"India and the US are natural partners, two vibrant democracies that celebrate their diversity and pluralism. Strong India-US ties benefit not only our two nations but also the entire world," Modi had said.
From the US, Modi will visit Mexico before heading back to India.