Prime Minister Narendra Modi on Tuesday arrived in Nay Pyi Taw on his first bilateral visit to Myanmar to chart out a roadmap for closer cooperation in areas like security and counter-terrorism.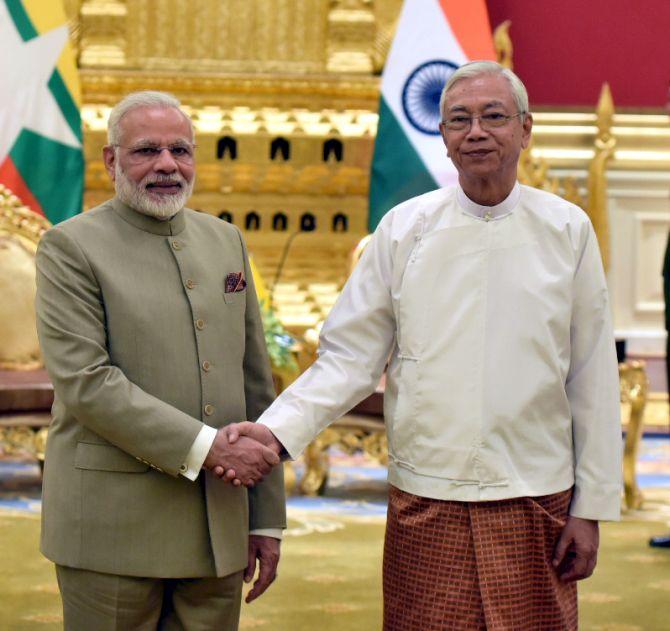 Modi called on President Kyaw soon after he arrived in the country.
"Had a wonderful meeting with President U Htin Kyaw," Modi tweeted along with some pictures of the meeting.
He also presented the Myanmar president a reproduction of a 1841 map of a stretch of the River Salween (that flows from the Tibetan Plateau into the Andaman Sea) and a sculpture of the Bodhi tree.
Modi reached Nay Pyi Taw on the final leg of his two- nation visit after attending the BRICS Summit in China.
External Affairs Ministry spokesperson Raveesh Kumar tweeted a few images of Kyaw welcoming Modi.
"'Act East' and 'Neighbourhood First' Policy. PM @narendramodi calls on President U Htin Kyaw, discusses steps to deepen historical relationship," he said in a tweet.
The two leaders also inspected the guard of honour.
"Landed in Naypyitaw, marking the start of my Myanmar visit. I will join a wide range of programmes during my visit to Myanmar," Modi tweeted soon after his arrival.
Modi arrived for the second leg of his two-nation trip during which he travelled to southeastern Chinese city Xiamen where he attended the annual BRICS summit and held talks with Chinese President Xi Jinping, Russian President Vladimir Putin and other world leaders.
"Mingalaba Myanmar! After intense diplomatic engagements at #BRICS2017, PM @narendramodi arrives to a warm welcome at Naypyitaw," Ministry of External Affairs spokesperson Raveesh Kumar tweeted along with some pictures of the prime minister's arrival at the Nay Pyi Taw airport.
The prime minister's visit to Myanmar comes amid a spike in ethnic violence with Rohingya Muslims in the Rakhine state.
Modi will hold wide-ranging talks with Myanmar's State Counsellor and de facto leader Aung San Suu Kyi on Wednesday. He is expected to raise the exodus of the ethnic Rohingyas into neighbouring countries.
The Indian government is concerned about Rohingya immigrants in the country, and has been considering to deport them. Around 40,000 Rohingyas are said to be staying illegally in India.
Ahead of his visit, Modi had said India and Myanmar were looking at strengthening existing cooperation in areas of security and counter-terrorism, trade and investment, infrastructure and energy, and culture.
This is Modi's first bilateral visit to Myanmar. He had visited the country in 2014 to attend the ASEAN-India Summit.
The Myanmarese president and Suu Kyi had visited India last year.
Myanmar is one of India's strategic neighbours and shares a 1,640-km-long border with a number of northeastern states including militancy-hit Nagaland and Manipur.