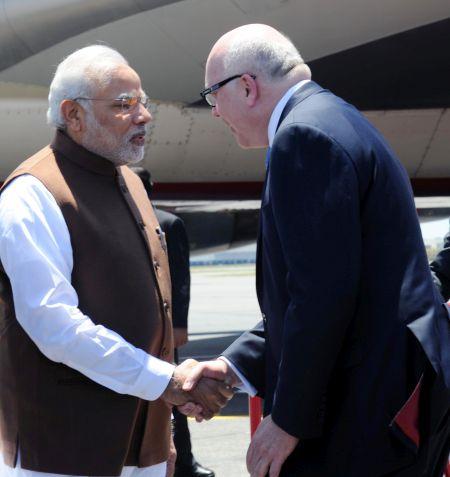 As India attempts to unearth black money stashed abroad, Prime Minister Narendra Modi will push for stepping up global cooperation against the key issue of cross border tax avoidance and evasion at the G20 summit starting on Saturday.
Modi, who is the first Indian Prime Minister to visit Australia in 28 years since Rajiv Gandhi in 1986, arrived in Australia on a five-day trip to Australia on the second leg of his 10-day three-nation tour.
He will also undertake a bilateral visit to the Australian capital Canberra for talks with Premier Tony Abbott on Tuesday.
The PM will also utilise the two-day 9th G20 summit of the world's biggest developed and emerging economies, to flag India's concerns over "jobless growth" prospects.
Ahead of the summit, Modi felt that focusing on transforming the quality of life of people and not just on issues like the health of the financial markets was necessary for creating employment-generating economic growth.
It was a bright and sunny day at Brisbane as Modi stepped out of his Special Air India plane at the international airport after an overnight flight from Myanmar capital Nay Phi Taw where he attended two back-to-back international summits and had a string of bilateral meetings.
"Reached Brisbane. It is bright and sunny outside," Modi tweeted.
Modi was received at the airport by the Queensland Premier Campbell Newman among others. Indian High Commissioner in Australia Biren Nanda was also present.
"A key issue for me would be to highlight the importance of international cooperation against black money," Modi had said, as he is set to renew the country's commitment to a global response to deal with cross border tax avoidance and evasion.
Modi had also said he intends to discuss how G20 can accelerate creation of next generation infrastructure, which also includes digital infrastructure and ensure access to clean and affordable energy.
Image: PM Narendra Modi being received at Brisbane. Photograph: Press Information Bureau