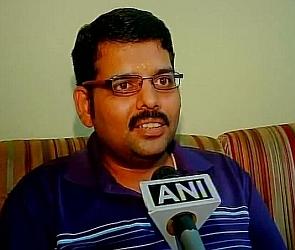 "I want you to keep sharing things with me. Together let us serve India and take our nation to newer heights," Prime Minister Narendra Modi said in his maiden radio address on Friday.

He said "on mail, a lot of people wrote" to him and he wanted them to continue to do so.

In first radio address, PM says India belongs to all of us

In his 15-minute speech, the PM made a mention of two citizens, who had contacted him. One of them, said Modi, was from Mumbai -- Ganesh Venkatadri.

An engineer, Ganesh was thrilled when he heard his name on the All India Road. "It hasn't really sunk in, but when PM mentioned my name during his address on AIR, I was surprised and felt extremely happy," he told ANI.
"I can now believe responses are being received. I will ask others too to communicate suggestions to PM," he added.

Modi promised to keep connecting with citizens via radio -- twice a month on Sundays at 11 am. . He asked people to share their thoughts with him at http://www.mygov.in

Image: Ganesh Venkatadri is thrilled that PM mentioned him during his radio address.