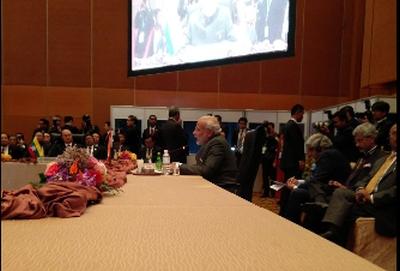 Prime Minister Narendra Modi on Saturday called for enhancing cooperation with Association of Southeast Asian Nations to tackle the global challenge of terrorism and underlined the need for settling territorial disputes through peaceful means.
He suggested evolving specific plans for cooperation with the 10-memeber grouping in key areas of maritime security, counter-piracy and humanitarian and disaster relief.
"Terrorism has emerged as a major global challenge that affects us all here. We have excellent bilateral cooperation with ASEAN members. And, we should see how we can enhance our cooperation at the regional and international level, including through support for adoption of Comprehensive Convention on International Terrorism," Modi said in his opening remarks at the ASEAN-India Summit.
"As our rapidly transforming region navigates its way through uncertain times to a peaceful and prosperous future, we look forward to ASEAN leading the way in defining the regional architecture," said Modi, who is here on a three-day visit to attend the ASEAN-India Summit and East Asia Summit.
Referring to the territorial disputes in the South China Sea, he said, "India shares with ASEAN a commitment to freedom of navigation, over flight and unimpeded commerce, in accordance with accepted principles of international law, including the 1982 United Nations Convention on the Law of the Sea. Territorial disputes must be settled through peaceful means."
Modi said India hopes that all parties to the disputes in the South China Sea will abide by the guidelines on the implementation of the Declaration on the Conduct of Parties in the South China Sea and redouble efforts for early adoption of a Code of Conduct on the basis of consensus.
Terming connectivity as the pathway to shared prosperity, he said the India-Myanmar-Thailand trilateral highway project is making good progress and should be completed by 2018.
India will soon extend electronic-visa facility to all ASEAN countries, Modi said.
Terming science, technology and innovation as a vital pillar of India-ASEAN cooperation and economic partnership, he said, "We will enlarge the ASEAN-India Science and Technology Development Fund from the current USD one million to $5 million."
India intends to set up an ASEAN-India Innovation Platform to facilitate commercialisation of low cost technologies, technology transfer and collaborative Research and Development projects, he said.
ASEAN grouping includes Brunei, Cambodia, Indonesia, Laos, Malaysia, Myanmar, the Philippines, Singapore, Thailand and Vietnam.