Castigating the opponents of demonetisation, Prime Minister Narendra Modi on Sunday took a swipe at those calling the government's move 'anti-people', saying these were 'political worshippers' of graft and black money which had adversely impacted the economy and polity.
"It is unfortunate that some political worshippers (rajnaitik poojari) of black money are calling our efforts anti-people," he said in his address at the 14th edition of Pravasi Bharatiya Divas in Bengaluru.
Modi said the government had taken up 'a big fight' against corruption and black money, which had been gradually making the polity, society and administration 'hollow'.
"...You might have noticed and heard that we have taken up a big fight against black money. Black money and corruption are making our polity, society and administration hollow gradually," he said at the three-day event, which is being billed as the largest ever.
Asserting that the government was committed in its fight against black money and corruption, the prime minister thanked the overseas Indian community for their support to it.
'We don't believe in looking at the colour of the passport, we believe in blood relations.'
Emphasising the role played by overseas Indians in the country's development, the prime minister said they have made an 'invaluable contribution' to the Indian economy by investing about $69 billion (Rs 4,62,300 crore).
"For me, FDI has two definitions -- one is 'Foreign Direct Investment' and the other is 'First Develop India'," he said, asserting that 'I can say with full confidence that 21st century belong to India'.
Indian origin Prime Minister of Portugal Antonio Costa was the chief guest at the convention, which was attended by chief ministers of several states including Siddaramaiah of Karnataka, partner to the event, and central ministers.
Referring to the earlier trend of brain drain, he said, "We want to change brain drain to brain gain" and added that the government will soon launch a skill development programme 'Pravasi Kaushal Vikas Yojna' for the Indian youth seeking employment abroad.
'The government will launch skill development program, Pravasi Kaushal Vikas Yojna for Indian youth who seek employment overseas.'
He said the government's effort was to provide maximum facilitation and ensure least inconvenience for those workers who seek economic opportunities abroad. Noting that the Indian diaspora represents the best of Indian culture, ethos and values and is respected for its contributions, Modi said the welfare and safety of all Indians abroad was his government's 'top priority'.
"The security of Indian nationals abroad is of utmost importance to us...Security of all Indians abroad is top priority," he said.
"Hum passport ka colour nahi dekhte khoon ka rishta dekhte hain (We don't see the colour of the passport, but see the blood relation)," the prime minister said.
Emphasising that engagement with overseas Indian community was a key area of priority for the government, he said, "We want to convert brain drain to brain gain."
Modi said remittance of close to $69 billion was being made annually by overseas Indians which makes an invaluable contribution to the Indian economy.
"We welcome all your efforts that seek to strengthen India's partnership with the overseas Indian community," he said.
India's IT capital is hosting what has been touted as the largest convergence of Indian diaspora, with more than 6,000 delegates from across the world registering for the event.
PBD aims at providing a platform to overseas Indians to engage with the government on issues of concern to the diaspora and to explore opportunities for investment in Indiaand contribution to the country of their origin.
The event also provides an opportunity to overseas Indians to network with other overseas Indians residing in various parts of the world.
The convention being held biennially for the first time instead of earlier annual versions, aims at redefining India's engagement with its 3.12 crore strong diaspora in diverse spheres, including innovation, start-ups, tourism and education.
President Pranab Mukherjee will confer Pravasi Bharatiya Samman awards on January 9, the concluding day of the event.
Vice President of Suriname Michael Ashwin Satyandre Adhin, 36, was the special guest at the Youth PBD on Saturday, in which he highlighted India's potential to be a 'Vishwa Guru' once again.
Massive security and traffic arrangements have been made by the state administration for the smooth conduct of PBD.
The latest wave of economic reforms, including overhaul of indirect taxes through proposed goods and services tax are being projected significantly by the government at the event which is being attended by a battery of Union ministers.
The PBD was launched by the Vajpayee government in 2003 to step up India's engagement with its diaspora and the congregation of NRIs and Persons of India origin had continued as an annual event till 2015.
Last year, the government decided to make it a biennial event.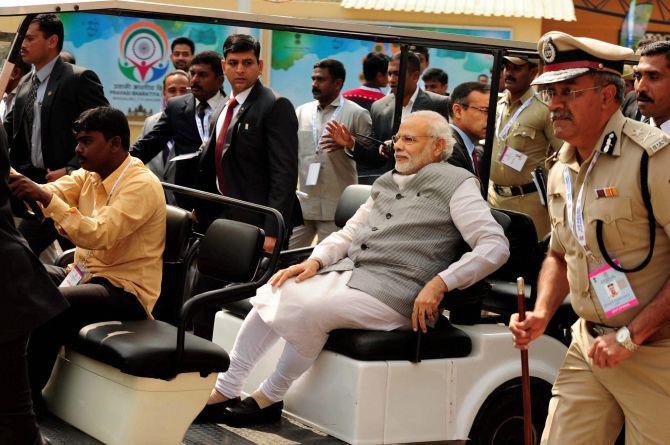 IMAGE: Prime Minister Narendra Modi sits in a battery operated car during the 14th Pravasi Bhartiya Divas at Bangalore International Exhibition Center in Bengaluru on Sunday. Photograph: Shailendra Bhojak/PTI Photo

January 9 is the main day of PBD as it was on this day in 1915 that Mahatma Gandhi, the 'greatest Pravasi', returned to Indiafrom South Africa and led the country's struggle for freedom.
Topics for discussions at the plenary sessions include realisingIndia's development vision, partnering with diaspora to accelerate tourism in the country and India as a global health and wellness hub.
The conclave also has provisions for business-to-business meetings.
Karnataka, as a partner state, has a session on start-up eco system and on investment opportunities in the state.