Why does Sikhs For Justice plan to picket Facebook's headquarters during Narendra Modi's September 27 visit? Ritu Jha/Rediff.com reports from California.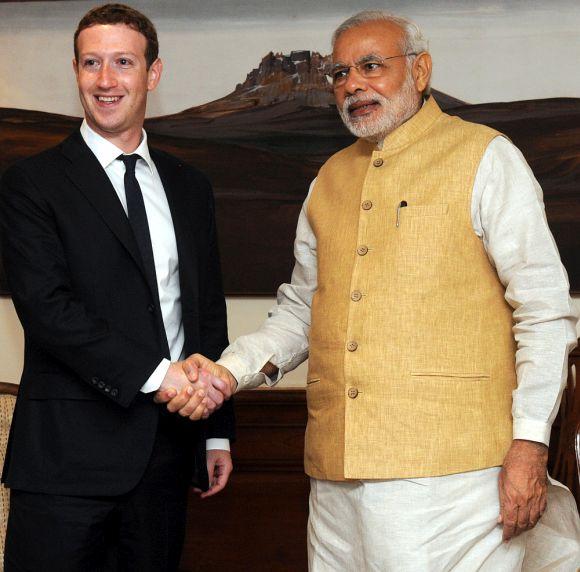 IMAGE: Mark Zuckerberg with Prime Minister Narendra Modi in October 2014 during the Facebook founder's visit to New Delhi. Photograph: Press Information Bureau

Not everyone apparently likes Prime Minister Narendra Modi's upcoming visit to the Facebook headquarters.
Sikhs For Justice, a New York-based human rights group, plans a protest outside the social networking giant's Northern California office on September 27.
Facebook founder Mark Zuckerberg has invited Modi to host a town hall event during his visit to California.
Modi and Zuckerberg will discuss how communities can work together to address social and economic challenges.
Sikhs For Justice will picket the Facebook headquarters to protest its collaboration with Modi, whom SFJ alleges is a 'human rights violator.'
Scores of Sikhs are expected to converge outside the Facebook headquarters, says Gurpatwant Singh Pannun, legal advisor, Sikhs For Justice.
"The call by Sikhs For Justice to picket Facebook's Menlo Park headquarters is against its hosting Prime Minister Modi who is leading a 'forcible conversion' campaign to turn India into a Hindu nation," alleges Pannun.
In June, Sikhs For Justice filed a complaint in a federal court in California against Facebook for blocking its site in India. It alleged that in or around the first week of May, Sikhs For Justice learned that Facebook had blocked its pages in India 'without notice, reason, explanation, or proper and lawful cause.' The date for the hearing is set for November 5 before United States District Judge Lucy Haeran Koh.
Ahead of Modi's visit to Canada in April, Sikhs For Justice filed a complaint with the country's attorney general seeking criminal proceedings against the Indian leader for alleged offences during the 2002 riots in Gujarat. A Canadian court issued summons to Modi over the lawsuit, but the order was blocked by the Canadian attorney general.