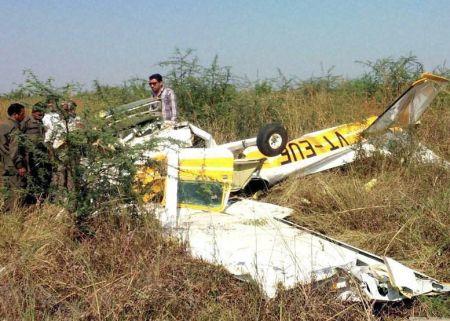 A pilot was on Wednesday killed and an instructor accompanying him injured when the Madhya Pradesh Flying Club-owned Cessna aircraft they were flying crashed at Devi Ahilyabai Holkar Airport in Indore.
"The Flying Club's plane Cessna 152, that is used for training purpose, crashed near the boundary wall of the airport while it was on a training sortie," the Airport's Acting Director Sanjay Agrawal said.
The pilot Arshad Qureshi, who received serious injuries in the mishap, died later at MohakHigh-techSpecialityHospital.
The two-seater single engine plane was being flown by the club's instructor Pavandeep Singh and Qureshi, both aged around 30, who were performing the "touch and go" exercise when the mishap occurred, he said.
"The aircraft took off for the first time around 10.39 am and returned to the airport in ten minutes. It proceeded for another round, but around 10.55 am it lost contact with the Air Traffic Controller," Agrawal said.
Soon, an alert was sounded and fire brigade employees and a rescue team were rushed to search the plane, which was found crashed near the airport's boundary wall located about 500 meters away from the runway, at 11.10 am.
The two injured pilots were immediately rushed to hospital, he said.
"The exact reason behind the accident is not yet known," Flying Club's Chief Instructor Mandar Mahajan said even as the Directorate General of Civil Aviation has already started probing the incident.
Mahajan denied that Qureshi was a trainee pilot, saying he was a holder of commercial pilot licence and is working for the MP Flying Club.
Image: Officials at the crash site near the MP Flying Club. Photograph: PTI photo