India is all set for a mega event on June 21, when Prime Minister Narendra Modi will lead around 40,000 people at Delhi's Rajpath performing asanas to mark the first International Yoga Day. June 21 was declared as the International Day of Yoga by the United Nations General Assembly on December 11, last year.
Also read: PM Modi likely to join 40,000 people on Yoga Day event
The declaration came after the call for the adoption of 21 June as International Day of Yoga by PM Modi during his address to UN General Assembly on September 27, last year wherein he stated: "Yoga is an invaluable gift of India's ancient tradition. It embodies unity of mind and body; thought and action; restraint and fulfilment; harmony between man and nature; a holistic approach to health and well-being. It is not about exercise but to discover the sense of oneness with yourself, the world and the nature. By changing our lifestyle and creating consciousness, it can help us deal with climate change. Let us work towards adopting an International Yoga Day."
Yoga is a practice that originated in India over 5,000 years ago and is aimed as transforming the body and the mind.
Also read: PM Modi tweets different 'asanas' in the run up to Yoga Day
Now it seems everyone is doing asanas everywhere. With the Yoga buzz hitting the world in a good way, Rediff.com takes a look at some unexpected places where people perform Yoga.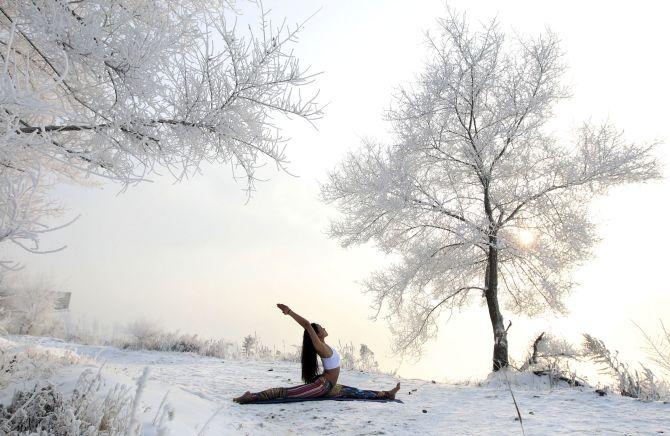 Xie Xiaoming, 26-year-old owner of a yoga club, practices yoga in thin clothes near trees covered by frosty fog on the snow-covered banks of Songhua River in Jilin, Jilin province. Photograph: Reuters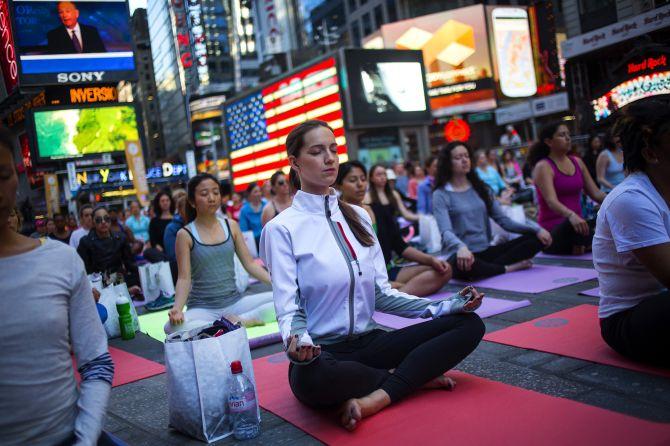 People practice yoga in Times Square as part of a Summer Solstice celebration in New York. Photograph: Eric Thayer/ Reuters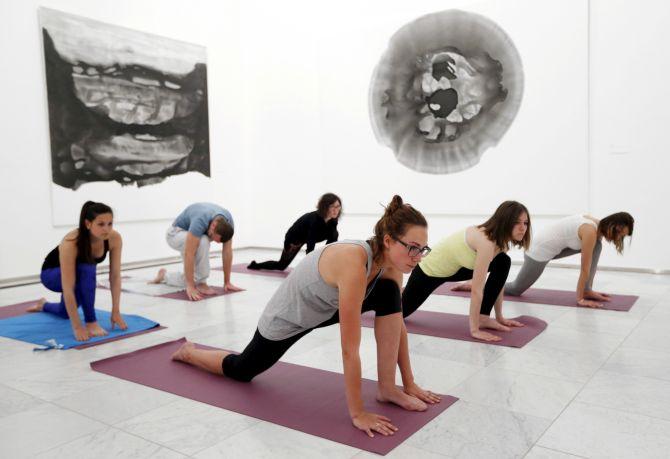 Participants attend a monthly yoga class in a room with specially chosen artwork by artist Gao Xingjian at the Royal Museums of Fine Arts of Belgium, in Brussels. Photograph: Francois Lenoir/ Reuters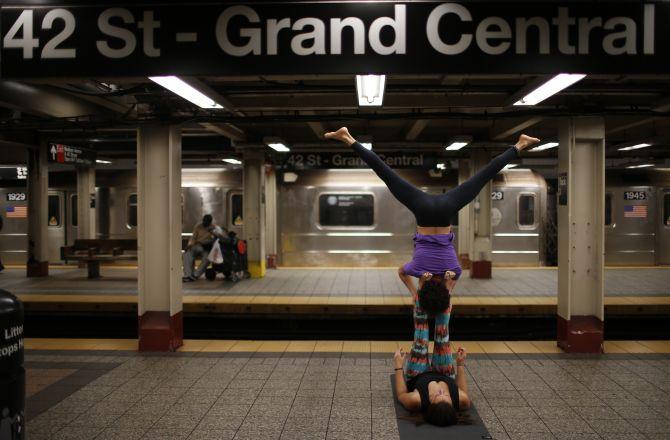 Lauren Tallody (bottom) and Bassam Kubba (top) practice "Acro-yoga", a mixture of yoga and acrobatics on a subway platform at 42nd Street beneath Grand Central station in New York city. Photograph: Mike Segar/ Reuters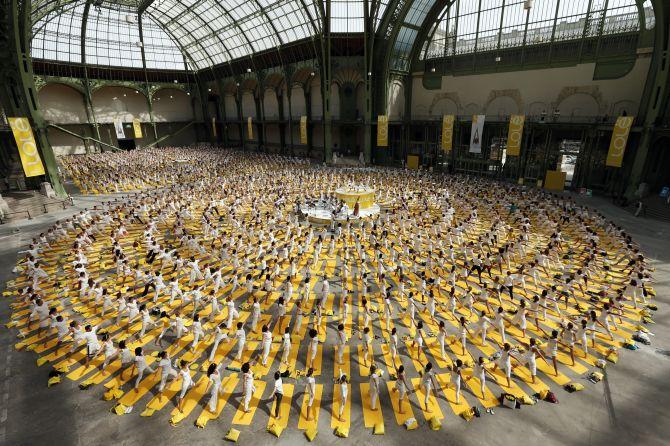 People take part in a group yoga practice at the Grand Palais in Paris. Photograph: Benoit Tessier/ Reuters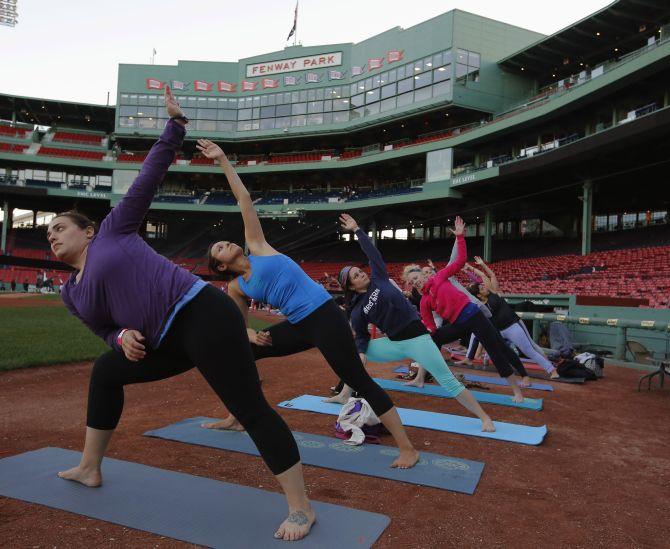 Participants take part in the first ever public yoga session at Fenway Park, home of MLB's Boston Red Sox, in Boston, Massachusetts. Photograph: Brian Snyder/ Reuters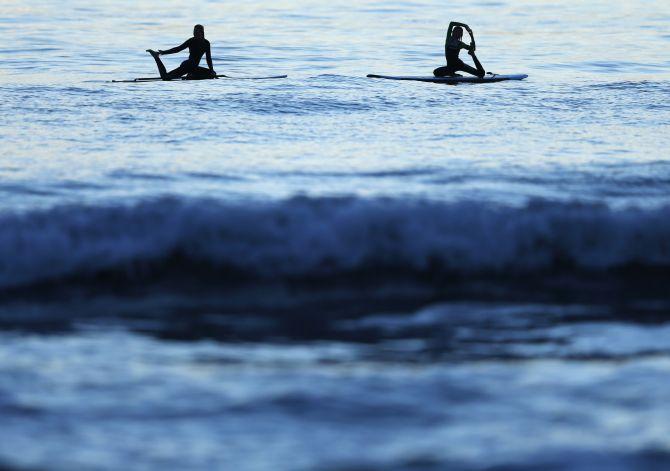 Twelve-year-old certified yoga instructor Jaysea DeVoe (R) does the mermaid pose with her friend Miely as they float on their paddle boards after the sun sets in Encinitas, California. Photograph: Mike Blake/ Reuters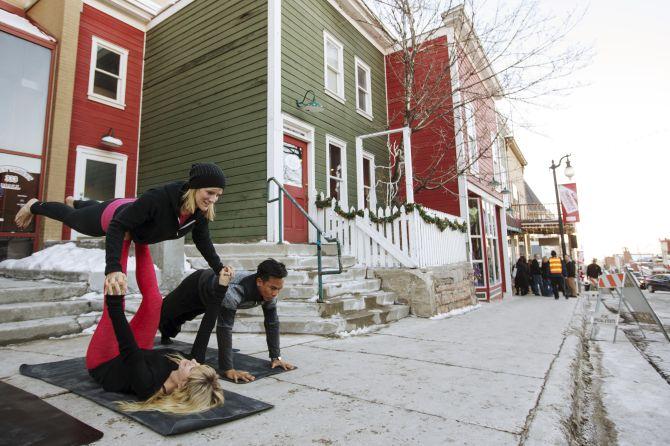 Yoga aficionados practice on Main Street during the Sundance Film Festival in Park City, Utah. Photograph: Lucas Jackson/ Reuters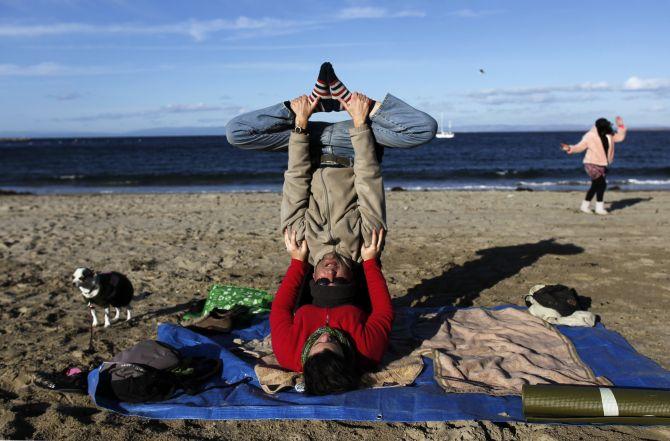 Kevin Ludwig and Christine Beck practice acroyoga during the "True Grit!" beach burn in Monterey, California. Photograph: Michael Fiala/ Reuters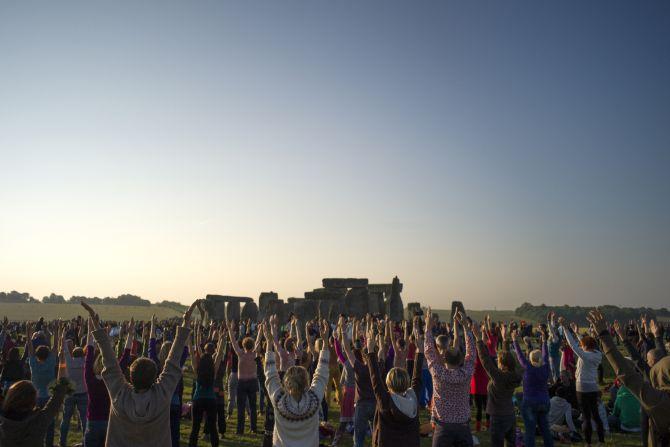 Revellers perform yoga as they celebrate the summer solstice on Salisbury Plain in southern England. Photograph: Reuters/Kieran Doherty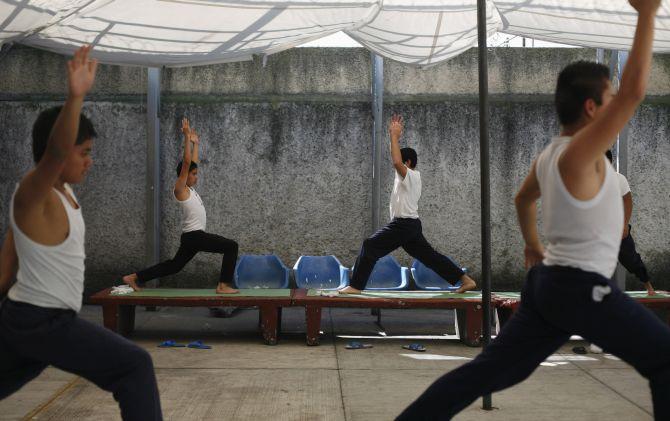 Inmates practice yoga during class inside a juvenile detention centre in Mexico City. Photograph: Carlos Jasso/ Reuters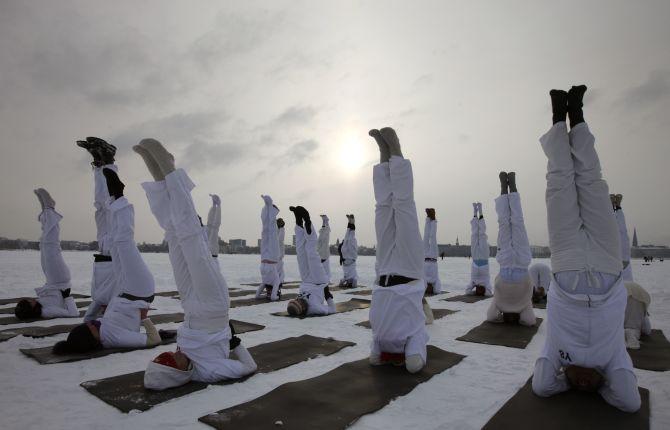 Members of the yoga project 'Y-8' practice their 'Alsteryoga' on the frozen Alster Lake in the northern German town of Hamburg. Photograph: Christian Charisius/ Reuters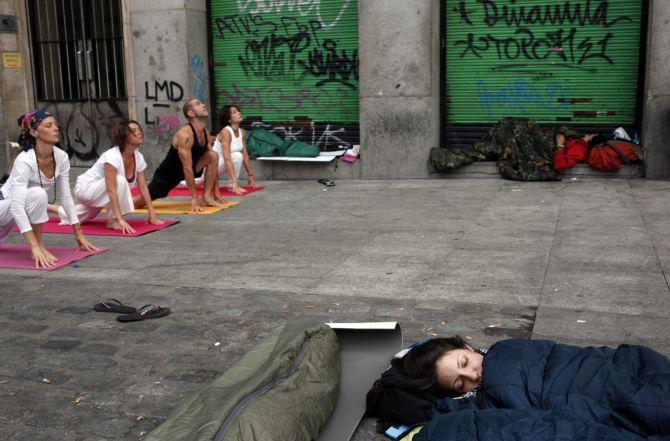 Demonstrators sleep as people practice yoga at Madrid's Puerta del Sol, four days after Spanish regional and local elections. Photograph: Susana Vera/ Reuters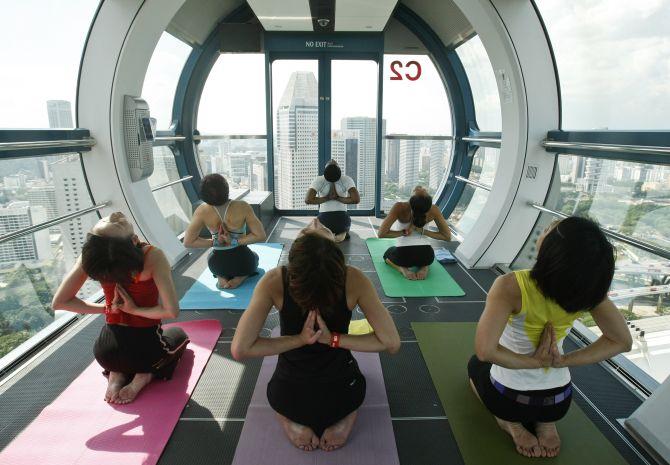 People take part in a yoga class on a capsule of the Singapore Flyer observation wheel in Singapore. The "Yoga In the Sky" session was held as part of Yogamania 2009, which includes a host of yoga-related activities and runs until Sunday. Photograph: Vivek Prakash/ Reuters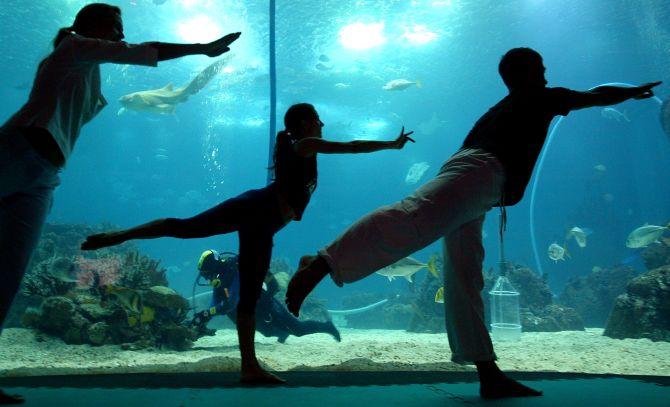 Yoga students stretch in front of fish in the Lisbon Oceanarium while a diver works on cleaning maintenance. Photograph: Nacho Doce/ Reuters