Horrified witnesses of the terror attacks at two central London landmarks on Sunday narrated tales of the gruesome events that unfolded when three knife-wielding men mowed down people and launched a stabbing spree when many were out for dinner or drinks in restaurants and pubs.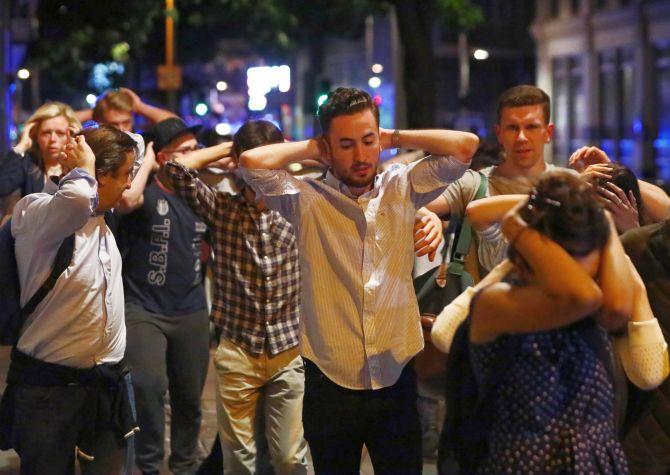 Bethany Atkin, a journalist, was at Boro Bistro at small restaurant which sits under a small bridge on Borough High Street.
"We were sitting outside under umbrellas underneath the bridge and there was a shower of rubble that landed on the umbrellas, a van had crashed into the bridge.
"We stood up, everyone was moving, I saw a man who was bleeding. I don't know how he was injured. We ran into the restaurant and tried to find a safe place but there wasn't one," Atkin, who works for the Guardian newspaper, said.
Running back outside, Atkin said he saw another casualty.
"We saw a woman with blood, about 20 metres from the bridge. I saw her lying down on the floor."
A witness called Mark told the BBC Radio 5 Live programme he saw a van hit a group of people on the bridge.
"It knocked a person about 20ft in the air. Within my line of sight there must have been about five or six people on the ground. They looked either dead or dying," he said.
Police boats were searching the Thames River -- apparently looking for people who may have been thrown off the bridge.
BBC reporter Holly Jones, who was on the bridge at the time of the attack, said a van driven by a man was "probably travelling at about 80 km an hour" before it hit a number of people.
"He swerved right round me and then hit about five or six people. He hit about two people in front of me and then three behind," she said.
"I'd say there are about four severely injured people. They all have paramedics assisting them at the moment."
Speaking to the Press Association, Will Orton described being in a pub in the area and seeing people coming running inside.
"We didn't really know what was going on. We thought maybe there was a fight or something outside. And then there were almost hundreds of people coming inside," he said.
"The bouncers did a really good job, they shut the doors and locked everyone in. There was panic -- it seemed like it was literally outside the door. People were coming inside and saying they had witnessed people being stabbed."
Alex Shellum told Fairfax Media that he was at the Mudlark pub underneath London Bridge at about 10 pm when a woman entered bleeding from the neck.
"At around 10:00 pm an injured woman came into the pub seeking assistance. It appeared that her throat had been cut."
Another witness in the Mudlark, 54-year-old Jeff Whitsey, said the woman, in her 20s, staggered into the pub, aided by her friends. She was clearly seriously injured.
"It was a very deep cut. There was blood everywhere... blood was spurting out. It was awful. Absolutely awful."
Gerard Vowls, 47, had been watching the Champions League final at the Ship pub in Borough. He was at the start of the south side of London Bridge and saw a woman being stabbed by three men 10 or 15 times.
"She was going, 'Help me, help me' and I couldn't do nothing," he said. "I want to know if this girl is still alive. I've been walking around for an hour and a half crying my eyes out. I don't know what to do."
Vowls said he was throwing chairs, glasses and bottles at the attackers in a bid to stop them.
Men brandishing knives reportedly jumped from a van that crashed near Brindisa restaurant and began stabbing people.
"They literally just started kicking them, punching them, they took out knives. It was a rampage really," one man told the BBC. The group of attackers headed towards Southwark Cathedral.
"Throughout the whole way across the bridge, there were people littered across bleeding. People were trying to help each other," the witness said.
Owen Evans, 39, was in The Wheatsheaf pub nearby on Stoney Street, with friends when shooting broke out.
"I was in the back of the pub. A wave of about 30 people ran in and tried to get into the cellar or cupboard. Then there were shots outside. They didn't seem real like a kid letting off firecrackers. We saw police lights and everyone got down under a table. People turned tables over," he said.
The attack comes almost two weeks after 22 people died in a suicide bombing at a concert in Manchester. In March, five people died in London when a car was driven at pedestrians on Westminster Bridge and a police officer was stabbed outside Parliament.
IMage: People leave the area with their hands up after the terror attack near London Bridge. Photograph: Neil Hall/Reuters