Kashmir Valley receives the season's heaviest snowfall disrupting power and bringing life to a standstill, almost.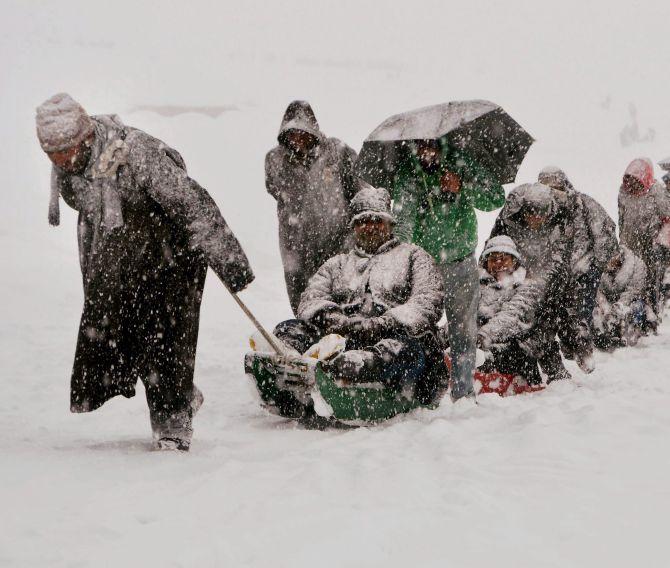 Kashmiri guides pull sleighs carrying tourists after heavy snowfall in in Gulmarg. Photograph: PTI photo
Kashmir Valley Monday woke up to another white blanket as it was lashed by season's heaviest snowfall that blocked the strategic Jammu Srinagar national highway.
The highway had opened for one way traffic only two days ago. A senior police officer said efforts were on to re-open the highway blocked because of landslides at several points triggered by heavy rains and snow.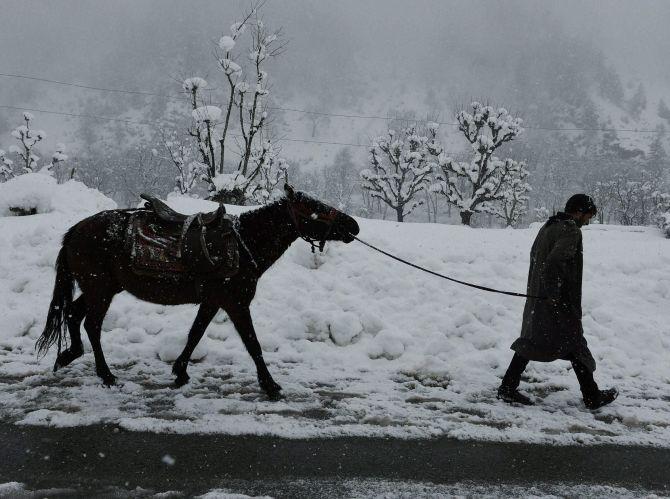 A man leads his pony across a snow covered field after heavy snowfall at Mammar in Ganderbal district of Kashmir. Photograph: PTI photo
This is the second heavy snowfall in past one week. The valley received season's first heavy snowfall Monday last which had blocked the highway for five long days.
However, following the improvement in weather authorities had opened the highway for one way traffic. Hundreds of trucks carrying essential supplies stranded on the highway were cleared by the authorities in past two days replenishing the stocks and supplies in the valley which had been running short of essential commodities.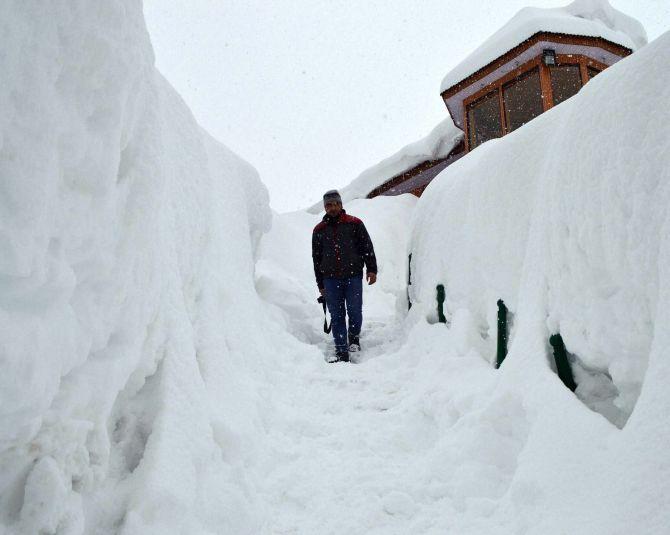 A man walks on a snow-covered road at a tourist resort after heavy snow-fall in Kashmir. Photograph: PTI photo
The Valley received mild snowfalls that too in February badly affecting the winter tourism as the major tourist resorts remained snowless during the core of winter locally called 'Chillai Kalan'.
The fall of snowflakes began Sunday afternoon and continued without any let up till late on Sunday night. The famous north Kashmir ski resort of Gulmarg and south Kashmir mountain resort of Pahalgam received heavy snow.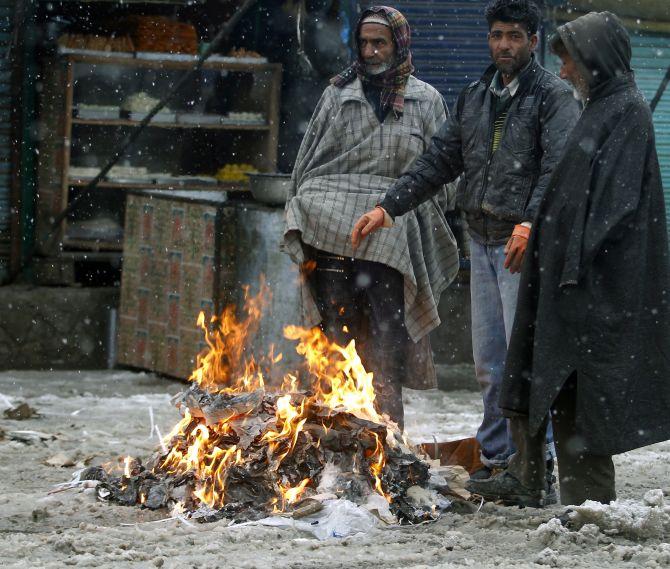 People warm themselves by a bonfire as it snows in Srinagar. Photograph: Danish Ismail/Reuters
The snowfall has caused widespread disruption of life in the Valley. It has usual snapped power supply but power department officials said efforts were afoot to restore the supply in capital city.
Deputy Chief Minister Dr Nirmal Kumar Singh has said, "Power infrastructure damaged during recent snowfall in the Valley should be restored on war-footing." He was chairing a high level meeting to take stock of power scenario in the state.
Monday's snowfall, however, has not caused any disruption of the air traffic.
The heavy snowfall will replenish the glacial mass in the mountains to keep the famous waterways brimming with water during the coming summer months and help the agricultural and horticulture industries were the outlook had become pessimist following the dry winter during the 40-day long core winter 'Chillai Kalan'.