Spanish riot police smashed their way across Catalonia on Sunday as they confiscating ballot boxes and voting papers to try to halt a banned referendum on a split from Spain.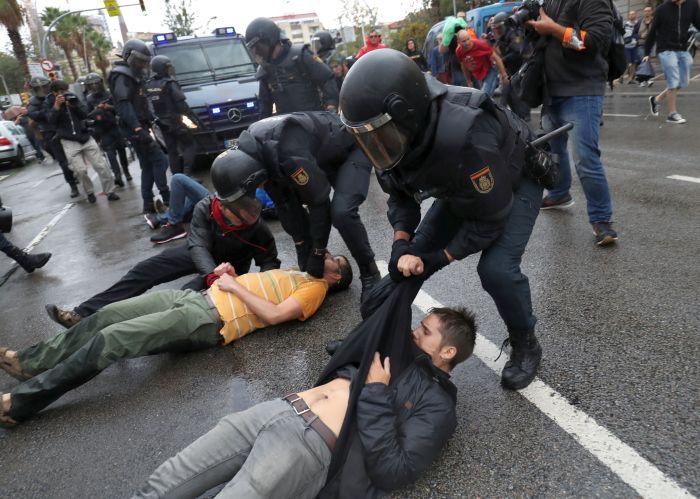 IMAGE: Spanish Civil Guard officers remove demonstrators outside a polling station for the banned independence referendum in Barcelona, Spain. Photograph: Susana Vera/Reuters
Police broke down doors to force entry into voting stations as defiant Catalans shouted "Out with the occupying forces!" and sang the anthem of the wealthy northeastern region. In one incident in Barcelona, police fired rubber projectiles.
Catalan officials said 337 people had been injured in the police crackdown. Officers in riot gear hit people with batons and forcibly removed would-be voters, including women and the elderly, from polling stations.
The referendum, declared illegal by Spain's central government, has thrown the country into its worst constitutional crisis in decades and deepened a centuries-old rift between Madrid and Barcelona.
The Spanish government has pledged to stop the poll, which is declared illegal by the country's constitutional court.
There was an extraordinary show of determination as thousands turned out to vote despite threats from the government in Madrid.
The Spanish government considers the referendum unconstitutional and had ordered the police to seal public facilities to prevent voting.
Meanwhile, the Spanish interior ministry had asked Catalan schools to collaborate with their operation to halt the referendum.
Furiously reacting to the brutal crackdown on the voters, Podemos leader Pablo Iglesias said, "Bumps, shoves, old women dragged. What the PP is doing to our democracy is repugnant to me. Corrupt, hypocritical, useless. Is this your 'victory' Mariano Rajoy?" The Guardian reported.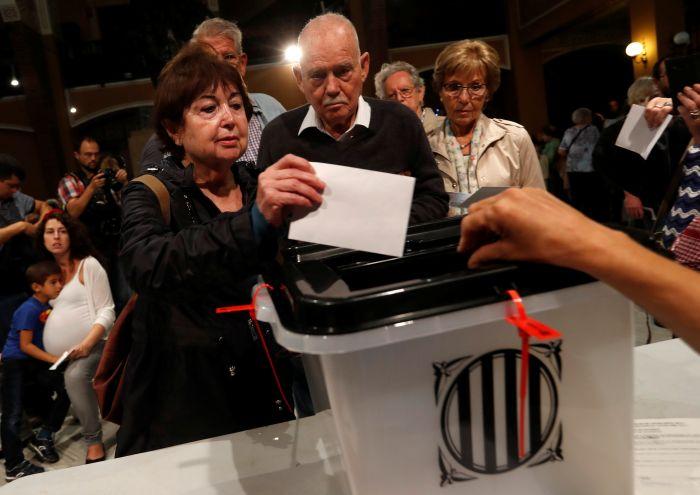 IMAGE: People cast their ballots at a polling station. Photograph: Yves Herman/Reuters
Catalan President Carles Puigdemont cast his vote in Cornella de Terri, a village in Girona province.
Spanish national forces in riot gear entered several sites, while the Catalan police, known as Mossos, watched voters stream in but made no move to interfere with them.
Barcelona's mayor, Ada Colau, expressed her discontent about the Spanish police's intervention in the referendum.
"A cowardly president has filled our city with police. Barcelona, city of peace, is not afraid," Ada Colau tweeted.
On Saturday, multitudes of supporters of Catalan independence maintained their standoff with the Spanish government they were prepared to hold a fiercely disputed referendum.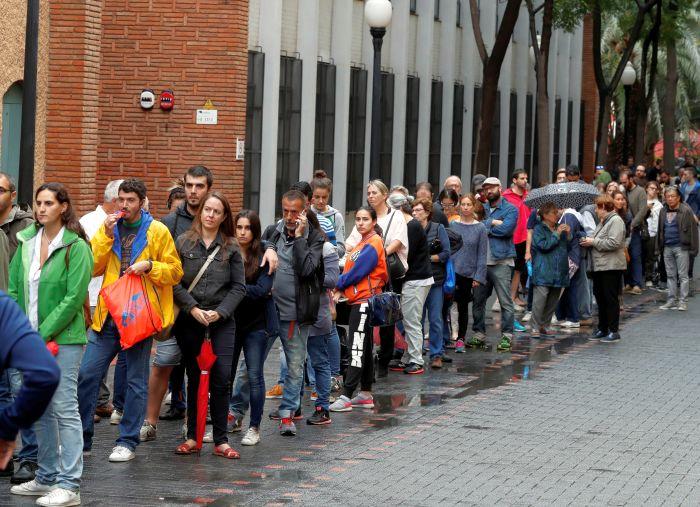 IMAGE: Voters wait in queue outside a polling station. Photograph: Yves Herman/Reuters
Several parents had already occupied the schools in a bid to prevent police from restricting access to their use today as polling stations.
The actions and reactions have come a day after huge crowds massed in Barcelona, the regional capital, for a final campaign rally by independence supporters.
Catalan President Carles Puigdemont called on the people to vote despite the obstacles.
"We are people who have experience with difficulties, and every difficultly makes us stronger. Friends, so that victory is definite, on Sunday, let's dress up in referendum (clothes) and leave home prepared to change history, to end the process and start progress, social progress, economic progress and cultural and national progress," he said.
Notably, Spain's central government had issued stern warnings against the referendum. The country's apex court has even barred it as unconstitutional.
With inputs from ANI