Violence continues to scorch south Kashmir following the killing of 'poster-boy' militant Burhan Wani with the death toll going up to 34.
On Tuesday, Jammu-Kashmir Chief Minister Mehbooba Mufti finally broke her silence and spoke up about the violence asking people to keep calm and try to maintain peace in the Valley.
Here are the latest updates.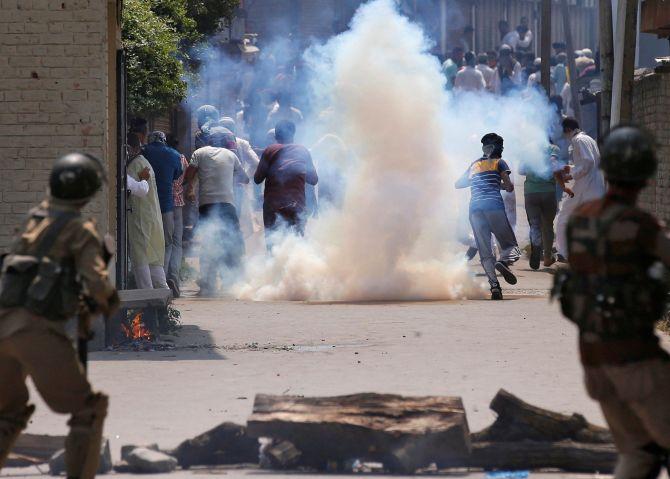 1.
The death toll has gone up to 34 with one more youth being killed on Tuesday. Authorities confirmed death of seven more persons in the clashes while informing that five other people were injured. Several police structures have been damaged in violence and arson by mobs at nearly two dozen places in the valley.
2.
Separatist leader Mirwaiz Umar Farooq was arrested in Srinagar while trying to defy curfew restrictions imposed in the area. Hardline Hurriyat Conference chairman Syed Ali Shah Geelani was detained by police after he tried to defy restrictions and march to Martyrs graveyard in downtown area of the city to commemorate the 85th anniversary of those who laid down their lives fighting the aristocratic rule in the state in 1931. Other leaders of the Hurriyat have also detained by the police
3.
Separatist groups extended the shutdown call in Kashmir till July 15 to protest against the killing of civilians in the aftermath of gunning down of Hizbul Mujahideen commander Burhan Wani. "People are appealed to observe a complete strike on July 14 and 15," said a joint statement issued by Hurriyat Conference factions.The statement also condemned the detention of Geelani and Mirwaiz.
4.
Shops and business establishments remained closed while public and private transport remained off roads due to the strike. Mobile Internet and train services are still suspended while mobile telephone lines have been snapped in Kupwara area following the death of a youth during protests on Monday. Mobile telephony has been partially suspended in four districts of south Kashmir.
5.
Amidst the violence, reports emerge of a secessionist plot with some protesters trying to create an armoury of weapons. According to reports, a mob took away around 70 semi-automatic and automatic weapons of the police after storming a police station in Damhal Hanji Pora in Kulgam two days ago.
6.
Security agencies are noticing a switch in tactics, with terrorists now taking shelter behind stone-pelters to lob grenades at security personnel. This tactic serves as a double-edge weapon as it not only targets the security personnel but exposes them to a situation where self-defence may lead them to fire at the protesters, resulting in fatalities among impassioned youth.
7.
Five days after the killing of 21-year-old Burhan Wani in an encounter with security forces, Hizbul Mujahideen has appointed Mehmood Ghaznavi as the new commander of Kashmir.
8.
Kashmiri doctors lament the use of deadly pellet-firing shotguns on protesters after more than 100 people suffered grievous injuries to their eyes. Doctors say that security forces have been deliberately using rubber pellets to inflict maximum physical and psychological damage on protesters without risking further fatalities. Although rubber pellets are not fatal, pellets fired by hydraulic pump action guns can cause blindness, disfigurement and damage to organs.
9.
Former Jammu and Kashmir Chief Minister Omar Abdullah in a series of tweets urged the PM to send eye and trauma specialists to the valley. He wrote, "Hon @narendramodi ji. After Kerala fire you carried a plane load of burn specialists with you. Please send eye/trauma specialists to Kashmir. The injured include security forces persons and young boys who risk losing their sight forever. This is the time to reach out with a healing touch."
10.
Demonstrators injured in street protests and warded in hospitals are battling shortages of key medicines, families and volunteers said in Srinagar. All the medical shops are shut in Srinagar due to the curfew imposed after Hizbul Mujahideen commander Burhan Wani was killed by security forces on Friday evening.
Image: Demonstrators run for cover amid tear gas smoke fired by police during a protest. Photograph: Danish Ismail/Reuters