A Patna-bound passenger train derailed near Manikpur Railway Station in Uttar Pradesh early on Friday morning, leaving three passengers, including a six-year-old boy and his father, dead and nine others injured.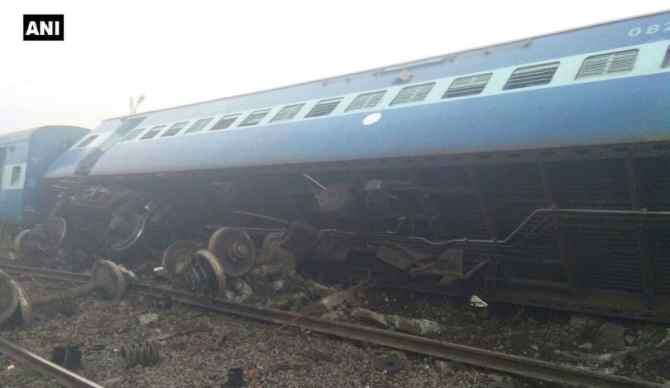 Thirteen coaches of the 12741 Vasco Da Gama Express, on its way from Goa to Patna, derailed at 4:18 am, soon after leaving platform number 2 of the Manikpur Railway Station in Chitrakoot district, about 250 km from Lucknow, officials said.
The train was moving slowly as it had just left the platform as a result of which the casualties were not heavy.
According to Additional Director General (Law and Order), Anand Kumar, prima facie a fractured railway track led to the accident "as per local assessment."
"Another possible reason being cited is that due to some technical problem, emergency brakes were slammed, causing the derailment," he said, adding that it can be confirmed only by railway authorities.
The Uttar Pradesh government has pressed Anti-Terrorism Squad into service to probe the train accident, the ADG said.
"We are not taking any chances and hence, ATS has been asked to probe whether there was any sabotage in the incident," he said.
Railway Minister Piyush Goyal expressed grief over the accident and announced compensation for the families of those killed in the accident.
He also ordered an inquiry by the Commissioner Railway Safety and directed Chairman Railway Board Ashwani Lohani, who is in the state, to rush to the site.
"Immediate rescue and relief operations started and an inquiry ordered into the derailment of Vasco De Gama-Patna Express at Manikpur, UP. My sincere condolences to the families of the deceased," Goyal tweeted.
He said Rs 5 lakh would be given as ex-gratia to the kin of the dead, Rs 1 lakh for those with grievous injuries and Rs 50,000 for those with simple injuries.
Chief Minister Yogi Adityanath expressed grief over the deaths of passengers in the train derailment.
He conveyed sympathies to the families of the victims and wished speedy recovery to those injured and announced a compensation of Rs two lakh to the family members of those who died.
Adityanath also declared Rs 50,000 to each of the seriously injured and Rs 25,000 to those who suffered minor injuries in the mishap, an official release said.
The chief minister directed officials to ensure adequate and speedy treatment of the injured, an official release said.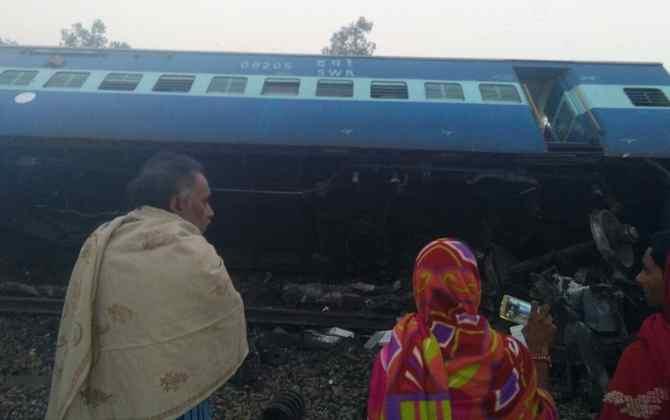 Chitrakoot Superintendent of Police Pratap Gopendra Singh said a father-son duo – Golu, 6, and his father Deepak Kumar, 30, -- from Bettiah district of Bihar died on the spot. The third passenger died at a hospital. He could not be identified immediately.
"Of those injured, two were serious and admitted to district hospital, Chitrakoot. Seven with minor injuries are being treated at Manikpur," Singh said.
North Central Railway PRO Amit Malviya said the coaches which jumped off the tracks were S3 to S11, two general coaches and two extra coaches.
"The injured have been rushed to the hospital and officials have left for the spot. Relief operations are underway," Malviya said.
He said that soon after the accident, a medical train reached the spot and by 5:20 am, an accident relief train was dispatched for the spot.
The Railways have set up a helpline no. 05322226276.
Senior railway ministry officials along with National Disaster Response Force and a medical train carried out rescue operations and provided support to victims.
In the aftermath of the derailment, movement of trains was disrupted on the Patna-Allahabad route for several hours.
The train derailment in Chitrakoot comes less than 12 hours after a passenger train hit a vehicle near Amethi killing four and injuring as many.
The year 2017 has witnessed several train derailments.
In August this year, 23 passengers were killed and 150 injured when the Utkal Kalinga Express derailed in Uttar Pradesh.
A crash near Kanpur in Uttar Pradesh last November had killed 150 people.
Photographs: ANI/Twitter