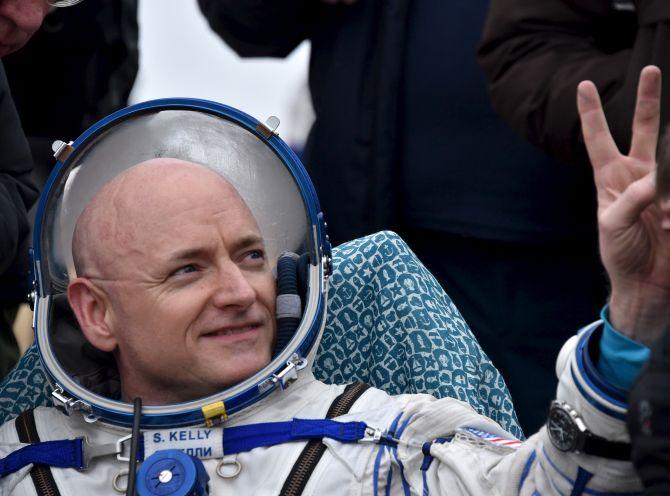 US astronaut Scott Kelly flashes the victory sign shortly after landing near the town of Dzhezkazgan, Kazakhstan. Photograph: Kirill Kudryavtsev/Pool/Reuters
National Aeronautics and Space Administration astronaut Scott Kelly has landed back on Earth after spending nearly a year on the International Space Station.
The 52-year-old and two Russian cosmonauts touched down in Kazakhstan after a three-hour flight from the International Space Station.
It was a textbook landing for Kelly and his crew, with the Soyuz spacecraft landing vertically as planned.
Kelly was seen clambering out of the capsule with the help of search and rescue teams and punched the air as he breathed fresh air for the first time since early 2015.
He looked in fine form and was on the phone just minutes later, perhaps to his family, two daughters or his girlfriend, who works for NASA.
Kelly and his crewmates Mikhail Kornienko and Sergey Volkov will be taken for medical tests before they meet their loves ones.
Ground personnel help astronaut Scott Kelly to get out of a Soyuz capsule shortly after landing. Photograph: Kirill Kudryavtsev/Pool/Reuters

Kelly shared an emotion farewell with his crew this afternoon after posting a picture of his final sunrise on Twitter, telling his 925,000 followers: "Rise and shine! My last #sunrise from space then I gotta go!"

During his 'Year in Space', Kelly has done a little bit of everything, from science experiments and spacewalks, to watching movies and celebrating talking with US President Obama. And he's shared it all with the world on social media.

Kelly has spent 340 consecutive days aloft, a US record. The world record is 438 days, set by a Russian cosmonaut in the 1990s.
Even that will pale in comparison to a Mars expedition, expected to last two to three years round trip.
Scientists hope to learn much from Kelly's mission to pave the way to Mars in another two decades; they also will collect data from his Russian roommate for the year, Mikhail Kornienko.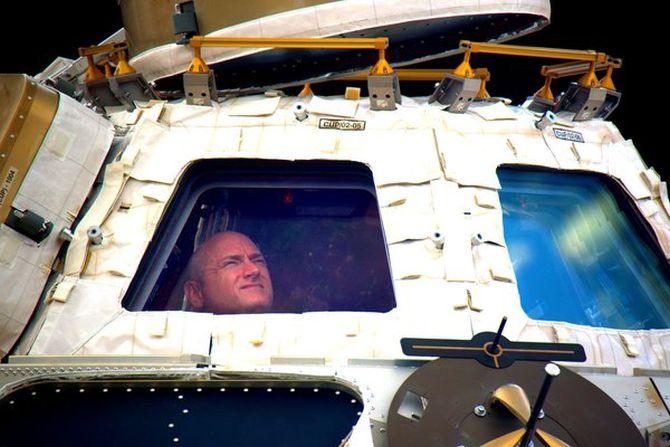 "#Thanks for following our #YearInSpace The journey isn't over. Follow me as I rediscover #Earth! See you down below!" the astronaut tweeted before his return to Earth. Photograph: @StationCDRKelly/Twitter
Along with Kornienko, Kelly will check out of the space station on Thursday, riding a Russian capsule back to the planet to end NASA's longest space flight. They will land in Kazakhstan. Then Kelly will be hustled home to Houston.
The 52-year-old astronaut said he can't wait to jump in his pool and dine at a real table with friends and family.
Kelly rocketed away last March on a research-packed mission, leaving behind two daughters and his girlfriend.