"I will keep you in suspense," said the Republican as he refused to commit to accepting the election result if he loses, in the third debate against Hillary Clinton.
Lalit K Jha and Yoshita Singh report.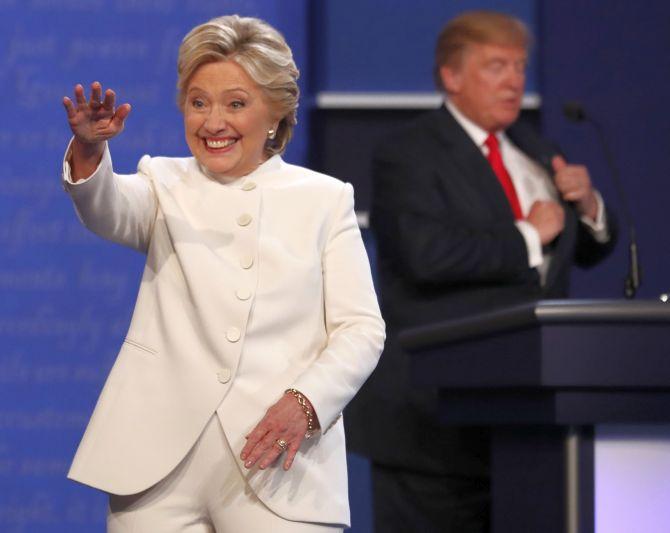 IMAGE: Democratic US presidential nominee Hillary Clinton waves to a member of the audience as she walks off the debate stage as Republican nominee Donald Trump remains at his podium after the conclusion of their third and final 2016 presidential campaign debate. Photograph: Mike Blake/Reuters
Donald Trump on Thursday threw hints that he may not accept defeat in the presidential polls which he has been saying is "rigged", stunning the political scene threatening to overturn United States' democratic convention of a smooth transfer of power.
His stance drew a sharp attack from Hillary Clinton as the two faced off in the feisty final presidential debate in which she was declared the winner.
The controversial 70-year-old Republican candidate maintained that he would keep the suspense about accepting the election result till November 8.
"I will look at it at the time. I'm not looking at anything now," he said in response to a question whether he would accept the poll results, during the third presidential debate at the University of Nevada in Las Vegas.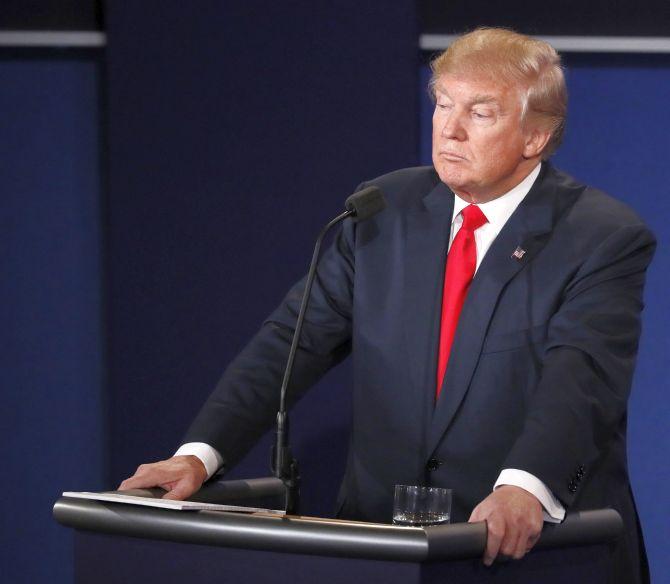 IMAGE: Trump listens as Hillary Clinton speaks during their third debate. Photograph: Mark Ralston/Pool/Reuters
"I will tell you at that time. I will keep you in suspense," he said in the primetime debate that lasted for over 90 minutes, reiterating that the current elections are rigged.
"The media is so dishonest and so corrupt and the pile on is so amazing, The New York Times wrote an article about it. They don't even care, it's so dishonest, they've poisoned the minds of the voters, but unfortunately for them, I think the voters are seeing through it," he said.
Trump's comments at the Las Vegas showdown marked a stunning moment that has never been seen in the weeks before a modern US presidential election, CNN said.
"The stance threatens to cast doubt on one of the fundamental principles of American politics -- the peaceful, undisputed transfer of power from one president to a successor who is recognised as legitimate after winning an election," it said.
Trump's remarks came after moderator Chris Wallace of Fox News said the peaceful transfer of power, a hallmark of American democracy, depends on the losing candidate accepting the validity of the electoral results.
Democratic nominee, Clinton, described her rival's refusal to accept the outcome of the election as "horrifying", and even went so far as to paint him as a "puppet" of Russian President Vladimir Putin.
"He is denigrating and he is talking down our democracy," said the former secretary of state," the 68-year-old former secretary of state said.
"And I, for one, am appalled that someone who is the nominee of one of two major parties would take that position."
"Every time Donald thinks things are not going in his direction, he claims whatever it is is rigged against him," said Clinton, adding that he has, at various times, accused the Federal Bureau of Investigation, Republican primary process and judicial system of being corrupt.
"That is not the way our democracy works. We've been around for 240 years. We've had free and fair elections. We've accepted the outcomes when we may not have liked them. That is what must be expected of anyone standing on a debate stage during a general election."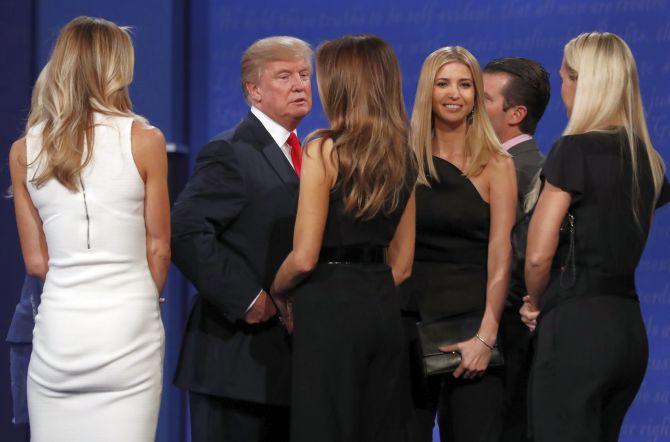 IMAGE: Donald Trump, his daughter Ivanka, son Eric and wife Melania speak after the third and final 2016 presidential campaign debate. Photograph: Mike Blake/Reuters
Trump, meanwhile, said American voters are wise enough to see through everything.
The bad blood between the two was unmistakable throughout their final head-to-head – and pointedly there was no handshake before or after the contest.
According to CNN, Clinton emerged as winner in the debate with an impressive 13 percentage points lead.
Overall, 52 per cent of those who watched the debate said Clinton did the best job, while 39 per cent said Trump was the winner, CNN said, releasing the results of its unscientific poll.
Clinton has won all the three presidential debates. But the network noted that the victory margin was narrowest for Clinton in the third and final debate.
She won the first debate in New York by 35 point margin and the second debate in St Louis with 23 points.
During the debate, Trump accused Clinton campaign of orchestrating a series of accusations by women who said the businessman made unwanted sexual advancements.
"She should not be allowed to run. And just in that respect, I say it's rigged, because she should never have been allowed to run for the presidency based on what she did with e-mails and so many other things," Trump said during the debate to woo undecided American voters.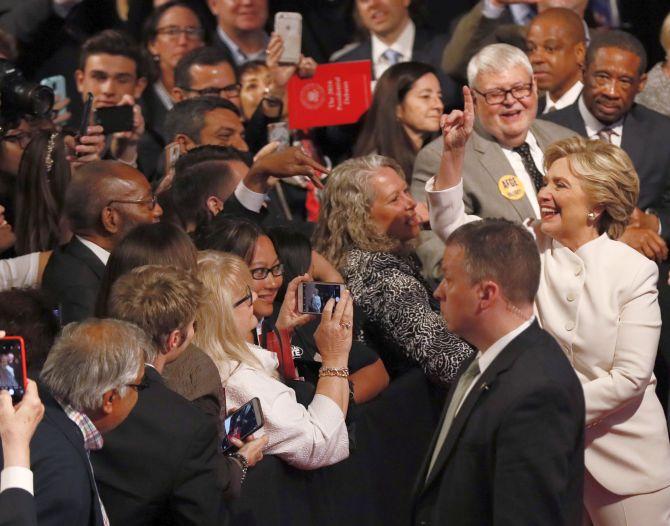 IMAGE: Hillary Clinton greets the crowd after the third debate in Nevada. Photograph:

Mark Ralston/Pool/Reuters
Asked about the nine women who have come forward to accuse Trump of the sexually predatory behaviour he bragged about in a 2005 video leaked earlier this month, Trump insisted they were all either seeking "10 minutes of fame".
"Those stories are all totally false -- I have to say that," Trump said.
"And I didn't even apologise to my wife who is sitting right here because I didn't do anything."
Trump called Clinton "such a nasty woman" after she attacked his personal record on paying no income tax for years.
Trump, under enormous pressure to halt Clinton's steady rise in opinion polls, came across as repeatedly frustrated as he tried to rally conservative voters with hard-line stands on illegal immigration, abortion rights and gun laws.
The two accused each other of not being fit to be the president of the country.
Clinton said that Trump is the "most dangerous person to run for presidency".
Trump is "unfit (to be president, and he proves it every time he talks," Clinton alleged.
"No, you are the one that's unfit," Trump responded by interrupting her remarks.
Trump also slammed the foreign policy of outgoing US President Barack Obama and Hillary Clinton in Iraq and Syria.