The Theatre-level Readiness and Operational Exercise, conducted to test combat readiness of the combined fleets of the Navy, the Air Force, the Army and the Coast Guard, has concluded.
The aim of the month-long exercise, which was carried out across the vast expanse of the Arabian Sea and the North Central Indian Ocean, was to test the combat readiness of the forces to deal with any possible threat.
"TROPEX 2017 assumes great significance in the backdrop of current security scenario. The exercise provided an apt-opportunity to test the combat capability of the Indian Navy, Indian Army, Indian Air Force and Coast Guard, and strengthened inter-operability and joint operations in complex conflict situation," the defence ministry said.
Over 45 ships from both the Western and Eastern Naval Commands, five submarines including the nuclear powered Chakra, 50 Naval aircraft, 11 ships from the Coast Guard, troops from the Army and 20 aircraft from the Air Force including Su-30s and Jaguars participated in the exercise from January 24 to February 23.
"The exercise, in complete coordination with the Army and Air Force, was conducted in phases to test the various facets of war-fighting and joint combat capabilities of the armed forces to respond to given threat situations," the ministry said.
Here are few glimpses of the exercise:

A BrahMos is fired from Indian Navy's P15A destroyer INS Chennai
---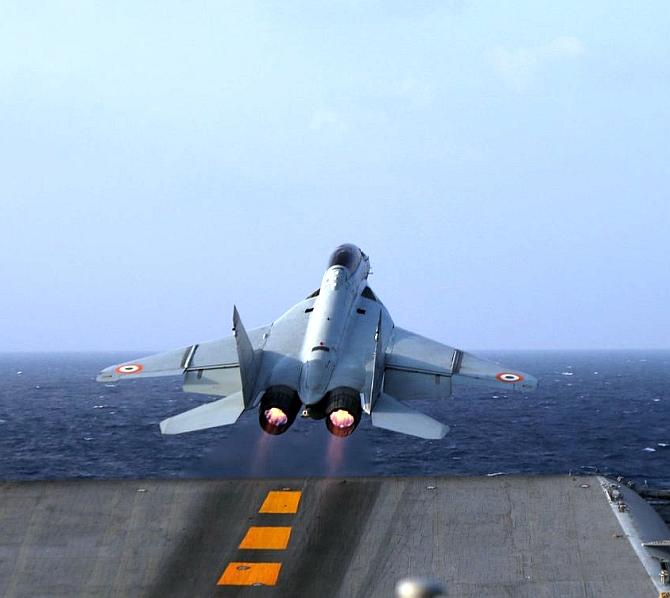 A Panther on the prowl somewhere in the Indian Ocean
---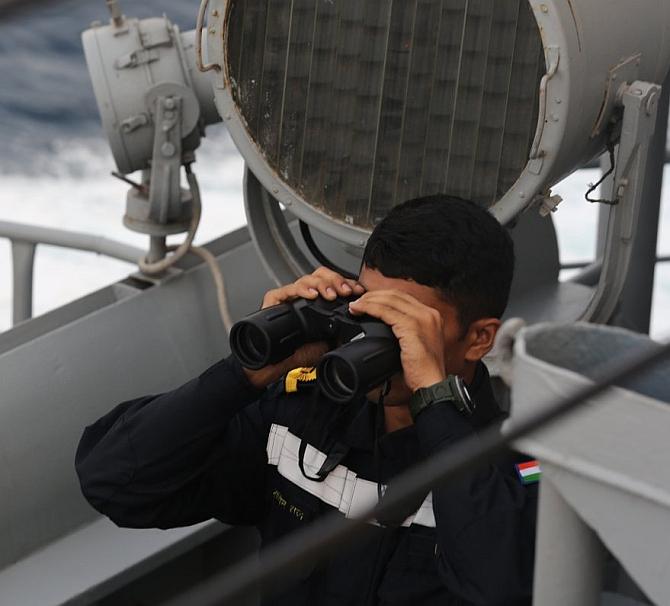 An alert seaman on watch
---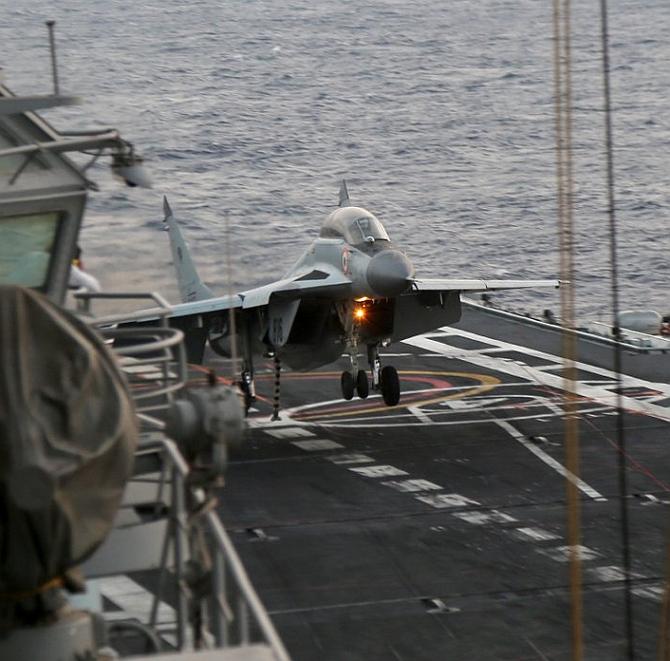 MiG29K makes a perfect landing on board INS Vikramaditya
---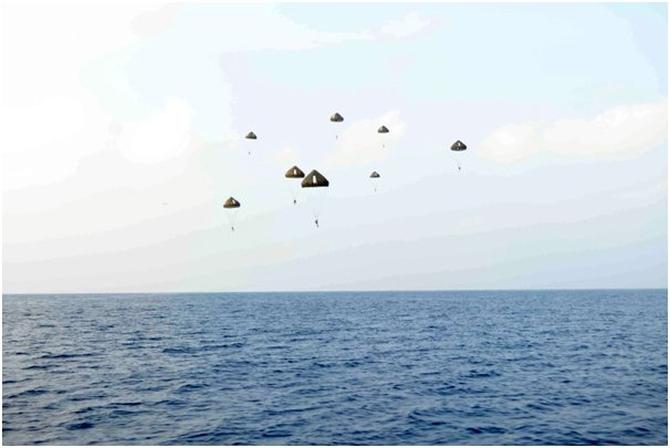 As a part of the exercise, niche capabilities of the Marine Commandos (MARCOs) and Army Special Forces, including Airborne Assault and Combat Free Fall were undertaken from IAF C-130 aircraft.
---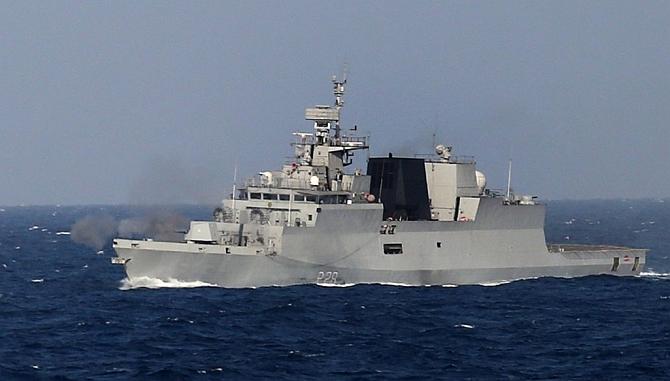 INS Kamorta, latest ASW frigate engaging a surface target with her main gun
---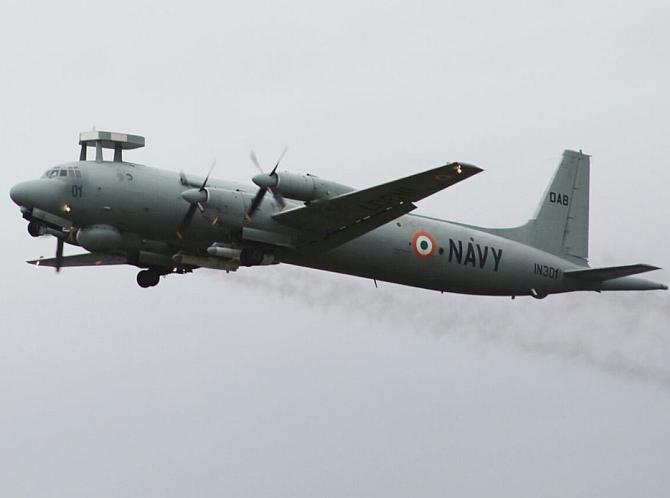 The IL-38SD successfully fires KH-35 anti shipping missile; a maiden firing that blew the target to pieces
---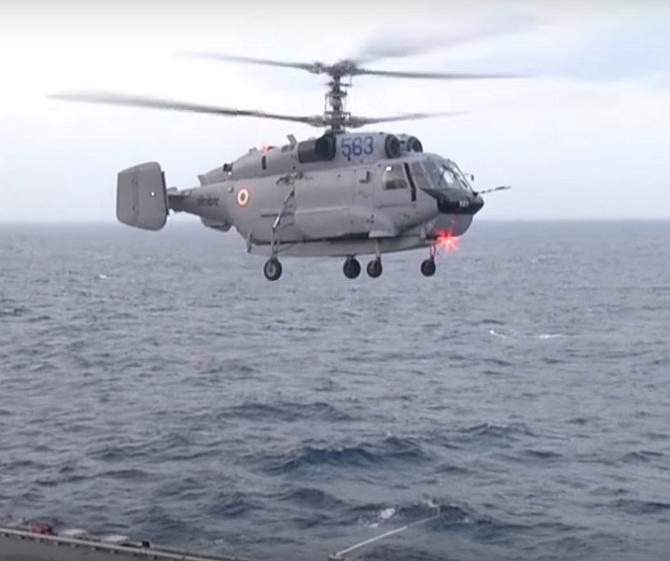 The coaxial-rotor Ka-31 acts as a radar picket for the navy's surface fleet, detecting and identifying airborne and maritime threats from long range using its deployable, rotating radar array, which is installed beneath the aircraft's fuselage.
---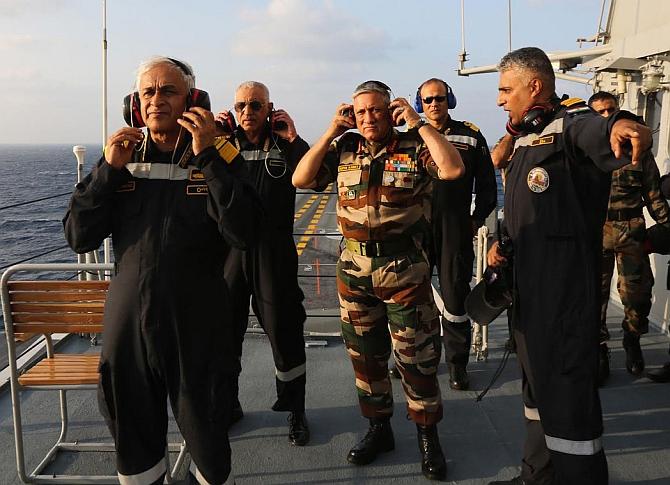 Navy Chief Admiral Lanba, Army Chief Gen Bipin Rawat and Flag Officer Commanding-in-Chief Western Naval Command Vice Admiral Girish Luthra having a close look at the gun-firing
---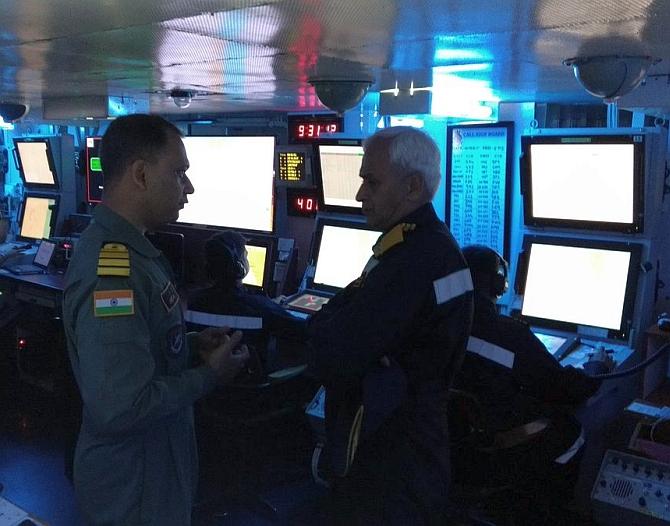 Admiral Lanba reviews the Theatre Level Operational Readiness Exercise.
---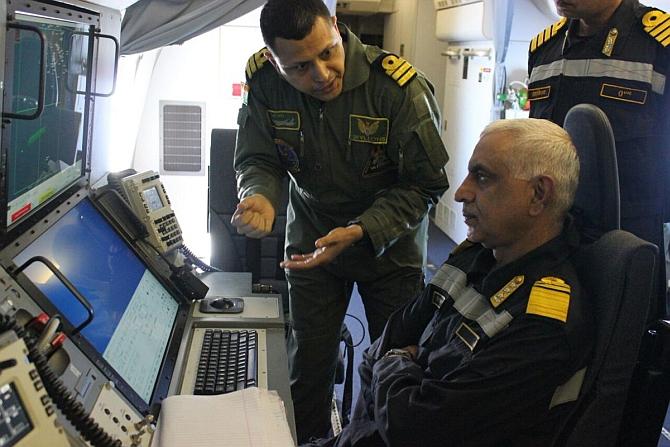 Vice Admiral Girish Luthra witnesses surveillance & attack in Tac scenario onboard the Boeing P8-I during TROPEX.
---

Defence Minister Manohar Parrikar attends a debriefing session with Naval Chief Admiral Sunil Lanba and Operation Commanders (including DGMO, DG Air Operations) over tele-conferencing at the conclusion of TROPEX.