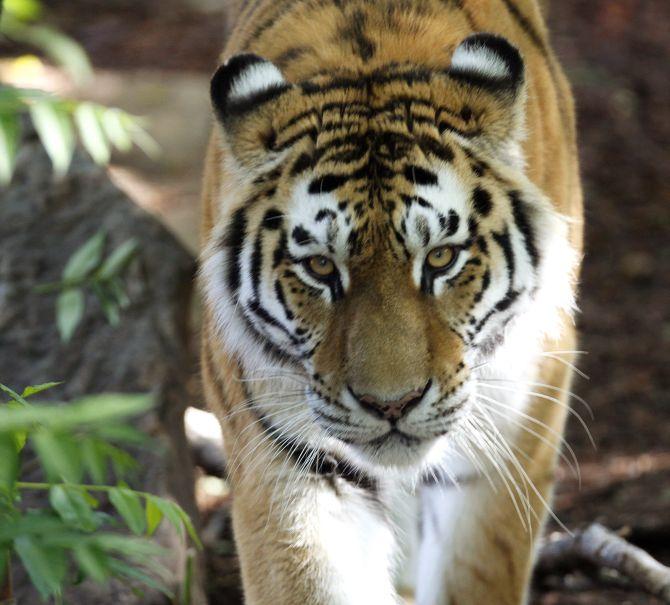 According to the new data, India accounts for the most with 2,226.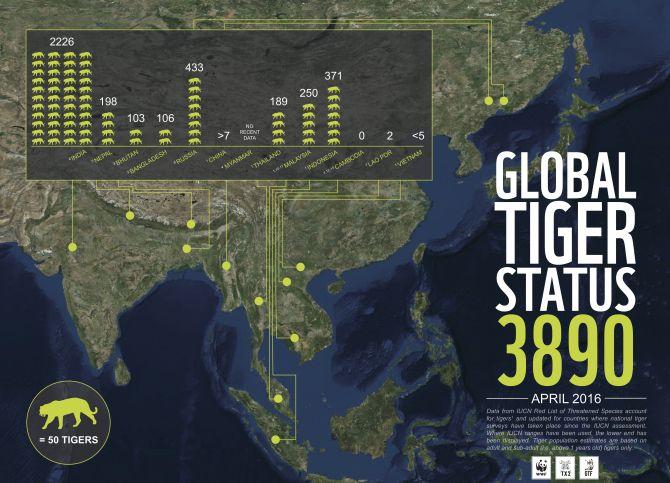 IMAGE: A graphic to show the break-up of the tiger population around the world. Credit:© WWF
For a clearer image, click on the photograph for an enlarged version.
There is good news for wildlife enthusiasts ahead of the 3rd Asia Ministerial Conference on Tiger Conservation that takes off in New Delhi.
The number of wildcats has seen an increase worldwide after decades of decline with India having more than half of these.
"The number of wild tigers has been revised to 3,890, based on the best available data," said World Worldlife Federation and the Global Tiger Forum.
They said that this updated minimum figure, compiled from International Union for Conservation of Nature data and the latest national tiger surveys, indicates an increase on the 2010 estimate of "as few as 3,200".
This increase, they said, can be attributed to multiple factors, including increases in tiger populations in India, Russia, Nepal and Bhutan, improved surveys and enhanced protection.
The report comes a day before Prime Minister Narendra Modi inaugurates the third Asia Ministerial Conference on tiger conservation where tiger range countries will discuss key issues, including anti-poaching strategies.
"For the first time after decades of constant decline, tiger numbers are on the rise. This offers us great hope and shows that we can save species and their habitats when governments, local communities and conservationists work together," said Marco Lambertini, Director General, WWF International.
The conference is the latest step in the Global Tiger Initiative process that began with the Tiger Summit in Russia in 2010 where governments agreed to the Tx2 goal to double wild tiger numbers by 2022.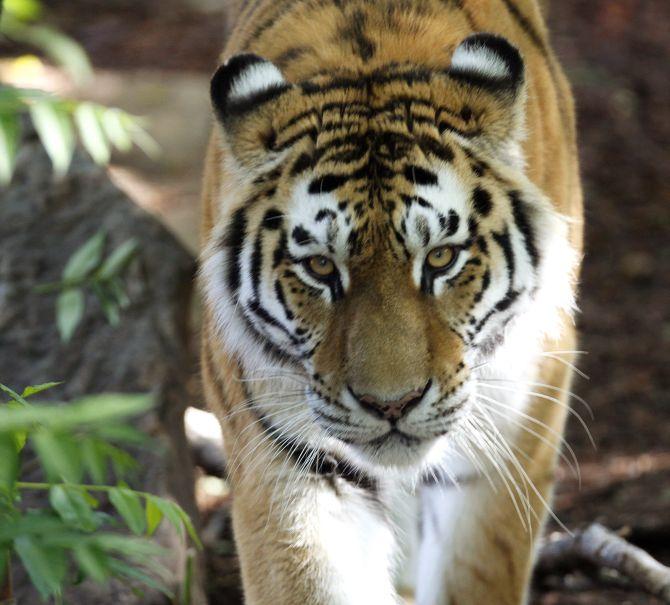 IMAGE: The number of wild tigers has been revised to 3,890 from 3,200 in 2010. Photograph: Reuters
While India's tiger count stands at 2,226 according to the latest survey, Russia holds the second highest number of wildcats at 433. Indonesia has 371 tigers while Malaysia 250. Nepal, Thailand, Bangladesh and Bhutan have 198, 189, 106 and 103 tigers each, according to the data compiled by the wildlife groups.
Other countries which have tigers are Myanmar, China and Laos.
In 2014, tiger range governments agreed to announce a new global tiger estimate by 2016, based on full, systematic national surveys.
However, not all countries have completed or published these surveys and the new minimum estimate of close to 3,900 tigers is based on the IUCN Red List of Threatened Species account for tigers, updated for countries where national tiger surveys have taken place since the IUCN assessment.
Vietnam also has some tigers.
A WWF statement said that 100 years ago there were 100,000 wild tigers while by 2010, there were as few as 3,200.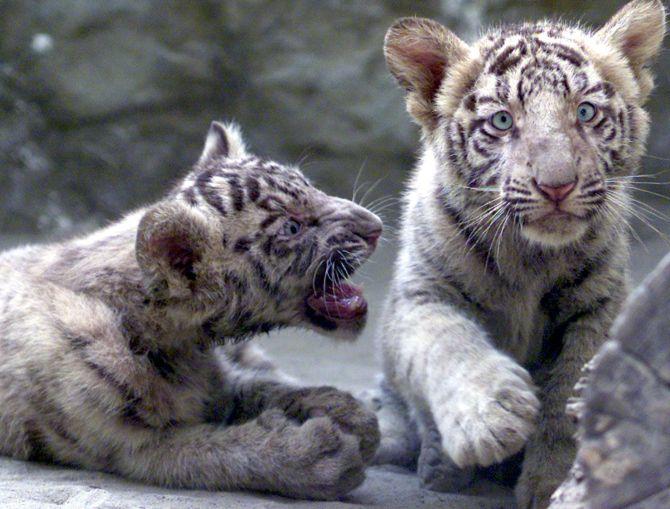 IMAGE: Climate change, poaching and illegal encroachment of land is considered as the three main threats to the existence of tigers. Photograph: Reuters
In 2010, tiger range governments agreed to act to double wild tigers by the next Chinese Year of the Tiger in 2022 and this goal is known as Tx2.
Over the three-day meeting, countries will report on their progress toward the Tx2 goal and commit to next steps.
"This is a critical meeting taking place at the halfway point in the Tx2 goal. Tiger governments will decide the next steps towards achieving this goal and ensuring wild tigers have a place in Asia's future," said Rajesh Gopal, secretary general, GTF.
The prime minister will address the conference on the essential role tigers play as a symbol of a country's ecological well-being.
"A strong action plan for the next six years is vital. The global decline has been halted but there is still no safe place for tigers. Southeast Asia, in particular, is at imminent risk of losing its tigers if these governments do not take action immediately," said Michael Baltzer, Leader of WWF Tx2 Tiger Initiative.
Tigers are classified as endangered by the IUCN Red List of Threatened Species, threatened by poaching and habitat loss and statistics from TRAFFIC, the wildlife trade monitoring network, show that a minimum of 1,590 tiger skins were seized by law enforcement officials between January 2000 and April 2014, feeding a multi-billion dollar illegal wildlife trade.
Giving countrywise details, the statement said that in Malaysia, the first nationwide tiger survey is underway while in Myanmar there are ongoing talks with the government about development of a new tiger action plan which will include recommendations for surveys and protection measures in selected priority sites.
While in Thailand site specific data of tiger populations is available, in China, it said that evidence of tigers is only found in Northeast China in Jilin and Heilongjiang provinces and a field survey of Heilongjaing Province is underway with results expected later in 2016 while preliminary results indicate a promising increase in numbers.
Similarly in Indonesia, an island-wide occupancy survey was published in 2011 and extensive survey work across Sumatra is ongoing.