Photographer John Moore, who took the picture that has come to symbolise the horror of the new family-separation policy in the United States, reveals what happened that night.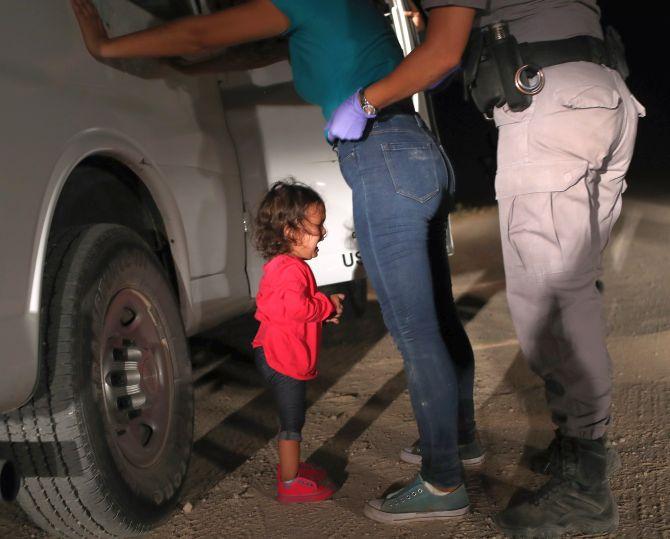 All photographs: John Moore/Getty Images
A two-year-old girl in a bright pink shirt is crying. It's the middle of the night, and she's only visible thanks to bright lights, likely from cars and cameras. She's sobbing, her head tilted back in fear as she looks up at a strange man touching her mother. But nobody can soothe her.
This image of a Honduran girl crying as United States Border Patrol agents search her mother has come to represent the heartbreak being experienced by illegal immigrants separated from their children.
Pulitzer prize-winning photographer John Moore has been documenting the immigrant experience for a decade, riding along with both Border Patrol agents and immigrant trains in order to get the story.
Speaking of the image, he speaks about the June 12 ride-along that resulted in the emblematic picture -- not to mention the other heartbreaking photos he captured of this mother and child.
That fateful night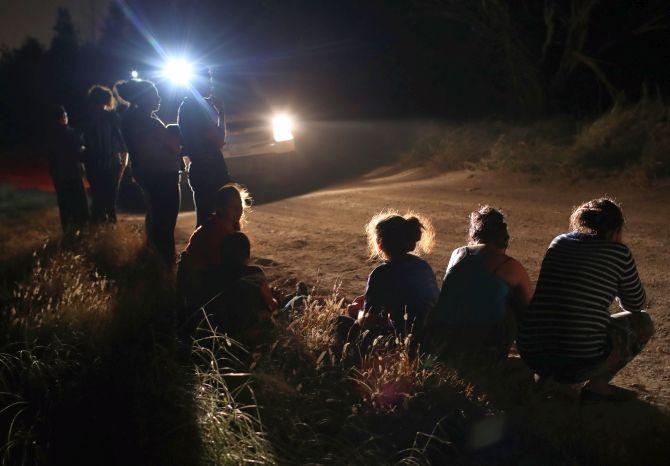 On June 12, after seeking access, he accompanied Border Patrol agents to the banks of the Rio GrandeRiver on the outskirts of McAllen, Texas.
Waiting with the guards for hours, he finally heard rafts coming across the river. They waited a little longer and then suddenly moved in to see nearly dozen of them – mostly women and children.
Describing that moment itself, Moore says, "Most of these families were scared, to various degrees. "I doubt any of them had ever done anything like this before -- flee their home countries with their children, travelling thousands of miles through dangerous conditions to seek political asylum in the United States, many arriving in the dead of night."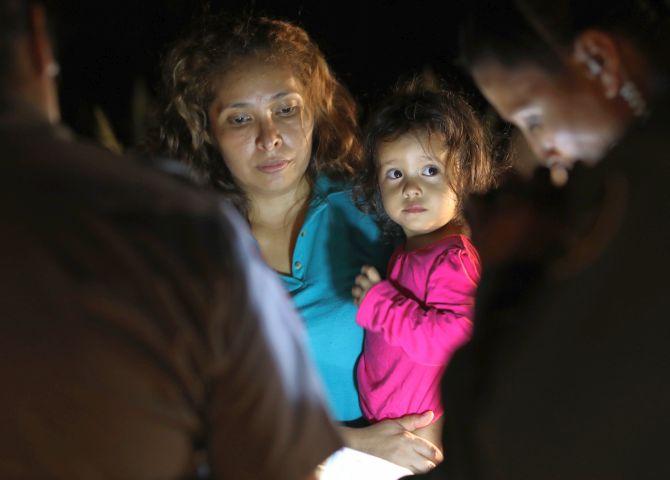 While the agents were trying to get the families into buses, he finally spoke to one woman who identified herself as a Honduran. She was travelling with her two-year-old. "The mother told me they had been travelling for a full month and were exhausted," says Moore, who speaks Spanish. "They were taken into custody with a group of about 20 immigrants, mostly women and children, at about 11 pm," he was quoted as saying to Getty Images FOTO.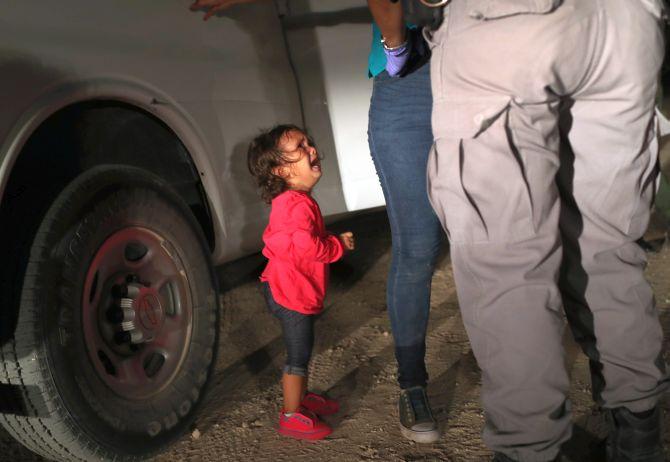 Describing what happened next, Moore says, "Before transporting them to a processing center, transportation officers body searched everyone and the mother was one of the last. She was told to set the child down, while she was searched. The little girl immediately started crying. While it's not uncommon for toddlers to feel separation anxiety, this would have been stressful for any child. I took only a few photographs and was almost overcome with emotion myself. Then very quickly, they were in the van, and I stopped to take a few deep breaths."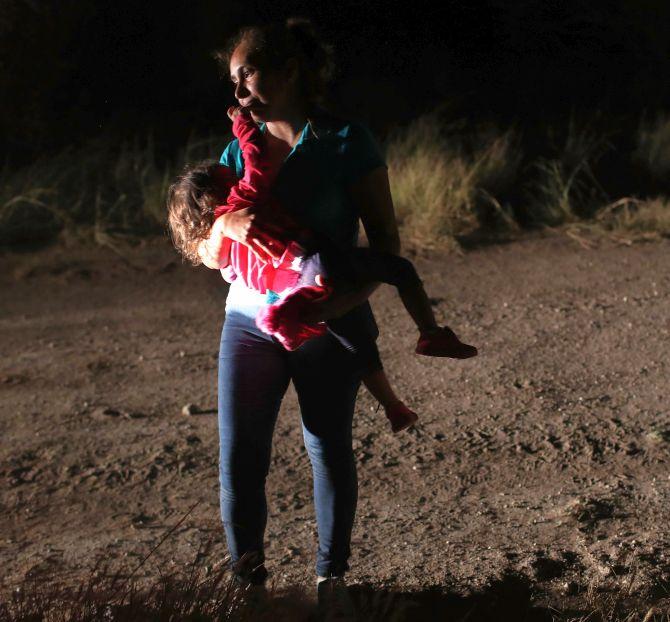 Moore says he doesn't know what became of the 2-year-old Honduran girl, adding that the asylum seekers he photographed likely had no idea of the new "zero tolerance" policy that has led to families being separated from their children, since they had been travelling for a month under harsh circumstances.
Trump defends his controversial immigration policy
The United States will not become a "camp" for migrants, USPresident Donald Trump said as he defended his controversial immigration policy of separating children from their parents who illegally enter the US that has triggered widespread outrage.
Trump also claimed that criminals are using children to enter the country.
Nearly 2,000 children have been separated from their parents in the six week following the administration's announcement of a "zero-tolerance policy" against illegal border crossings.
The separations have triggered a nationwide outcry from Republicans and Democrats who say it is inhumane.
He said the US has the worst immigration laws in the world.
The Democratic party leadership and rights activists have intensified their attack on Trump over the family separation issue.
"In recent weeks and days, Americans have been shocked by heartbreaking images of screaming children being taken away from their parents by US immigration officers along the border. In just six weeks nearly 2,000 children, many of them around 5 years of age, have been sent to mass holding centres or foster care," Senator Chris Van Hollen said in a statement.
Democratic leader Nancy Pelosi described Trump as the "Family-Separator in Chief." Trump is simply lying when he blames family separation on Democrats, she said.
"Trump's barbaric family separation policy will be a stain on our history. It's up to Trump and Sessions to stop ripping children from the arms of their parents. It is cruel and un-American," Pelosi said.
The South Asian Bar Association of North America called on the current administration to end their "zero tolerance" policy that is resulting in hundreds of families being ripped apart.
"A policy that emphasises the separation of children from parents as this one does is inhumane and inconsistent with American values," said SABA President Rishi Bagga.
"As a country that places emphasis on the family as the building block of society, tearing families apart goes against everything for which we stand," he said.
The Department of Homeland Security now refers all unlawful border crossers to the US Department of Justice for prosecution, providing the basis for separating children from their parents.
The children are then classified as "unaccompanied alien minors" and remanded to the Office of Refugee Resettlement.
-- PTI