Some practised their stretches on a boat as they floated across River Siene in Paris; the others did their asanas outside the world famous ruins of Angkor Vat in Cambodia.

Fitness enthusiasts embraced our ancient practice with great fervour across the world. The pictures tell the story of the grand success of the first International Yoga Day.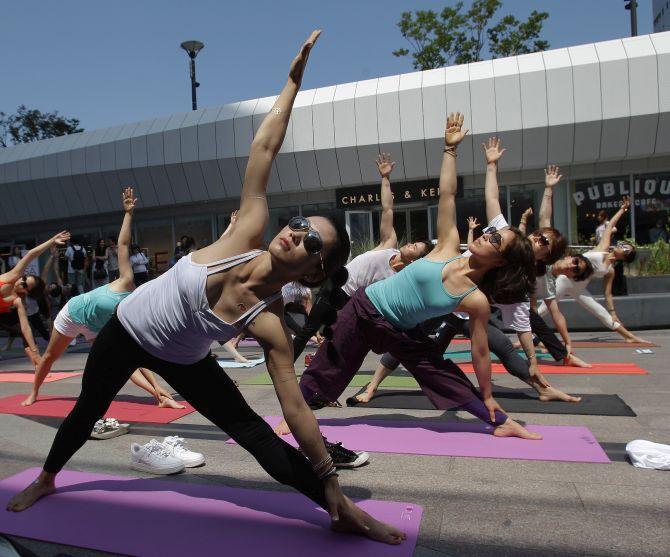 People perform yoga to mark International Day of Yoga in Seoul, South Korea. Milions of people worldwide took part in the first International Day of Yoga, which was declared by the United Nations last year. Photograph: Chung Sung-Jun/Getty Images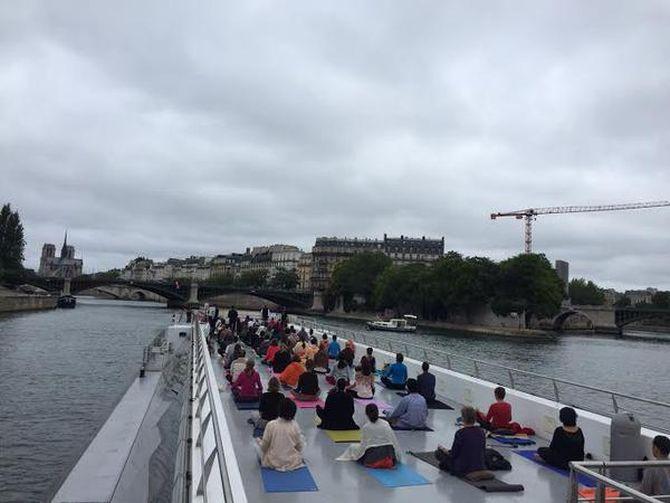 Yoga demonstration on boat as it makes way past the bridges of Paris on River Seine. Photograph@Indian_Embassy/Twitter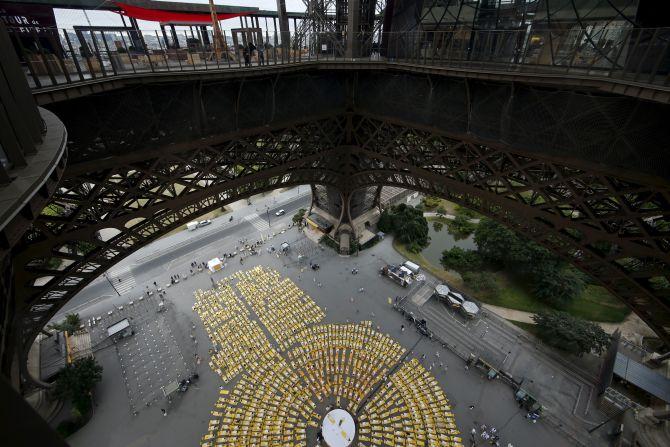 Participants perform yoga to mark the International Day of Yoga under the Eiffel tower in Paris, France. Photograph: Benoit Tessier/Reuters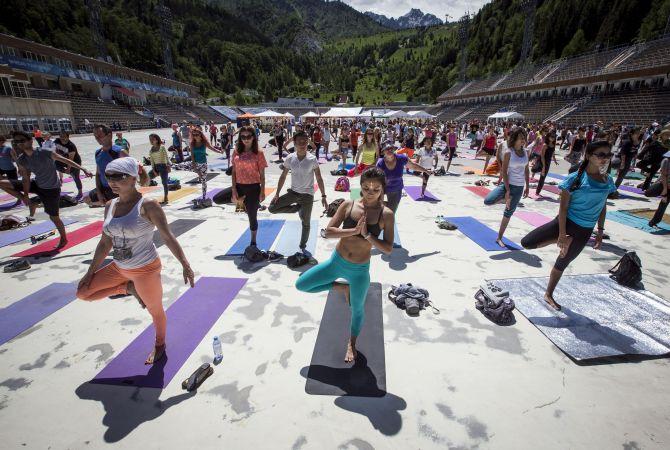 Participants attend the Yoga Fest to mark the International Day of Yoga at the Medeo skating rink at the altitude of some 1600 metres above sea level in Almaty, Kazakhstan. Photograph: Reuters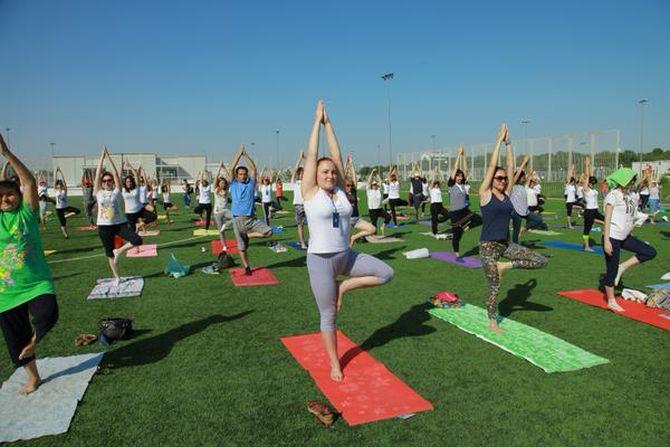 Tashkent, Uzbekistan celebrates International Day of Yoga. Photograph:@MEA/India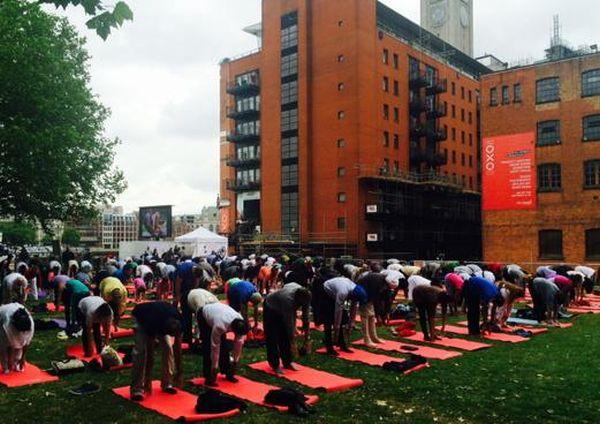 On Sunday, London was completely engrossed in yoga. Photograph: @chris_vasiliou/Twitter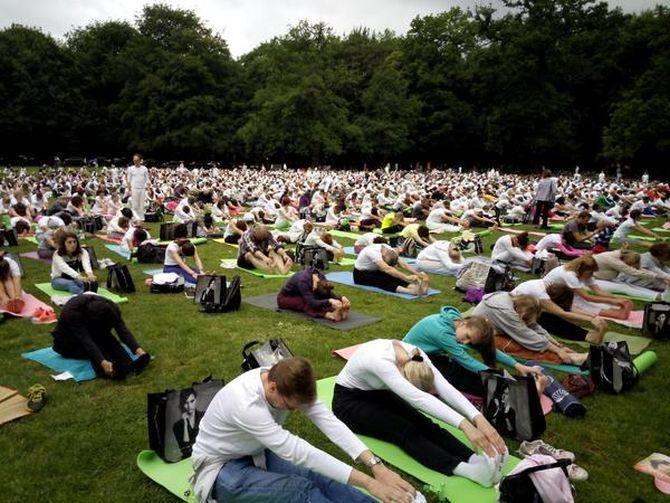 Yoga enthusiasts do the Paschimotanasana in Brussels. Photograph: @IndEmbassyBru/Twitter


International Yoga Day celebration is in full swing in Samara, Russia. Photograph: @IndEmbMoscow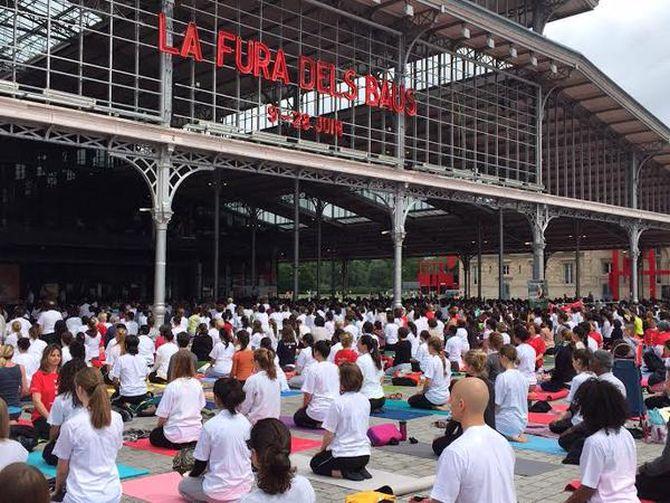 Over 4,000 yogis gathered at the Grand Halle de la Villette, Paris. Photograph: @Indian_Embassy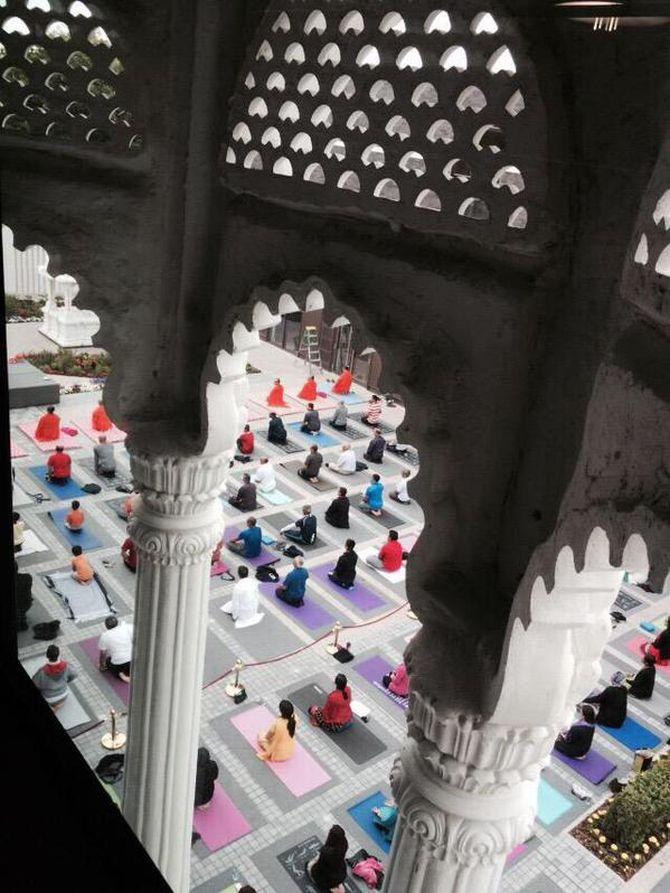 Britain gets its mat out on Yoga Day. Photograph: @SGadiLondon/Twitter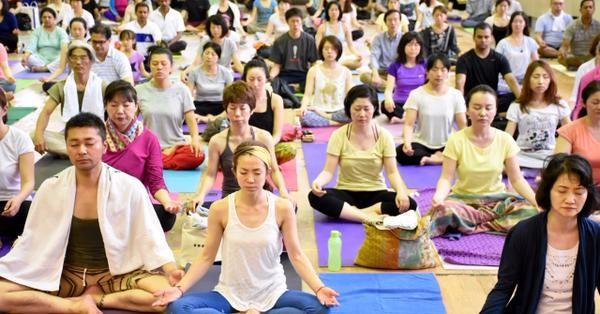 Sri Sri Ravishanker shares this picture from the Art of Living Yogathon in Japan. Photograph: @SriSri/Twitter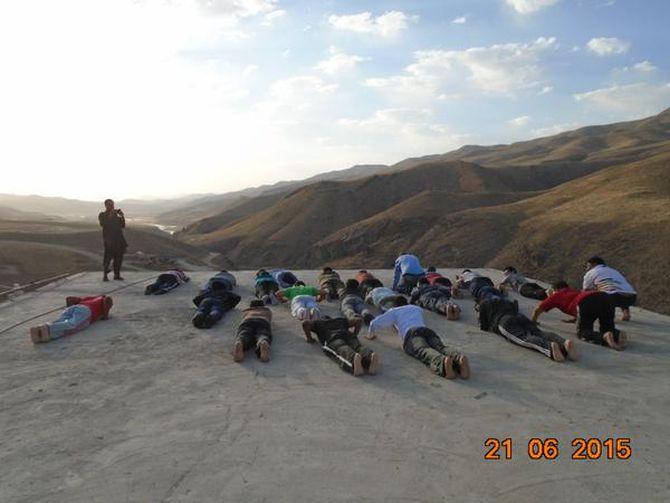 Afghans practise their asanas on Yoga Day.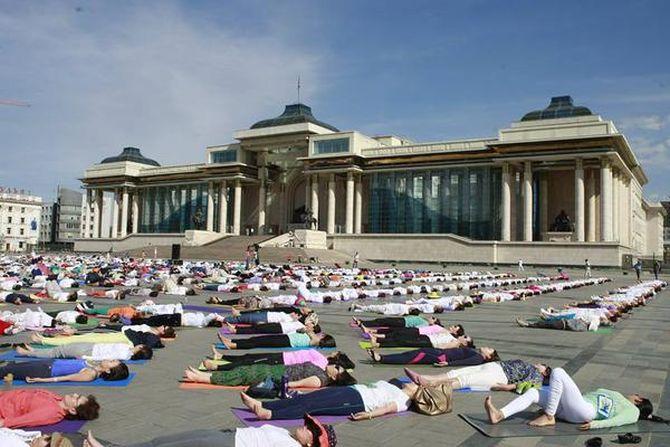 Yoga Day fever grips Mongolia. Photograph:@IndianDiplomacy/Twitter




Nepali Actress Mala Limbu participates in Yoga Day celebrations. Photograph: @IndiainNepal/Twitter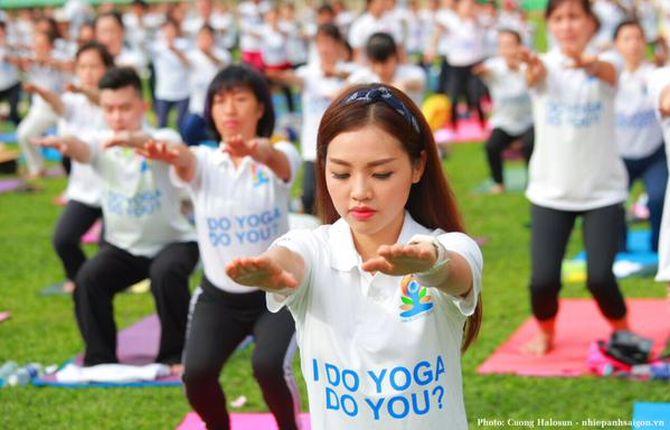 'I do yoga. Do you?' has become the catchphrase in Vietnam.

Hhundreds took part in the celebrations at Hanoi's Quan Ngua Sports Palace, and in Ho Chi Minh city and seven other provinces. "The response was amazing, way beyond our expectations," Preeti Saran, India's ambassador to Vietnam said. Photograph: @cghcm/Twitter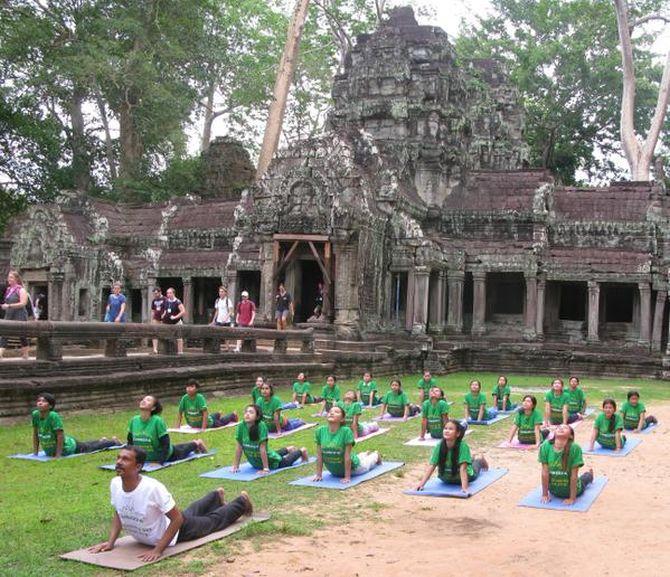 From the iconic Angkor Vat and Ta Prohm Temples in Cambodia, the full beauty of Yoga Day was on display. Photograph: @MEAIndia/Twitter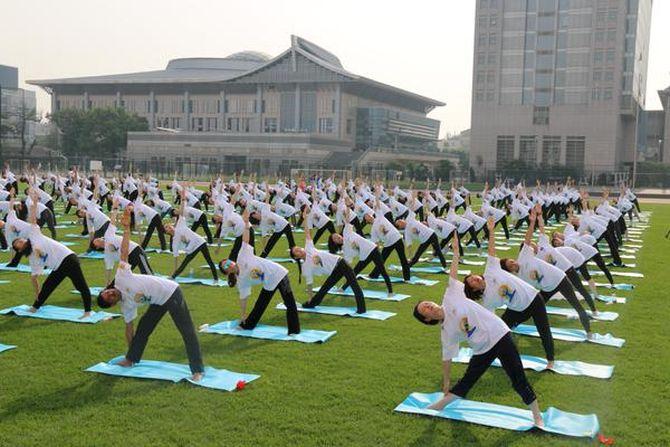 In China, events were organised at the prestigious Peking University and Geely University. People from different walks of life took part in the exercise.
About a week ahead of the International Yoga Day, the India-China Yoga college was inaugurated at Yunnan Minzu University in Kunming, the first such college in the country. Photograph: @MEAIndia/Twitter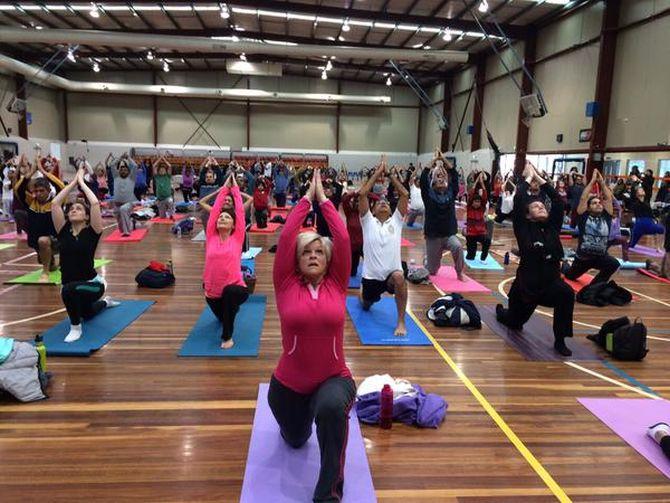 More than a thousand people took part in several events across Australia to mark the day, with Prime Minister Tony Abott appreciating Yoga's universal appeal.
"For thousands of years, yoga has provided its followers with a guide to bringing their mind, body and spirit into balance," Abott said.
"Yoga's universal and growing popularity demonstrates its appeal to people from all the walks of life and its great potential to foster better health among individuals and populations around the world," he said.
Melbourne saw over 500 people gathered at the Springers Leisure Centre to kick off the day with 'Surya Namaskar' and bending and twisting their bodies in complex postures. Photograph: @navdeepsuri/Twitter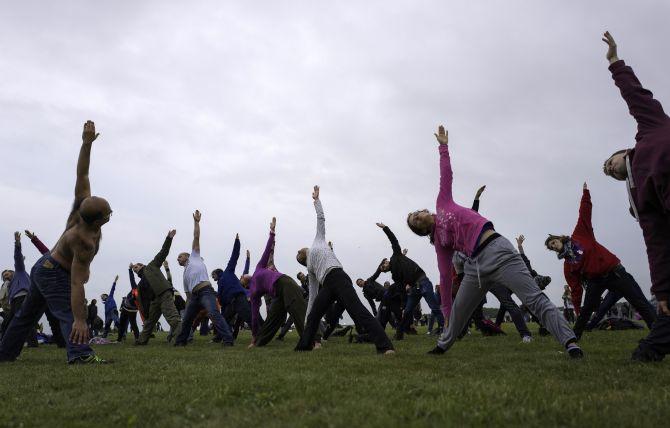 Revellers participate in yoga as they celebrate the summer solstice and International Yoga Day at Stonehenge on Salisbury Plain in southern England, Britain. Photograph: Kieran Doherty/Reuters

Complete coverage: Yoga Day, 2015