Royal fans from around the world are counting down the days until the arrival of the Duke and Duchess of Cambridge's third child, due in April. Soon, photographers and video crews will head to the Lindo wing at St Mary's Hospital in London for what has become known as the "Great Kate Wait."
As we wait for the newest Cambridge arrival, Getty Images photographer Chris Jackson presents some of his most favourite moments with the little royals.
When George meets George
April 20, 2014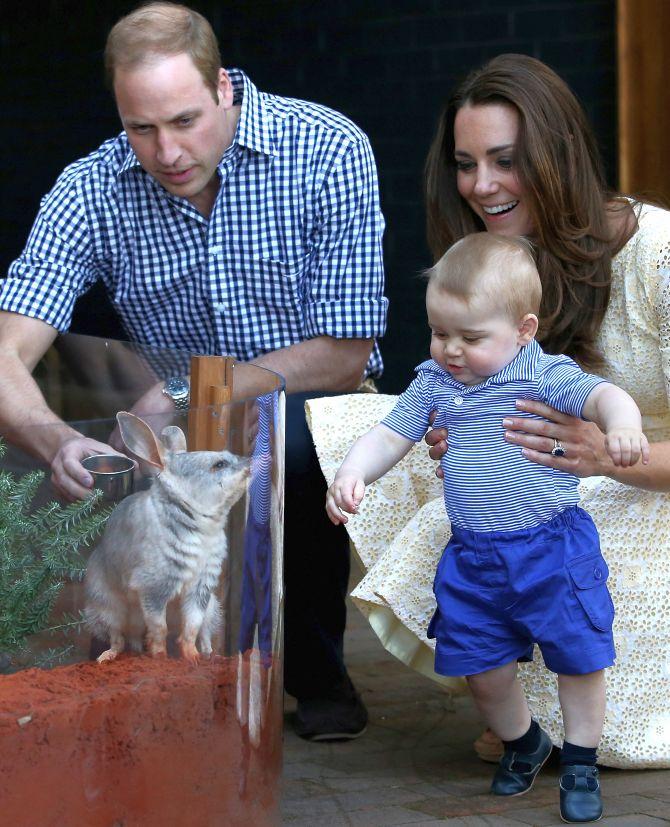 All Photographs: Chris Jackson/Getty Images
During their tour of Australia in April 2014, Prince William, Kate and George visited the Taronga Zoo in Sydney, where the young prince met a Bilby by the same name. George, who was on his first official overseas trip, face lit up as he saw the cute furry animal and he squirmed to get out of his mother's grip to get a closer look.
Prince at Play
September 29, 2016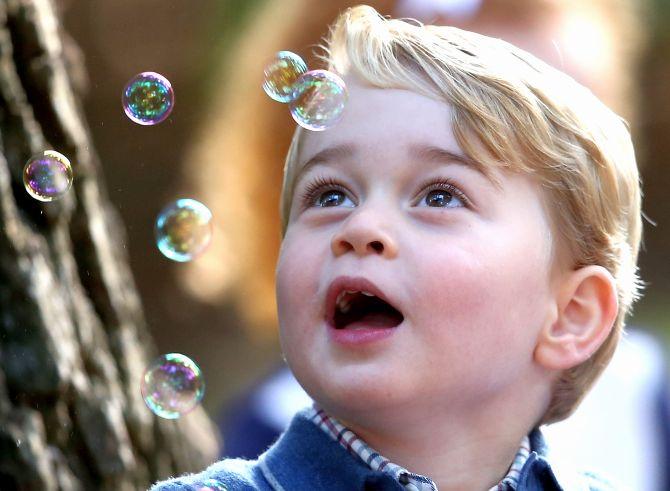 At a children's party for military families during the Royal Tour of Canada, George was absolutely transfixed by the bubbles his father was blowing for him. Getty Images photographer Chris Jackson said, "I always come away from photographing situations like this with a big smile."
Waiting for Kate
July 23, 2013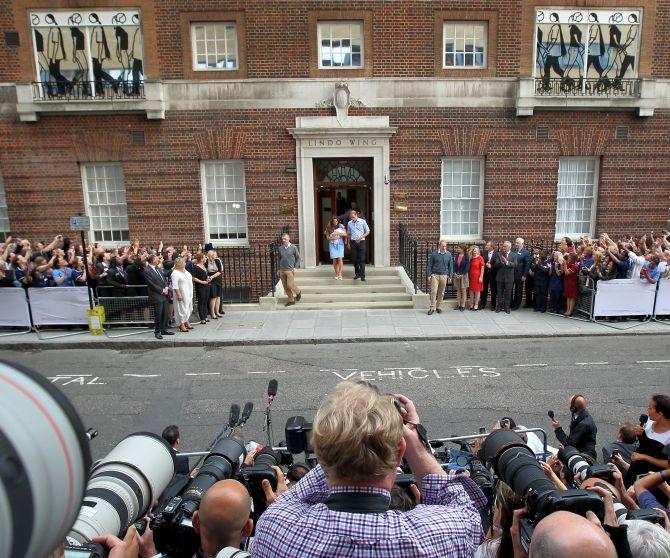 When it was announced that Kate was expecting her first child, Britain was ecstatic. On July 23, when it was announced that Kate had given birth to a boy on April 22, the world's media thronged The Lindo Wing at St Mary's Hospital in London to catch a glimpse of the third in line to the throne.
After a long wait, when the royal couple finally walked out onto the steps of the hospital, proudly holding the little prince, a chorus of camera shutters accompanied them. Prince William skilfully tucked the newborn into the baby seat and whisked his family away to KensingtonPalace. It was the start of a new and exciting time.

Window view
June 13, 2015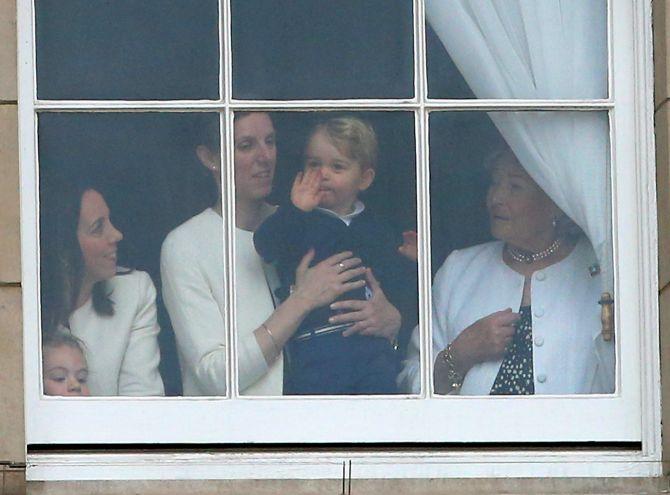 As his father, Prince William, rode out to take part in the formal parade for Queen Elizabeth II's annual birthday, George takes it all in from the window of BuckinghamPalace accompanied by his nanny -- Maria Teresa Turrion Borrallo.

Hug for dad!
September 29, 2016
He won't let go of his dad. Prince George of Cambridge with Prince William, Duke of Cambridge at a children's party for military families during the Royal Tour of Canada. It's rare to see such affection in formal royal situations and we must say it warms our hearts to see it!

Protective brother to Charlotte
July 5, 2015
Big brother Prince George almost stole the show at Princess Charlotte's christening by charming the crowds who had gathered to see the family on the Sandringham Estate.
He peeked inside his baby sister's pram to catch a glimpse of his nine-week old sister as they headed to church of St Mary Magdalene.

Aww...dorable
June 17, 2017
Trooping the Color, an annual British military ceremony that also marks the queen's birthday, is a rare opportunity to see so many members of the royal family in one place at the same time.
The little royals -- George and Charlotte -- are transfixed by the incredible Royal Air Force flypast that zooms over their head.

Following in dad's footsteps?
July 21, 2017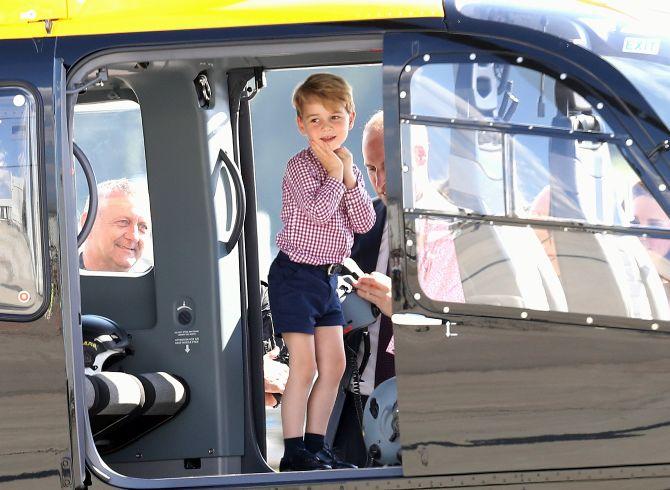 During their official visit to Poland and Germany, Prince George couldn't help but be excited when he sat inside helicopter models H145 and H135 – similar to the ones his dad used to pilot as an air ambulance pilot. While the tour wasn't exactly a happy one for George, in this very moment his joy was palpable and unbridled.

Important firsts
September 7, 2017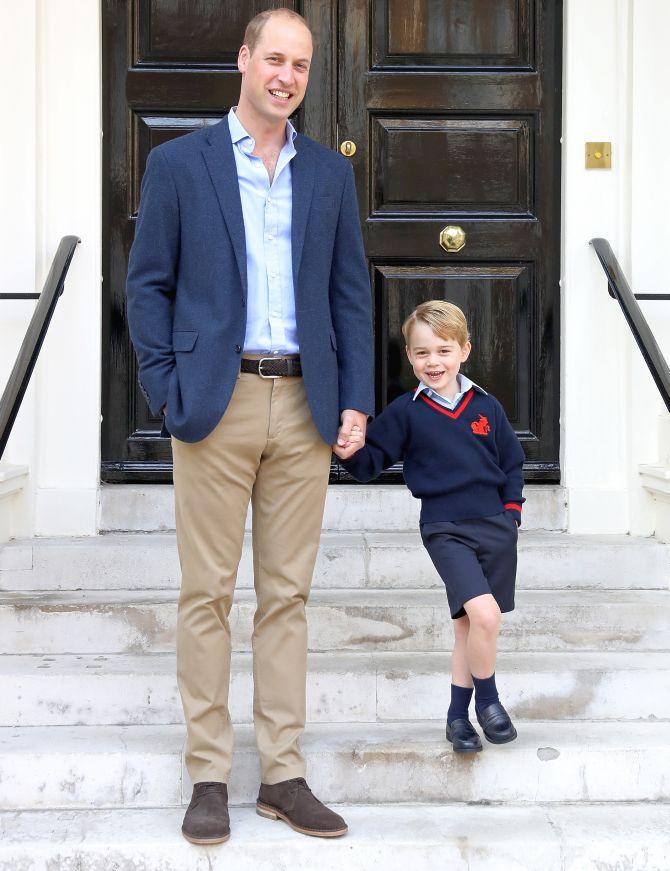 First day of school is a big deal for any child, but it has to be huge for the third in line for the British throne. Prince George was accompanied by his dad, William, to school. George arrived in his new uniform, which included a blue official school jumper with red logo, blue Bermuda shorts and blue socks with laceless shoes and his name 'George Cambridge' on his bag. And while he looked nervous at first, it was revealed that George had a 'good first day'.

Smelling roses
July 19, 2017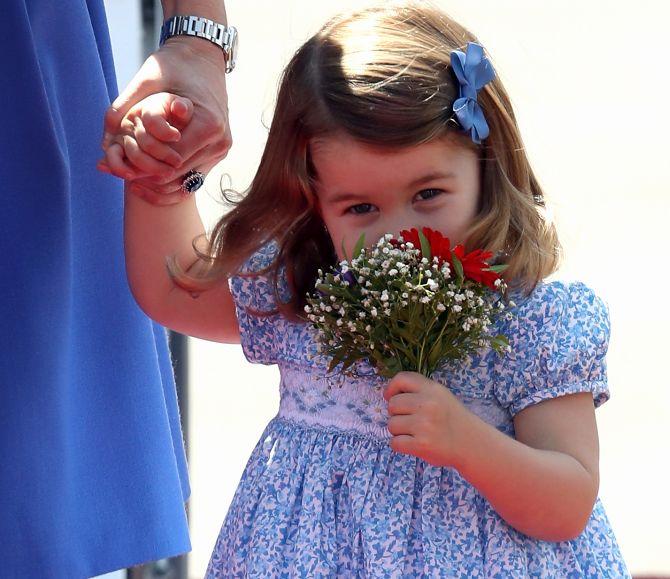 Charlotte takes delight in the small bouquet of flowers she's presented during the official visit to Poland and Germany. She was all smiles as she was presented the flowers.

On his agenda for 2018, in addition to the expected arrival of the duke and duchess' new baby in April, is Prince Harry's marriage to Meghan Markle in May.